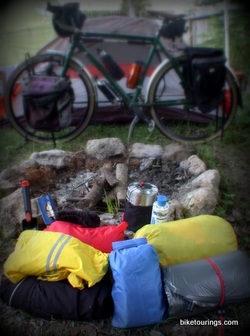 Packing for any type of trip or vacation requires some varying degree of consideration and planning which mostly depends on travel methods and scheduling. Fortunately when packing for a multi day bike tour when the bike is the primary or single mode of transportation there are a certain number of considerations which can be cast aside. Other than having some idea as to where I want to ride considerable effort goes toward getting the bike packed properly. Click on linked content in bold for more information.
By properly I mean packing the bike to handle nicely under all riding conditions. For example, my front
axiom cartier panniers
have a locking mechanism for mounting to the
Minoura front rack
as the handles cannot be attached together over the rack as is the case with the
rear rack
. I pack the lighter, bulkier stuff in the
Trek rear panniers
which due to their shape happen to fit tent poles very nicely when packed vertically. Heavier, more organized items such as camp stove kit, clothing, food are packed in front panniers. As more body weight is applied over the rear wheel this technique of packing has proved to be an excellent method of weight distribution contributing to the bike's riding and handling characteristics.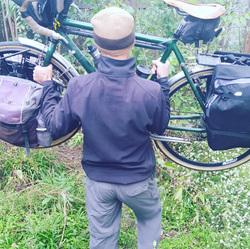 Another boon is when picking up the bike for example when portage is necessary the front and rear of my loaded touring bike is balanced.
After much tinkering and experimenting with different packing methods and equipment choices over the years, this is my current go to kit list for a multi day, multi season bike tour. Rather than review every single item, which has been covered in another post (link at end of this post) instead I'm covering the basics with my selection of gear of the more bulky and often times more expensive items that make up a good bike touring kit.
Tent and Stuff Sack
:
Alps Mountaineering Lynx 1 person tent
weighs a bit over three pounds, so I swapped out the tent pegs that came with the tent with my
MSR groundhog mini tent stakes
providing a lighter tent set with better quality. By packing this tent and rain fly into the
Outdoor Research five liter Lightweight Dry Sack
I'm able to easily fit the tent into one of the rear
Trek Panniers
with poles simply placed vertically into the pannier with the packed tent. This is the most affordable solo bike touring tent kit I could find without sacrificing quality or comfort.
Sleeping Bag, Pad, Pillow and Compression Bag
: On the topic of comfort is usually where it seems that a compromise is made in losing valuable room for packing or where the extra weight gets cumbersome. It's a bit of a conundrum for folks putting together a quality affordable kit for bike touring so here is how I have handled that issue with success. Having a sleeping bag that is comfy for a wide range of temperatures and that can handle getting a bit damp without loss of warmth is the
North Face Furnace Down Twenty Degree F Sleeping Bag
. It packs down very small into a Small Sized
Sea to Summit eVent Compression Dry Sack
with room for a
Thermarest Compression Pillow
. I have found this to be a very comfortable solution for laying on during warm nights or tucked in with a warm beanie in below freezing temperatures. Last but not least my favorite sleeping pad is the
Thermarest Trail Scout Sleeping Pad
in the regular size. I have a few Thermarest mattresses now and this one packs down the smallest by far as it is the only pad which is designed to be folded in half length wise and then rolled up to a very small lightweight pack friendly size. It packs so small in fact that I can stuff down to the bottom of my Trek Pannier with enough room for the previously described sleeping packed on top.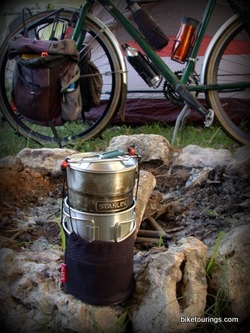 Some bike touring folks simply refuse to pack a cooking kit or stove as part of their kit due to weight, bulk or simply don't want to hassle with it. When I'm with Lisa I enjoy making coffee for us and when solo camping I like having some oatmeal and tea. For this reason I set out to find us a versatile, convertible kit for both my solo rides and when I plan on camping with Lisa.
First I found the
Stanley Adventure Camp Cook Set
which holds twenty four ounces and is perfect for making coffee or tea for two people and includes two insulated BPA free plastic cups. We have used an
alocs alcohol stove kit
which can also be used with esbit or other fuel cubes. Next I added the
GSI Outdoors Glacier Bottle Cup Pot
which is shorter and wider than the Stanley Pot, holds up to eighteen ounces and the best features are that the lid from the Stanley Pot fits perfectly on the GSI Cup as if it were made for it and the Stanley Pot fits into the GSI Pot for packing. With the two stackable pots slipped into the alocs stove kit bag we have a very nice, efficient kit. Note that the alocs stove will burn forty approximately forty five minutes but with the adjustable snuffer this can be extended depending on cooking needs. Fuel source is usually if not always a bottle of Heet fuel conditioner which is easy to find at many stores and gas stations and is very inexpensive. I might add that both the Stanley and GSI are made of quality stainless steel, both have folding handles for cooking with and as previously mentioned share the same size lid. Miscellaneous items such as fuel cubes, matches, spork or cleaning cloth can be tucked into either one of the pots when used together with the alocs stove or when using just the GSI cup and stove. Another important piece of my kit is a
Contigo Auto Seal Travel Mug
, it fits snugly into a frame mounted water bottle holder (shown in background of above photo) holds sixteen ounces of hot or cold liquids and is leak and spill proof. I have turned it upside down and not a single drop spilled out. It keeps liquid hot for up to five hours and is excellent for winter or summer. I also use it to mix up a batch of nutritional supplement green powder drink by simply adding water and shaking the container. It's an excellent insulated container that has proven to be very useful for a variety of needs.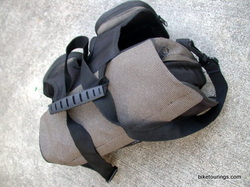 I have looked long and hard to find a handlebar bag that was not only waterproof but would fit the items for my photography equipment in a way that was practical and versatile enough to use on my different types of bikes. This includes different handlebars from drop bars to mountain bike trekking bars as well as the flat bar of my little folding Dahon bike.
This meant foregoing any handlebar bag that required mounting a quick release bracket. This handlebar bag is not only very inexpensive but very well made and includes a clear map pocket under the lid. Click on photo for information or to purchase, you can't beat the price for what you get. It's also very easy to take on and off the bike for walking around with and
have found it easy to get the bag very secure with the underside buckle cinch straps with velcro.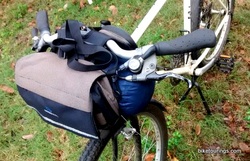 Other items including clothes are packed in
Outdoor Products Ultimate Dry Sacks
that are sold in a set of three different sizes. I pack my clothes in a medium or large sack depending on whether I need warmer bulkier clothing for cold weather and smaller items for personal hygiene in the small sack. I like the large high viz yellow at times for mounting on top of the rear rack for visibility. Refer to upper left photo of assorted pack kit items.
I've limited comments regarding clothing as personal style and other whimsical considerations are too diverse to garner much attention. However, that having been said there are a few items of clothing gear for bike touring worth mentioning. I have been riding with
Pearl Izumi Journey Shorts
for several years and they are simply perfect padded shorts for bike touring. Casual comfort, excellent design with practical pockets and very durable I can't say enough about how excellent they are.
Club Ride Jerseys
have a casual design popular with many bike touring enthusiasts. A cool weather layering consideration that is small, lightweight and pack friendly are wool arm warmers and leg warmers like
these from Ibex
. Regarding rain gear I have found the
Bell Storm Front Jacket
and
Tenn Waterproof Trousers
to be all I need for any wet weather conditions. Both are as waterproof and breathable as they are pack friendly. Excellent rain gear for bike touring.
How does all this stuff look when it's packed onto the bike?