I have reviewed quite a few mini pumps and every time I could hear my old bike teacher in Oregon saying "nobody makes a good mini pump". His comment was in regards to the smaller lighter weight pumps which had just started being developed as an alternative to frame pumps particularly for trail riding and mountain bikers.
Now, these oh so many years later I still take a frame pump with me whether I'm on or off the pavement. Why? Because nobody seems to make a decent enough mini pump for me to want to feverishly short stroke for an hour and a half. I mean getting a flat tire is aggravating enough but to add insult to injury by having a pump I feel like tossing in the trash is just wasteful. That having been said I was oh so pleasantly surprised when the folks at
Road Air
contacted me about sending me one of their pumps to try out. My first thought was "oh great gonna send me another crappy little plastic waste of engineering". This week when the pump arrived I was pleasantly surprised to find the following qualities of this pump which has me highly recommending this affordable quality bike touring and commuting accessory for your kit.
Steel Threads. This is such a wonderful added touch of durability as the typical mini pumps I have declared futile efforts in efficiency have plastic and rubber attachments which wear out or break much more easily after the pump head has been compressed around and over a valve one too many times. That was also the case with a fairly good frame pump which now only works on presta as the little plastic piece which has to be removed and flipped around depending on the valve type broke. So yes, I like the steel threads very much.
Extendable Rubber Hose. Mini pumps which attach directly to the valve can make it very difficult to air up a tire while it's on the bike. Mini Pumps are not simply for flat repairs but for bike touring are used to maintain proper tire pressure and the majority of mini pumps available make that a much harder chore than need be. Another reason I kept using frame pumps is that I simply found it exceedingly difficult to hold the little bitty pump head on to the valve to be sure no air got out while attaching the pump and then trying to find the proper angle to physically work air into the tube I found myself routinely hitting the spokes with my knuckles. With the Road Air Pump the hose puts the pumping action a nice distance from the wheel for ease of use.
Handle. Yep, that's correct they thought to put a decent handle on this pump which has a nice rounded end which for my hand anyway was such a nice contoured fit I was in no concerned about getting a blister. Also and this is nifty the end of the handle sides out for stashing a presta valve adapter for threading the hose end on. In all of my bike commuting travels that has been the most common item to have stolen. I used to leave a presta valve adapter on the stem of one wheel and that's how a few of those were stolen. Very clever idea and a nice feature of the Road Air Pump.
Lifetime Warranty. They seem to feel that all the qualities of this pump are what will make it last and they're probably correct on that notion. Aluminum alloy construction of the pump itself makes this just feel good to use. It's smooth and much easier to add air for higher tire pressures than other mini pumps which quite frankly would not even work.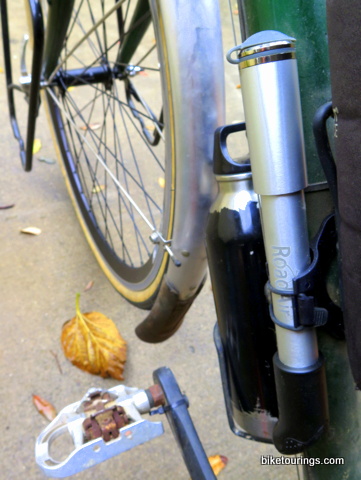 Ironically this pump has shown up for me after getting several flats while running errands around town. Each time I used my trusty old frame pump from
Park Tool Co. The PMP-5 Dial Adjust Frame Pump
is versatile and an excellent choice for folks who own several different bikes with varying frame sizes. This is one of the main reason I like this little
pump from Road Air
in that I can fit it into a handlebar bag with it's compact size and lightweight design. Which reminds me that the Road Air Mini Pump includes a mounting b
racket for bottle
cage mounts that I added to my touring bike and I'm happy to report that it does not rattle against the frame like some other models I have tried. None of these pumps have pressure gauges, but I still have my little old gem pump from
Crank Brothers
that I like to keep around as a back up pump while traveling and can also serve as a gauge for checking tire pressures as it is the smallest most compact mini pump available. Newer model doesn't have pressure gauge but is still small enough to fit in a jersey pocket. Just thought I would mention a couple of other quality pumps I own and keep around for their different features. This pump from
Road Air
is definitely a keeper and I will certainly use it whenever it's needed and adding it to my bike touring pack kit.
Yes, there are some good mini pumps available, one of which is from
Road Air
. : ) Click on any of the photos or underlined linked text for information or to purchase.
I have a Topeak pump and for travel the integrated so called smart head of two in one design quit working on schraeder valves. Fortunately I ride with presta valves so it wasn't an issue, however as previously mentioned I have a few different bikes for touring and commuting and the old Austrian made Puch has schraeder valves. Lezyne makes some nice pumps with similar threaded hose design but some recent design changes have wondering if they're worth the extra cost. I will update this post if the pump fails in some way but considering all that's been discussed here I feel good about choosing the
Road Air Mini Pump
for bicycle touring, commuting or bike packing.
Links related to this topic
Tough, Versatile Frame Pump
​Multi Day Packing Kit List

​Topeak Joe Blow Pro Review