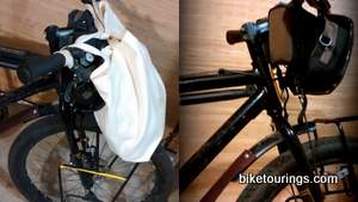 When I was a kid in grade school a few of us boys would ride our little 20" wheeled Schwinn dirt bikes to school. It was a fun area and era to be riding during the mid to late 70's.
Dan and Gary's DG BMX bikes
was what all the kids were talking about and as we lived just a few miles from the original Paul and James Van Doren original
Van's Shoe Shop
we enjoyed having access to highest quality pedaling footwear around.
While I absolutely loved those old original Van's shoes and still like them as trail riding and commuting shoes with flat pedals, I was none to fond of the simple canvas strap backpacks used to carry our school books on our four mile commute. After a while I suppose I simply got used to the painful nuisance of those straps until I got the bright idea to wrap the straps, one on each handlebar grip and had unwittingly created a custom method of bike packing for myself using the backpack as a makeshift handlebar bag as shown in above photo. I was eight or nine years old ya it was awesome though I did have to be careful not to have my homework go flying out of the bag when I hit a bump or curb.
These days when I put together an efficient bike packing camp list I experience the same deep feeling of satisfaction after packing my bike as I did as a kid, it is light, agile and maintains a sense of playfulness. Ya, I grew up.
"When you were a kid bikes were your freedom and I can see that when I ride with you." Oh my lovely Lisa shared this comment while gazing at all the used, abused or unwanted bikes I have accumulated and repaired since moving to this area of South Texas.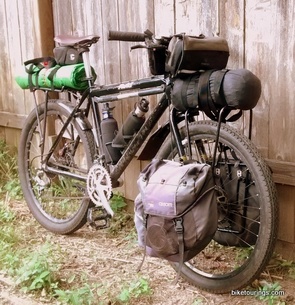 Now then, when you search for information regarding suggested loaded touring bike weight guidelines there is a whole lot of missing information which is why I decided to give it a "blog about".
Firstly I wouldn't load a cheap fork with too much weight which can cause much stress to the component and possibly have it fail which is precisely what happened to one of our readers appreciative of how robust a fork was installed on one of our off road touring bikes. That having been said whenever you add a bunch of weight to your bike it is hard on pretty much all of the components. Why is this an important consideration? Well unless you don't mind performing roadside repairs or maybe you're the type who even enjoys that, otherwise mindfully packing your bike for comfort and ease of handling is the objective. Photo above shows loaded panniers on the front racks rather than rear. I was taught to pack more weight on the front wheel as a method of weight distribution and load bearing for the bike. While the rider's body weight is centered more over the rear axle than the front placing more of your gear on the front wheel balances the bike's load bearing capability.

Every front and rear rack I have sold, installed or purchased for myself has some suggested weight limit or cargo capacity. Sure some of those racks will support sixty pounds or more and that's fine for some sort of work or utilitarian purpose of hauling something a few blocks or a few miles but to carry that much weight up and over several miles of hills and through varying winds is an absurd idea of having fun while riding your bike.

One simple suggestion is after your bike is packed try picking it up without stress or strain in case you need to portage your bike for any reason. A person who is an avid weight lifter might be capable of picking up and tossing around a hundred and fifty pound bike like it's nothing to someone but the bike may begin to complain a few miles down the road with a broken spoke, flat tire or worse a broken rack weld because the weight capacity was ignored or the panniers pack weight on each side of the rack was lopsided.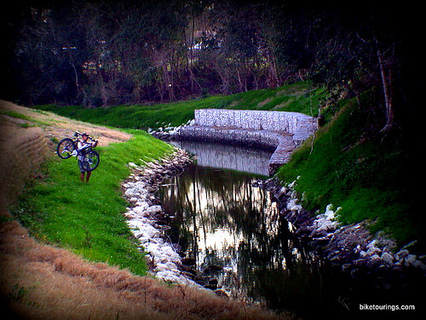 My goal when building a touring specific bike has been to keep the bike's weight at or below thirty five pounds. That's with front and rear racks, fenders, bottle holders, front light and seat bag with spare tube, patches and multi tool. I have a bike trailer that weighs fourteen pounds with a waterproof bag and cargo net but that makes it all too easy as the trailer is rated to carry eighty pounds and doesn't share the concerns associated with a fully loaded touring bike.
This year I set a goal to pack my off road touring bike with disc brake, steel front rack and small light weight rear rack at 70 pounds. I also wanted to be able to carry a comfy two person tent or solo tent, camp stove and other niceties including good food. This easily allows for varying cargo weight as I purchase food, gifts and find other gems or trinkets on my travels. I figured seventy pounds was an easy goal and after I packed the bike it weighed a comfortable 60 pounds. Being far less than half my body weight and easy for me to pick up and carry around provides confidence while riding and very helpful on hills.
Keeping in mind that a touring bike's frame geometry is designed to handle and ride well with loaded racks and panniers, off road touring bikes or mountain bikes for bike packing have different packing considerations. This topic has been covered in another post regarding a
Versatile Bike Packing Kit
.and I like the packing list supplied from
Experience Plus Bicycle Tours
where they won't allow their tour leaders to lift anything heavier than a forty five pound bag. That suggestion comes from a bicycle tour company that's been in the bike touring business since 1972. Their packing list may provide useful suggestions when creating your own packing list to meet your needs.
Obviously if you're someone planning on touring for several months at a time or bike touring in cold weather or regions some of the gear is going to be heavier than a summer weekend packing list in a warm climate. This is another reason why I was so pleased when my off road touring bike weighed only sixty pounds. Knowing I can easily add another ten or fifteen pounds of gear to accommodate my every need without an issue on the heaviest of my three bikes built for touring.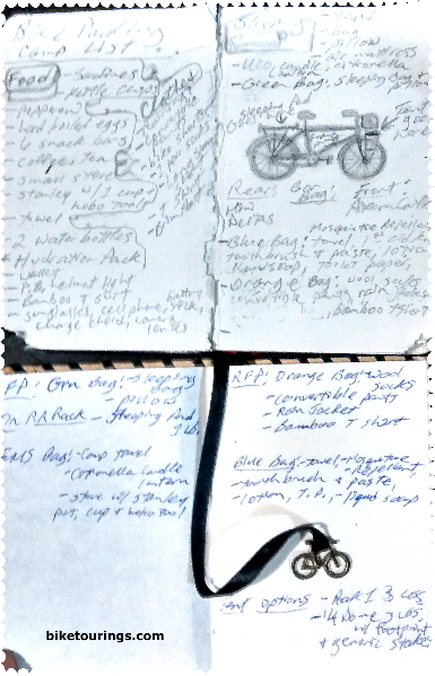 Better off not trying to make sense of that gobbledy gook of chicken scratch in this photo. I just added it for fun but the point to be made is to have fun refining your own pack list making process. Translated this is how the list reads with all items packed in Axiom Cartier Panniers of 2013 cu. in. capacity or 33L. and three sizes of water resistant roll top stuff sacks in different colors. Tent goes on top of front rack, sleeping pad on top of rear rack. Two full stainless steel water bottles with neoprene insulation and a Park Frame Pump.

LFP (Left Front Pannier)
Green Bag: 40 deg. Eulin filled Guide Gear sleeping bag and REI compressible pillow.
FOOD

Eastern Mountain Sports Bag:camp towel for dishes, UCO citronella candle lantern, diy pack stove with stanley pot, cup and hobo tool.

RFP (Right Front Pannier)
Orange Bag: wools socks 1 pr., convertible pants, rain jacket and bamboo t shirt.

Blue Bag: small pack towel, mosquito repellent, tooth brush and paste, lotion, camper's toilet paper, liquid soap, sun screen
FOOD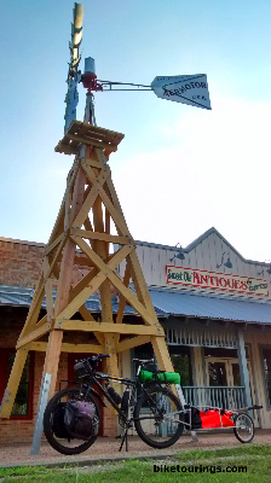 Handlebar Bag: cell phone, charge stick and cord, camera and cord, wallet and ID, reading glasses and camera accessories. I have lots of spare space in the handlebar bag for stashing gloves, hat or visor.
Seat Bag with spare tube, multi tool, patch kit, rag and rear blinky light.
Depending on what food or how much cooking I intend to do on any particular bike tour there is so much extra storage space in the panniers that I could take along a chromebook, tablet or solar charger.
Photo at left showing the fifty five pound off road touring bike loaded with items listed above including food. Photo below is of this bike loaded for touring with my fifteen year old Coleman two person tent and weighs approximately sixty pounds. Rides smooth and handles easily even while pulling an empty trailer to check out the handling characteristics.
Hope this helps in some way to have a safe enjoyable bike touring summer.
Links related to this topic:
Multi Day Bike Touring Pack Kit
Lightweight and Durable Bike Touring Camera Kit
Versatile Bike Camping KIt
Download Paul Jeurissen's Bike Touring Photo Tips