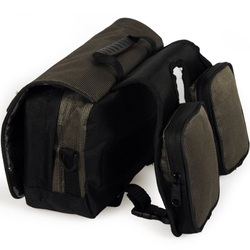 Bike envy sucks, whether you're wanting the newest Carradice canvas and trimmed leather ensemble of panniers but don't have the cash or worse wishing you had an entirely different bike but making do with what you have.
Rest assured I'm not getting off topic too much regarding issues of so called poverty consciousness or a scarcity complex as most all of us have had to contend with hard times in some aspect of our lives. So much can be learned from those times of scarce resources or opportunities such as creative solutions by developing intuitive skills and so forth. I have lived through such times and very grateful it's long gone in the past but my adaptive problem solving skills are more than simply intact. Answers to problems that used to come by racking my head in earnest effort seem to chime in much more effortlessly and without angst. That's how I found this excellent
handlebar bag
for my cameras and other goodies.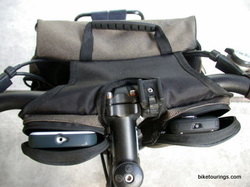 If you own several bikes you understand the difficulty of establishing a well rounded kit that can be transferred from bike to bike without having to spend a lot of time repacking. Some panniers can be a hassle if they are difficult to take off and on not to mention the same panniers being compatible with varying bike racks. I have gotten that part taken care of and each bike has a nice seat wedge kit with the basics for flats and small repairs. But there has been one bike touring accessory that has caused a bit of frustration for me to locate providing just the right size, features and versatility I was looking for. First of all I knew a waterproof handlebar bag would be a must have for my photo equipment and with the heavy rains we've been experiencing along the Gulf Coast this year my timing was good. Secondly it would have a versatile mounting system including ability to be placed on drop style handlebars with in line brake levers or top bar brakes whatever you want to call them the brake levers are positioned on an over sized handlebar and stem. I find the brake levers to be very useful for bike commuting and changing hand positions while maintaining ready access to my brakes for longer rides. So a quick release mounting bracket was ruled out and I am not too fond of them anyhow. I like my
Axiom Atlas Handlebar Bag
but it's not waterproof and finding a good rain cover for it has also been part of my research. It seemed I would need to buy a rather expensive
waist pack rain cover
that cost as much as the handlebar bag. Though I will most likely get the rain cover as I like the Atlas bag so much.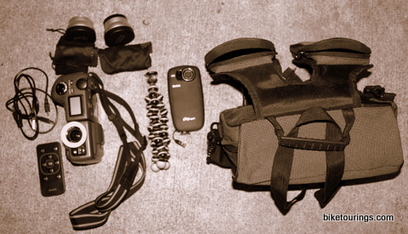 Thirdly it would have the storage capacity to fit all my photo equipment and accessories including cables, remote, two lenses, filters, batteries and other items. Good news is I found this
waterproof handlebar bag
from Roswheel at less than half the price of what I had budgeted for and although skeptical of the so called waterproofing I thought I would at least give it a try for the very modest price. With the two rider side pockets I have easy access to my little Kodak Zx5 while I'm riding without having to stop all the time and my Motorola 4G LTE with case fits in the other rider side pocket. This allows plenty of room for my old Nikon 995 with lens adapters and gorilla pod. If I had a small tablet I could fit that in their too. There are plenty of internal storage pockets and the top flap is the main waterproof part with a map case on the inside that attaches very securely with velcro. When it is folded back toward the rider it is easy to read.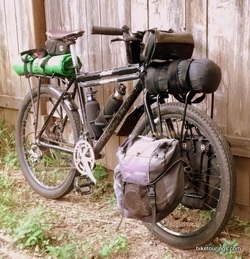 Fourth it would have to allow front light access with handlebar mount without blocking the front light beam like most quick release models and not be so low that it would interfere with my being able to carry a tent on top of front rack.
After more than eight months of using this handlebar bag it has proven to be extremely waterproof, durable and I can use it on each of the ten bikes I currently own. It is so easy to take on and off with two plastic buckles underneath it makes it easy to remove and carry around with either a rubber top handle or included shoulder strap.
There is also nice reflective piping along the lower front of the bag and when I'm trail riding or curb hopping it's easy to attach a couple of bungee stabilizers like those on the axiom atlas. This is a very well reviewed
Roswheel handlebar bag
as the company lists many other bike accessory items I am only familiar with this particular model.
Here are some specifications on size and materials:
Material: 1680D Polyester+ PVC Breathable Mesh
Size : 10.08 in x 7.45 in x 1.80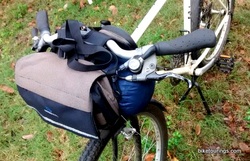 I continue to find versatile uses for this handlebar bag. After stuffing my
Alps Mountaineering Lynx One Person Tent
into an
Outdoor Research five liter Dry Bag
I cinched the tent in nice and snug with the adjustable buckle straps on the underside that connect the front and rear portions of the
handlebar bag.
I was pleasantly surprised to find that this worked so well and provides ability to carry bulky items when I don't need front rack panniers for quick, overnight bike camping trips.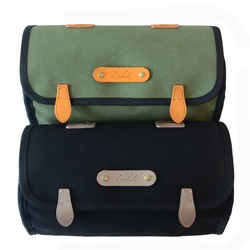 New Zimbale Waterproof Canvas Handlebar Bags
are also available at time of this post. These are some very nice, considerably more expensive options than my little camera bag from Roswheel.
Manufactured in Korea for Brompton folding bikes the attachment system does not require the use of installing quick release mechanisms which would inhibit use with more than one bike.
Zimbale's handlebar bag models are available in 3 oz., 7oz., 11oz., 14oz. and 16oz. storage capacities. Photo at left is the three ounce model.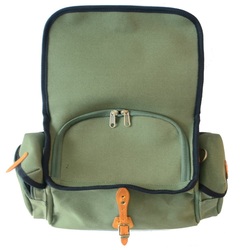 This is the model I had budgeted for at the time of my purchase which was eight months ago or more. If these new Zimbale waterproof canvas bags were available then I would have snagged one.

I'm still considering it as these bags appear to be of good quality and could be slightly modified or made to work with just about any bike handlebar scenario. Because I am so pleased with my current handlebar bag I wouldn't call this bike bag envy but it's pretty close.