About Bike Tourings
Bike Travel; Versatile, Dependable, Fun, Fitness Solutions

All of our bikes have either been refurbished, overhauled and modified or custom built to meet a variety of every day bike commuting or other vacation, touring travel needs. Whether it be for roads or trails, plane, train or automobile I appreciate bikes for their diverse ability to improve one's life away from home. A lot of hard work and effort has been invested in the process of building up a stable of different bikes for different things, so it is with much enthusiasm I enjoy sharing a bit of know how or how to information in helping folks improve their own personal bike travel needs.

Over the past few years bike travel in its' many varied methods has had experienced significant contributions from many intelligent and creative folks developing and providing new products for the broadening niche of bicycle touring. Touring bikes like that pictured below at left have spawned many new forms of off road touring bike development including but not limited to fat bikes and many other mountain bike styles for what is now termed bikepacking similar to that shown in photo at bottom right. Although it's an exciting time for the bike industry as manufacturers chart new territory to meet the requirements of satisfying many an adventure junkie's insatiable craving for whatever might be described as "more or better" I find myself settling into a rather contented mode of riding what I have been able to build and design for my own enjoyment. I understand that some folks interested in either recreational riding or commuting simply don't understand what type of bike would best serve their purpose or needs, let alone possess the ability to build their own bike. Although I am very much in support of local bike shops it's no less important to be an informed customer before approaching a knowledgeable (or not so much) salesperson. On that note, read, explore and learn as much as you can about the many different aspects of today's world of bike travel and touring activities, it's as rich and diverse as never before and so fun.
| | |
| --- | --- |
| We build and maintain our own bikes the way we like them, as versatile all season commuter touring bikes. | |
Photos of bikes on this page are bikes that I like to use for bike travel. Each bicycle has its own unique qualities, function and style with at least one form of cargo carrying ability A favorite bike build project here has been the design and build of a mountain bike for touring and commuting complete with front and rear racks which are disc brake compatible that provides fun, dependable performance in keeping with traditional touring bike comfort and bike commuter style. Ergonomic handlebars offer stable handling, a comfortable riding position and thirty degree sweep for performance. You can read more about this bike build at Building a Touring, Trekking, Commuter Bike.

Dahon Mariner pictured above has a small rear rack and weather worn yet still very functional top rack pannier. Front basket and burlap bag are good for quick trips to the market. And of course it folds for easy transport and storage and has its' own unique place as a touring bike as well as providing convenience for a bike commuter. Versatile, dependable, fun and fit-ness that can fold and go just about anywhere. Bike was definitely worth restoring.

Blog Article for this bike

Photo at right is of a '93 Bridgestone MB-1 converted to a commuter touring bike with replacement fork,

Minoura Front Pannier Rack

and rear rack. New stem and sweeping touring trekking handle bars make it a more comfortable ride on long stretches of road rides.

Blog article for this bike

Bike Tourings can be considered a metaphor on the musings of bicycling variety. With all the different shapes, style and functions that go into a person wanting, purchasing or acquiring a bike, consideration is first and foremost on function. That is to say most folks ask or tell themselves "hmm I want a bike to ride to work". Or "I want a bike to explore the nearby trails".
As a matter of fact I had a customer tell me he was going to purchase a new seat for his bike like "the guys in the suits wear" referring to the spandex clad roadies of the local wheel club. Anyhow, the point being after several years of dutifully serving the bike commuter and bike touring industry I've heard all sorts of reasons for folks wanting a bicycle in their lives.

Sharing information with bike folks is something I have found to be fun and rewarding. So, I put together the Bike Tourings' site as a method of sharing ideas and knowledge regarding bike travel particularly as it relates to bicycle touring, commuting, camping and mountain bike trekking.

Our bike workshop supplied from Pacific Domes is solar powered and is where we build our commuter touring bikes among other projects.
Bike Touring, bike panniers, bike bags, front and rear racks.
Bike Travel; Versatile, Dependable, Fun and Fit-ness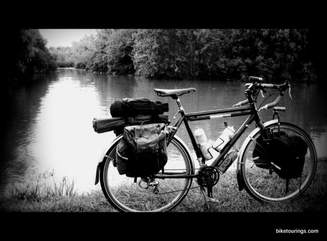 All Rounder Touring Bike, versatile, dependable and fun.
A traditional touring bike is so much fun and for most of us bike folk it's what we conjure up in our minds when we think about bike travel or bicycle touring. Reason being in one word, stuff. Panniers, bike bags, goody bags, whatever you want to call 'em we all want to move our necessities and other belongings while we merrily pedal our way to wherever, whatever or whoever we want to visit as we meander the country side during our bicycle tours.
A touring bike is not for winning races nor are they the choice of adrenaline junkies. Touring bikes were and are designed to take you where you want to go under your own power and get you home safely. When we think of a touring bike we think of a Versatile, Dependable, Fun and obviously Fit-ness as we want to fit all our goodys in our panniers and bike bags on our travels by bike. Oh ya, there's health benefits too, like being and staying fit.
Blog Article for this bike
---
Bicycle Trailer for Bike Travel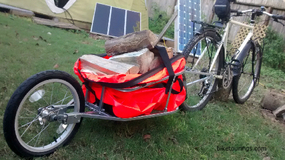 Touring bike and bike trailer for bike travel.
I have had a Nashbar Bike Trailer for several years. Used as signage to advertise my bike repair work, delivered food for an organic food co-op (photo below), hauled pallets, several gallons of water and of course it's excellent for camping. Needless to say it has been a very versatile item and I am very pleased with its' dependability which has made it so fun to use as an added way to stay fit and fit more stuff. When Nashbar decided to discontinue production of their bike trailer I found another reasonably priced steel frame trailer that I have been very pleased with so far with the Aosom Bike Trailer shown in photo at right.
Blog Article for this bike trailer
by Rideon
---
Touring Bike and Bicycle Trailer used for Food Delivery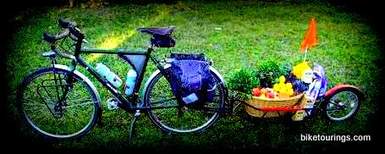 Touring Bike and bicycle trailer featured in Change Magazine
An article from Change Magazine, the printed version has the photo shown at left to illustrate the hard work and efforts of the Natural Living Food Co-op. Lisa Piper is featured in the article and her site and blog shares lots of information and products for healthy living. Visit at
www.shopnaturalliving.com
When Natural Living was in its' early start up days we used a bike trailer to make our food deliveries to customers. Photo at left is of my touring bike and bike trailer at work for Natural Living Country Store.
To read the
article from Change Magazine
click on photo.
---