Detours Sodo Bag and Axiom Smart Box Reviewed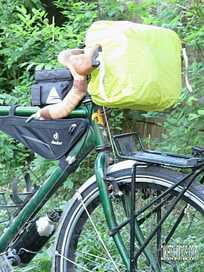 Detours Sodo Handlebar Bag
is currently available at such a hugely discounted price that I wanted to share the information with folks who read and depend on this blog for this type of information. Affordable, quality bike touring gear and this product is a perfect example of that.
I don't know for certain but it seems to me that Detours Bags is going to discontinue this product so if you're looking for a nice sized handlebar bag for either bike touring or commuting snag one of these before they're gone. Click on photo or underlined link above for more product information.
I was looking for a handlebar bag with a quick release clamp that could be mounted with my inline brake levers and that held the bag out far enough to allow my hands easy access to those secondary brake levers and this design allowed for that. After reading a review from a guy who had recently invested well over a hundred bucks on the new Arkel Handlebar bag he felt that he had overpaid considering it didn't include a rain cover. I'm not saying the
Detours Sodo Bag
can be compared to the quality of an Arkel product but when you see the price this is listed at it's a no brainer. And it includes a rain cover!
Other features include a nice padded shoulder strap for carrying around off the bike and a clear map sleeve on top. Apparently the clear sleeve was actually designed for cramming a cell phone into but it doesn't work well for that. Like other reviewers have mentioned the goofy plastic ziploc type of access on the under side of the lid broke on the first use. I didn't care as a map stays nicely in place with the bag closed.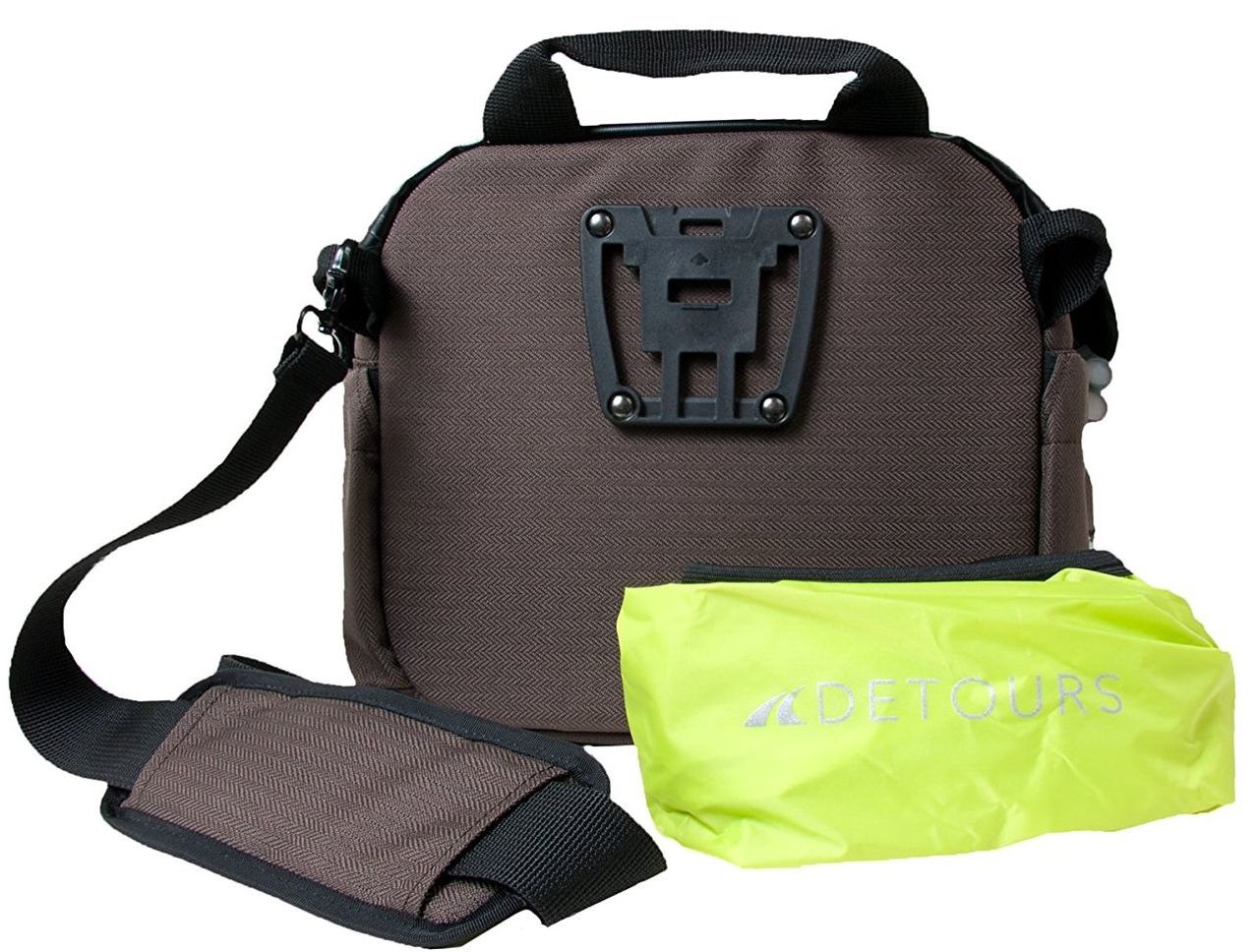 ​Here's some basic information from the product listing:
2 large zip zippered compartments are covered by a TPU-coated waterproof flap with a waterproof welded clear pocket on the top lid for maps and screen phones
Interior org / zip pockets / key fob / external side pockets for water and snacks
Plenty of padding for lunch and camera
Removable shoulder strap and removable rain cover
Dimensions are: 10 x 4.5 x 8 in
For this year's fund raiser bike tour the need to post regularly to social media and continued blog posting I found the
Detours Sodo
to be a nice piece of kit to keep electronic devices protected from the elements. Definitely appreciating the waterproof lid but also the nice thick material lending an insulative quality for potentially extreme summer temperatures. I was able to fit all my equipment including a Voyager Pro Tablet, Canon G16 camera, mini tripod, spare camera battery, all necessary cables, power bank and even the seven watt solar panel! There are two nice sized exterior pockets on both ends that are excellent for stuffing snack stuff into for easy access while riding.
Some common complaints of handlebar bags are the lid or cover opening from the front making it very difficult to access contents while riding. For me, that's what a top tube bag is for so next item in this post is the
Axiom Smart Box
.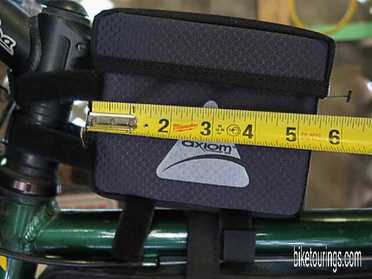 First bit of important information is this; everywhere I found product information this little goody bag is described as being eight inches or more both in length and height with two inch diameter. That last bit of info is the only correct measurement. It's actually closer to five inches in each direction, a very significant difference!
I considered returning it for that very reason but since it holds my Canon G16 very snugly providing ease of access while riding while not bouncing around at all I decided to keep it. I was also able to fit a 6700mah
Zendure Power Bank
with it.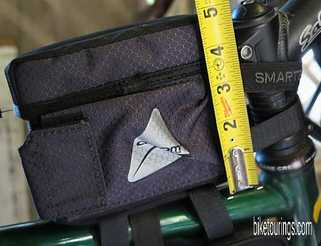 ​
Dubbed "Smart Box" as the exterior side pocket on the drive side of the bike is designed to hold most common sized smart phones. I was able to fit a Moto G phone without a case easily. I'm planning to take advantage of the pocket's convenience for my old
Kodak Playsport zx5
. This provides easy access to a waterproof camera that I can use in inclement weather. Notice the four straps used to secure this little thing makes for a very sturdy install.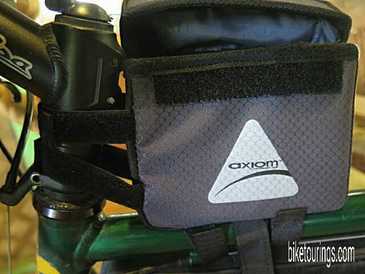 What I have found an appreciation for is the no zipper design. Some other manufacturers have tried a velcro design on covers that open and close lengthwise and folks commonly complain that the cover pops open too easily when riding over rough terrain. Not so with
Axiom's Smart Box
design. It is such a sturdy bag it actually feels more like a box than a bag and the velcro holds the lid shut tight.
Anyhow, if you're looking for a large top tube bag to stash a rain coat or larger items than those described here this is not the product for you. However, if you need easy access to a couple gadgets that would otherwise be difficult to access from your handlebar bag while riding than this is a very good affordable quality option.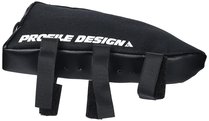 For a large top tube bag consider the popular
​Profile Design Standard Aero E Pack
, photo at left. One large zippered main compartment and is approximately nine inches long. I'm considering this product option for another bike and will add a post if or when I do. Until then stay tuned for information regarding this year's Organic Farm Tour Fundraiser. Feels good to be blogging again after a six month hiatus due to some unfortunate circumstances at our store last August. More about that later. Until then, Happy Spring and y'all are planning some fun bike touring adventures this year.