How to Use Dry Bags as Bike Packing Bags
This is a quick post to share some helpful tips and suggestions for folks who are looking for some alternative bike touring and bike packing options. All the equipment shown in photo does not jostle around and fits nice and snug for bouncing around on trails and such. Note that this method is completely waterproof whereas some of the expensive bike packing specific products are not.
While preparing both of my touring bikes for camping this summer I decided to remove the racks from the mountain bike and use the dry bags I use to pack in the panniers of my touring bike rather than investing in some new equipment such as a fancy new seat pack bag or frame bag. As mentioned in my
previous post
regarding the use of these dry bags from
Outdoor Research
and
Sea to Summit
I decided to simply strap the bags to the bike as I didn't want to wait for the other equipment described in my previous post because it would have further delayed my vacation plans. Photo shown above is of the
Sea to Summit Dry Bag
attached to the handlebars with some standard backpacking straps which I had stashed with some other equipment. As a Seat Pack Bag is the
Outdoor Research Lightweight Dry Sack
also attached with some standard backpacking style
buckled cinch straps
.
Rather than adding a frame bag I repurposed a rear rack bag for a folding bike and attached it to the top tube. A seat wedge bag is repositioned around the seat tube and top tube. This packing method combined with a good quality ergonomically friendly
hundred ounce hydration pack
makes for some excellent bike packing options.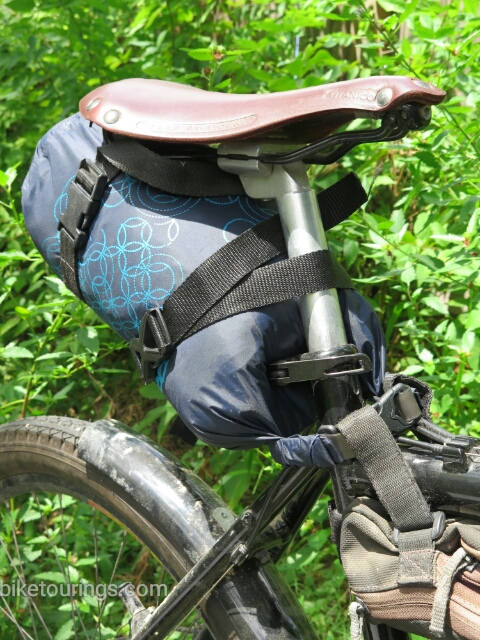 Outdoor Research Lightweight Dry Sack with buckle straps held in place by threading the strap through the seat rails and a second strap around the seat post.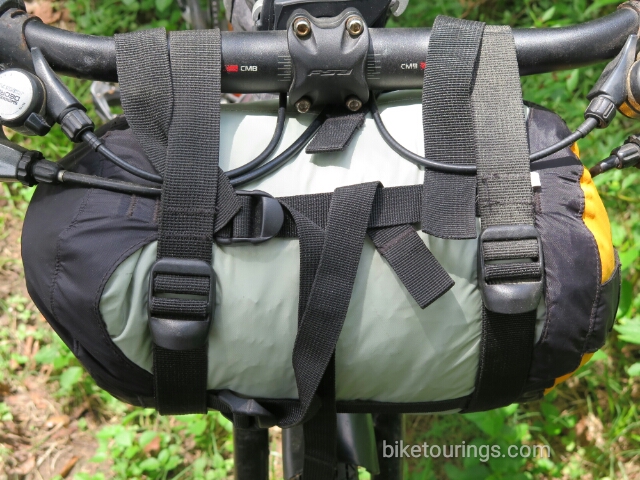 For a handlebar pack using the Sea to Summit Dry Bag and some straps cinched tight and rides excellent. Used for packing a tent, sleeping bag and pillow and can even fit my camp air mattress if need be.