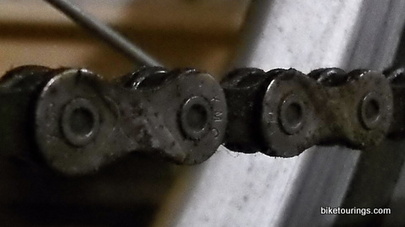 So many bike touring experts are using a variety of DSLR systems despite the added bulk, weight and extra care required to protect those very expensive gadgets. Of course the image quality is excellent and in many instances offers more creative control in varying or low light conditions.
Twenty years ago I used to pack around my canvas Domke bag, Nikon FM2n and an assortment of high quality lenses accompanied with a Bogen tripod. Slow speed slide film necessitated the use of a tripod for obtaining the highest image quality for magazine publication. To a lot of folks the rapid pace of technology seems like a burdensome effort to keep up with. However, there are ways to take advantage of the digital era of photography that can lighten the load for bicycle touring.
A couple years back I was looking for a good quality durable camera that would provide the ability to obtain excellent snap shots for many outdoor activities. Shopping for office supplies I found the
Kodak Play Sport Zx5
with claims of water proof to 10 ft., dust proof which is excellent for my woodworking shop and shockproof should it get dropped on the ground (which it has) I was very interested. At 4.4 ounces the camera itself is so unobtrusive sometimes I don't even notice I have it in my pocket. Although it doesn't have a flash and some reviews complain about image quality of night pictures the Zx5 has a very nice macro mode focus option that comes in quite handy.
For bicycle touring this is part of a perfect camera kit particularly when combined with the
Kodak Zx5 0.45x Wide Angle Lens
, wireless remote control and a
Joby GP1-A1EN Gorillapod Flexible Tripod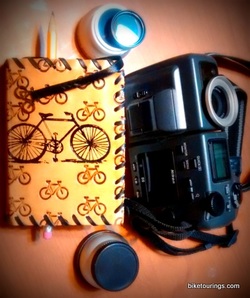 For more creative image making I use an old Nikon Coolpix 995 from 2001. I have a couple lens adapters for this camera that are wide angle and telephoto as well as a polarizing filter for removing glare from objects and color enhancement. Although this model is no longer in production a good used model can be found on ebay for a hundred dollars or less. For its' size and versatility I have found it to be a much smaller, lighter weight alternative to big, heavy DSLR cameras.
Large file TIF images can be created with this camera and the technical specifications meet most minimum guidelines for those interested in pursuing stock photography. For blogging, sharing photos online and even good print quality this little old camera is tough to beat for the price. This is still a very popular camera in use frequently on Flickr and ranked 77th which is quite good.
This camera does not have the option of charging via USB cable something I appreciate about the Kodak Zx5 and the batteries do not last nearly as long as a single charge on the Kodak. I can go weeks without having to recharge the battery on the Kodak as I rarely if ever use it for video. Also, the Nikon 995 requires much more care as it is not at all waterproof or dust proof.
I have been able to use the Nikon on the
Joby Gorillapod
but there are other models available that are a bit larger and heavier for larger cameras than the
Kodak Zx5
. Weight rating of the Joby Gorillapod discussed here is 11.5 ounces and since the little Zx5 only weighs 4.4 ounces it's no problem.
I really enjoy the ease of use and dependable quality of these products. If you're looking to lighten your bike touring load and love to create photos this is good stuff.
Links related to this topic:
Handlebar Bag for Cameras from Ibera with Rain Cover

Versatile Bike Camping Kit
Bicycle Packing List and Loaded Touring Bike Weight