A few years ago I met a fellow bike touring enthusiast who told me how good he felt on long rides after fasting on beet juice for several days. He explained how much lighter and faster he felt not only while riding but in his everyday life he was just feeling more energetic. We have a
juicer
and enjoy the nutrition benefits it offers and with a good
food dehydrator
using the pulp to make crackers or fruit leathers that can be packed for bike camping and touring is quite a perk. That having been said, sometimes in the course of our busy-ness around here we want something quick to grab and pack that doesn't require refrigeration without compromising on quality nutrition.
Good nutrition plays such an important role whether it's helping to meet the demands of everyday bike commuting or completing those long treks of bicycle touring. Other than pre ride carb loading and post ride protein recovery, nutrients necessary for maintaining a healthy immune system will keep you going when the going gets tough wherever your rides may lead.
We appreciate good food and nutrition so much that we opened our
organic country store
almost six years ago. Since that time we have expanded not only our store's ability to meet the varying needs of our customer's dietary concerns but have learned a lot along the way. Over the past few months we decided to make our store's products all organic and non GMO as more folks are educating themselves about proper nutrition and how it contributes to their general health and well being. W
hen the folks at red ace organics reached out to us with an opportunity to test sample their products we were more than happy to considering their California farm supplier is a hundred percent organic and GMO free.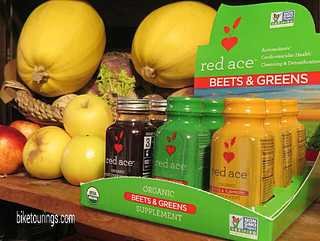 The Boulder, Colorado based company well known for their three beets per two ounce bottle of
beet juice
now has two more blends which rounds out a more complete nutrition package. It includes a beets and greens blend packed with antioxidants, is cleansing and detoxifying and a beets and turmeric blend to help with recovery with post workout inflammation. All of these products aide cardiovascular health, stamina and oxygen intake. This kit of two ounce glass bottles which don't require refrigeration unless opened offer a very practical method of getting a good dose of nutrition in warding off fatigue for long rides as it's not difficult to find some space in a pannier or bike bag to accommodate the little two ounce bottles.
Usually when I think of the types of ride performance supplements found in bike shops I think of GU, Red Bull and other junk food caffeine sugar spikes which actually deplete the body of good ride fuel. When the body is fueled with such synthetic junk food it's like a gas hog vehicle that gets very poor mileage. We're excited to be promoting such an excellent performance supplement that benefits not only your bike rides but supports your body's good health and longevity.
Before I sign off of this post I also want to make mention of what I refer to as "my green drink" that I like to have everyday with hemp milk or with water. I've tried a few over the years and have found my favorite for the past few years to be from Amazing Grass and their
Original Superfood Powder
. It's very easy and convenient to pack and is of course organic and non GMO.
Our blog visitors can use promo code
clean energy
at check out for an additional fifteen percent off your purchase!
Links related to this topic:
Lose Weight, Get Fit for Bike Touring
​Benefits of Goat Milk for Commuting
​Bike Touring Energy Bar Recipes