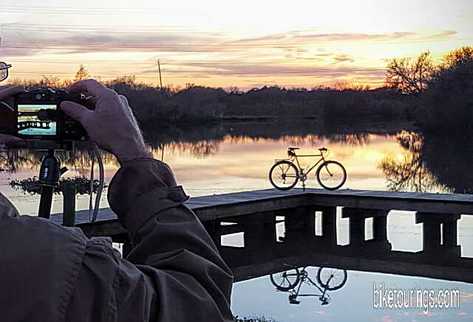 We are happy to announce our new for 2016
Bike Tourings' Photography Site
. After receiving such a positive response from fellow bike folks expressing their appreciation of our photography and after having received some success with stock photography sales I decided to add an interactive slideshow below. Most if not all of the images added at the
Photography Site
are new images or pictures which were created simply for fun aesthetic purposes because bikes are so very photogenic of course. I will continue to blog and promote this site but with more of a focus (pun) on the many photos we have archived and continue to create.
For folks we have done product reviews for I have created separate galleries for your perusal. Contact information or any questions or comments are also available at the photography site. All images are available for purchase and download at varying price options based on image size, type and use. Most of our photography is also available as much larger TIF or other file types for graphic designers, illustrators and other such endeavors. Otherwise, hope you enjoy this new addition to our site and look forward to any questions or comments you might have.
​Here a few links for folks interested in photography equipment and gear for bicycle touring, commuting and bike packing.
Bridge Cameras for Bike Touring
Camera Favorite for Bike Touring
Tripod Favorite for Bike Touring
---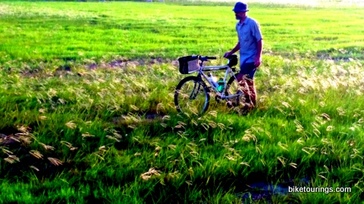 Club Ride founded in Sun Valley Idaho
After Lisa complained to me about wanting to ride her bike commute in "regular clothes" I set about finding some stuff she would like and as it turned out I like it to.
Club Ride
provides durable, practical casual bike wear for bike touring and commuting. An every day look and appeal for bike folks.
Styles and designs for both men and women for whatever your riding style might be. Click photo at right or link provided above for information or to purchase.
---
---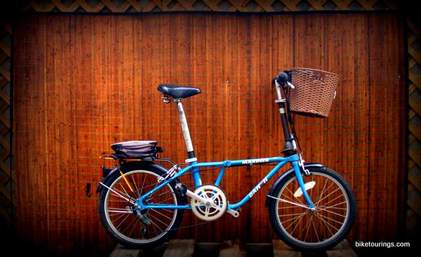 When Dr. David Hon, one of the leading experts in laser technology, decided to leave the space trade behind him and focus on green transportation for everyone, his own star was born – DAHON. Working together with his brother Henry, the two developed the first modern folding bicycle and proceeded to unfold the bicycle's potential. 220+ patents and 30 years of quiet evolution and ingenious technologies later, DAHON has shaped the way folding bikes are made and the way we get from one place to another. Focused firmly on a green future, DAHON remains unyielding in redefining green mobility.
Our '98 Dahon Mariner pictured at left is a fun, safe and dependable ride for the entire family. Click on the photo or link provided for more information about Dahon's line of bikes.
---
ACCESSORIES

Ortlieb USA makers of quality Bike Panniers

Ortlieb USA is the exclusive US distributor of Ortlieb Outdoor Gear, Tubus Carrier Systems, Racktime Transport Systems, and Ultralight Bike Mirrors. Formed in 1998, Ortlieb USA is a wholly owned subsidiary of Ortlieb Sportartikel GmbH, and based in Auburn, Washington. They distribute their products primarily through local specialty retailers across the United States.

Products include a wide range of high-end outdoor gear, including backpacks, bicycle bags, motorcycle bags, camera bags, bicycle carrier racks, and various other gear.


---

---

Axiom Bike Racks

Click on image for information or to purchase

RIDE MORE & LIVE BETTER

Axiom products are warranted against manufacturing defects for the lifetime of the original purchaser. If a product is determined to be defective by the original Axiom dealer who sold the product, it will be replaced at no charge with original proof of purchase.
Axiom is committed to helping cyclists ride more and live better, and we've been at it for 25 years. Our products are designed and tested by avid cyclists, so every minute detail is painstakingly considered before a final design is approved. The end result is a lineup of superior cycling accessories that meet the specific, everyday needs of people who ride bikes. Axiom means intuitive products, premium materials, innovative designs and cutting edge manufacturing techniques. We make cycling products that work, so cyclists have more time to play. Discover the world by bike.

---

---

Polar Bottles, Made in USA

"At Polar Bottle, we take great pride in producing an American-made product that supports our own local and national economies by providing employment to local workers. Our products are assembled in, and shipped from, our warehouse in Boulder, Colorado with parts sourced from the USA."


"We know there's a lot of concern about the safety of plastic water bottles. That's why we want to make it clear no products offered by Polar Bottle contain harmful chemicals like BPA or phthalates. Our bottles are completely safe."


Well, I have been using the company's products for years and really appreciate the insulation for keeping my drinking water cool and cold. Good Stuff.

---

---

Camelbak Hydration Packs for Cyclists

For the convenience of easy hydration and/or ability to carry more water for bike touring on longer trips checkout Camelbak's line of cyclist specific hydration packs. For mountain biking, commuting, touring or road there is a hydration pack designed to fill your needs. Made from BPA free materials, Camelbak has played a large role in hydration pack design and quality standards for the industry. Ergonomically designed for men and women in a variety of sizes, designs and capacities.CamelBak has built its reputation by engineering products that exceed consumer expectations for quality and durability. In 2011, CamelBak introduced the Got Your Bak™ Lifetime Guarantee for all reservoirs, backpacks, bottles and accessories.

---

---

Cygolite USB Li Ion Rechargeable Bicycle Lights

Cygolite Metro 300 Lumen bicycle light

Cygolite makes some of the best bicycle lighting products for bicycle touring and commuting. Convenient USB recharge cord can be used with the

C Crane Travel Radio

for recharging while bike touring. Streak provides 280 lumens, Metro 300 and other models including USB rechargeable tail light. Long run time and very bright light for all bike travel lighting needs.

Made in the USA.

---

---

Showers Pass Cycling Apparel for Bike Travel

"Showers Pass® road, in the remote mountains of northwest California, is a favorite place for great cycling, but wind, rain and hailstorms can hit quickly. One must be prepared with high-performance clothing. Riding at Showers Pass® made us dissatisfied with the available cycling rain gear. It just didn't work.
And so we saw the need for better cycling gear. Better ventilation, better durability, better fit... clothing better suited to each cyclist's individual pursuit.
Our collection of cycling clothing includes men's and women's jackets, pants, vests, and accessories THAT REALLY WORK. So go ahead and ride. We've got you covered"


---

---

Abus Bicycle Locks for Bike Travel

German quality design with bike locks for different cycling needs

Famous German lock manufacturer with a diverse selection of bike locks

---

---

Planet Bike Fenders for all Wheel Sizes. Perfect for bike touring and commuting

There are two very good fender manufacturers that supply an entire line of fenders for a variety of wheel sizes and application. My fave is Planet Bike which donates a portion of each sale toward bike advocacy groups. Similar in design to SKS with matching quality and most often less expensive. We like the Cascadia for our big tire touring bikes. Planet Bike has fenders for all cyclist's.

---

---

COMPONENTS

Selle Anatomica Leather Saddles, Made in the USA

"We make the world's most comfortable leather bicycle saddle. Period."
Statement from the company's website and they may be right about that.
"When you ride, the two sides of your pelvis move independently. Your saddle should move with them. We make the world's most comfortable leather bicycle saddle. Period. From the patented slot carved out of premium American leather to the suspended design, you'll feel the difference from day one".Leather is the only material that can provide ergonomic surface support and anatomic relief.



---

---

Cinelli Gel Cork Handlebar Tape

Cinelli invented cork tape in the early 80s by blending ethylene vinyl acetate (EVA) with cork to yield a foam with a great feel and then spent another couple of years working out how to colour the tape. By 1987, Cinelli had developed eight colours of "cork" tape and it quickly replaced cotton as the tape of choice (Andy Hampsten immediately fell in love with the new tape because it allowed him to race without gloves). The company now offers arguably the largest range of handlebar tape and its cork ribbon can be had in a variety of colours and patterns. There are plenty of similar products from other companies–most bike brands offer their own tape–but the feel of Cinelli's cork blend still sets the standard.CLICK ON LINK BELOW FOR INFORMATION OR TO PURCHASE

---

---

Schwalbe Bike Touring Tires

The tire of choice with seasoned bike touring experts.
Extremely puncture resistant, durable long wearing tires designed to support touring loads.
SCHWALBE NORTH AMERICA prides itself on outstanding customer service, consistency, a superior product at a competitive price, and the endless pursuit of supporting a great sport and a healthy source of transportation.

CLICK LINK PROVIDED BELOW FOR INFORMATION OR TO PURHCASE


---

---

Velocity Dyad Touring Wheels

Touring specific wheels with higher spoke count, thicker heavier rims and quality hubs.
"Our reputation was formed by providing an excellently manufactured and high quality product, with service and flexibility that is unmatched. In 1998 we began to produce fully built wheels using cleverly sourced high end components paired to Velocity rims. Many generations of high end, fully customizable wheels later, The Wheel Department, was formed in Grand Rapids, Michigan near the beginning of 2011".
Our mission is to provide you with wheels, rims, and accessories that allow you to enjoy your bicycle to its fullest extent. To us, that means providing incredibly durable yet performance oriented equipment that can be customized to your tastes and desires. Made in USA


---

---

Vittoria Randonneur Touring Tires

Tread of the Vittoria Touring Trail tire.

Vittoria has an excellent line of Randonneur Touring tires including a uniquely designed and hard to find trail touring tire available in 700c. These tires are very good quality and offer some tread designs different from Schwalbe and prices that are easier on the wallet.

Blog article for the Trail touring

tire or use link provided below for more information.

---

---

Velo Orange Frames, parts and accessories

Click image to shop or browse Velo Orange products

Most cyclists don't race, yet they ride uncomfortable racing bikes and try to go too fast and so miss much of the world around them. Our emphasis is on a more relaxed and comfortable style of riding, and on refined bikes that are comfortable on a century ride, an inn-to-inn tour, or even on a ramble down your favorite dirt road.

For many years some of the wonderful parts and accessories once produced by small firms in Europe for the cyclo-tourist and randonneur have been unavailable, or outrageously expensive. So I started Velo Orange to find and sell these remaining items, and to produce those that were no longer available.

Please understand that

Velo Orange

is an unusual business as I started it not for mercenary reasons, but to fill a special need. So I'll always welcome, and even ask for, any suggestions for new products and ideas for improving our existing offerings

As we evolve, we'll continue to add new products each week; please keep checking back.In the meantime, why not put your camera, jacket, and wallet in the handlebar bag and go out for a whole day or weekend in the country? Stop at a nice inn and have lunch, chat with the local farmers, drop by an art studio, winery, or bakery. Or ride out to our showroom in historic Annapolis, Maryland.

Happy riding,

Chris

Founder & President

---

---

---

Thermarest Bike Travel Products for touring.

Looking for a pack easy bed roll that will provide a good night's sleep for bicycle touring? I have had Thermarest products for years, long lasting quality that provides night time recovery from those long days spent on the saddle.

---