Bicycle Touring and Commuting Resources and Links
Scroll Down this page for Special Discount Sales Events, Regular Savings and even some Free Resources.Whether you're someone looking for a Brand New Twenty Niner Mountain Bike or looking for great prices on parts and accessories for Bike Travel including bicycle commuting and bicycle touring specific items.There is something on this page for most all cyclists. Go to bottom of page for links to online cycling magazines and bike advocacy organizations. Enjoy.Read blog article regarding Jenson USA's credibility and history as one of the original internet bike shops by Clicking Here.
Thirty Bike Touring Interviews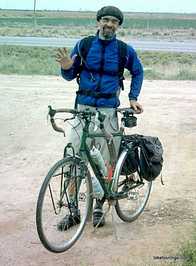 MightyGoods aims to share stories and knowledge from the most interesting and experienced people from all over the world. We talk with adventurers, nomads, athletes and other people who live life to the beat of their own drum.
Sharing stories and knowledge, we hope that you and all the other readers will understand that travel and experiences are worth so much more than material possessions – and that travel and experiences makes you more happy than buying stuff you don't need.
Hopefully you will also learn a thing or two from the many tips that are shared in the interviews. Tips that will help you with your own adventures – whether you have just started planning your journey or you are in the middle of a fantastic journey. Click on photo at left to read some very diverse experiences from thirty different bike touring folks.
---
---
---
Richard's 21st Century Bicycle Book, by Richard Ballantine Free Ebook Download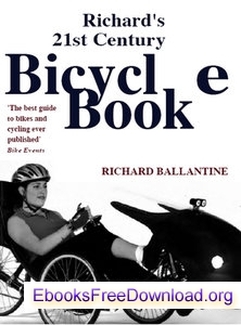 Considered by many bike folks to be one of the best bicycle book authors of all time. Not simply because of his expert knowledge on the variety of cycling subject matter. Richard Ballantine has been entertaining cyclists interested in bike travel, bicycle touring, commuting and mountain biking for decades.

Filled with numerous fun filled illustrations, witty, real and devoted to the world of bikes. You will find yourself quoting some of his silly banter particularly when it comes to bike advocacy and safe bicycle commuting.

With a no nonsense approach, yet able to make fun of outmoded bicycle uses witnessed during the evolution of the bicycle not only informs us bike folk but keeps us from taking ourselves too seriously. Something I have always felt to be a good idea with many of my "hard core enthusiast" friends.

Click on the photo to download the book for free in Adobe Acrobat PDF or click on the link provided below.


---
"there are far more people using bikes now than fit into the types we associate with 'bike culture.'" Nice quote from Blog
"The Invisible Cyclist"
Julie, who volunteers and teaches at

afterschoolcareprograms.com

emailed us a thanks for this page and the useful resources which have helped with their efforts to instruct kids about safe bike riding practices.

Now we'd like to thank Julie for sharing another valuable online resource where the folks at Home Advisor provide an excellent page regarding

Commuting By Bike: Safety Guide and Tips

. There is lots of information at their page for various modes of bike travel.

Click on photo at left or link provided.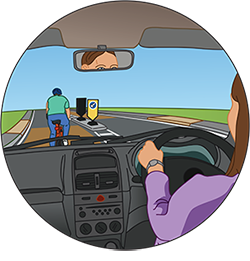 ​"Whether you are a driver, cyclist or both, by understanding other road users can help your anticipation and forward planning skills and ability to take evasive action, leading to safer roads and less conflict between road users".
That quote from the folks at
rospa.com page
provides some good information and free ebook for download. Excellent for new comers to bike commuting who feel intimidated by traffic and uncertain of driver's respect for bike commuters. Click on link provided or on photo at left for more information.
---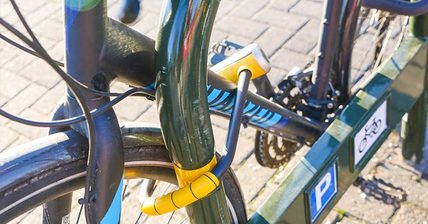 Even a basic bicycle for travelling between work and home can be expensive, so it's no surprise that bikes are a popular target for thieves.
According to Cyclist UK, there were around 327,000 bike theft incidents reported in England and Wales between April 2015 and March 2016. Make no mistake; bike theft is a big business.
So what are the best ways to help prevent yours from being stolen? Whether it's at home or away, this guide should help you keep your bike more secure.
Click on photo at left for more information.
---
Stephen at

Road Bike Hub

has put together a very good list of informative travel blogs for all sorts of folks interested in the various modes of adventure travel.

If you're interested in learning more about international bike travel including bicycle touring, bike commuting, bike packing or particular destinations visit Stephen's list of Top Travel Blogs. You'll also notice that our blog is featured there. : )

---

For a list of many top quality bike touring blogs visit the

Adventure Junkies

semi annually updated list of the top fifty. Determined by google authority, alexa page rank and other objective considerations that make their list an excellent resource for bicycle touring and bikepacking information or excellent photo essays from around the world.

---
Free Cycling Guide for Weight Loss and Fitness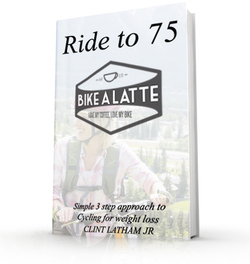 "I created the Ride to 75 program to empower the everyday cyclist to health and happiness on two wheels. Join thousands of other cyclists and get the book free: Ride to 75: A simple 3 step approach to cycling for weight loss". Clint Latham With all the diet fads claiming to do this, that or the other for you we appreciate Clint's dutiful research which reveals that having a more simplified common sense approach to nutritional needs is much more effective particularly for bike folks in pursuit of a more active lifestyle. Click on photo at left to sign up for his free "Ride to 75" guide or read his very informative article here.
​
---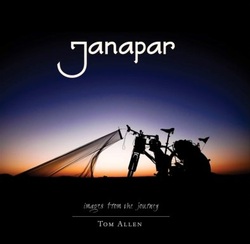 If you're interested in bicycle touring and want an insider's view at what it might be like to bike around the world, check out Tom Allen's free e book Janapar. It's digital photo book he has just released of his travels.
Tom's newsletter and blog
"Tom's Bike Trip"
is worth a look. From how to make a stove from a beer can to choosing a touring bike and other travel tips. Not only a good source of information for would be bike travelers, there's also lots of entertaining photos, videos and humor.
Tom has been working on getting his story shared with folks who might be interested in hearing his very personal story that changed his life.
---
Click on image to visit Bicycle Touring 101 for tips, how to articles, journals and all things bicycle touring. Fun and informative resource.

Looking for ways to charge your electronic gadgets for bike travel? Several bicycle touring experts have incorporated some of the innovative products related to bike touring and solar chargers from
Voltaic
. Visit this informative site that includes a wide range of products from 3.4w panels to 16w panels.
Information includes how to get fastest charge times for varying devices to how to attach panels to your bike.
---
---
Warm Showers a Community for Touring Cyclists and Hosts

The Warm Showers Community is a free worldwide hospitality exchange for touring cyclists. People who are willing to host touring cyclists sign up and provide their contact information, and may occasionally have someone stay with them and share great stories and a drink.

---

---

---

The Clymb offers top quality products at huge discounts for Cycling gear

Members of

The Clymb

can find deals of up to 70% below retail. Sometimes even more with free shipping offers and additional sales events. As a member I have found the best deals on bicycle tires, cyclist specific hydration packs, bike touring tents, cycling accessories including panniers, etc. Free to sign up for email list and no obligation to buy. This is a very good resource for outdoor clothing, gear, footwear and accessories.

---

Traveling Two Bike Touring Basics Free Ebook

Canadian couple has been traveling the world on their bicycles for several years. They freely share a beginner's guide to bike travel free access of the information at

their website

.

---

---

---
---
---
---
---