Sciatic Pain is a Symptom not a Condition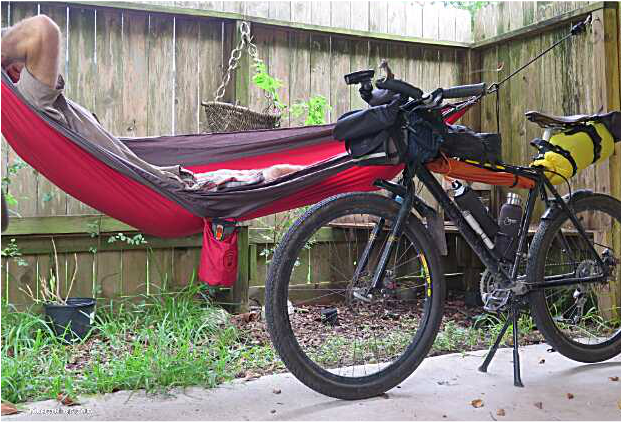 Lisa's new hammock from Grand Trunk felt very nice to lay in for sciatic pain relief after a warm up test ride.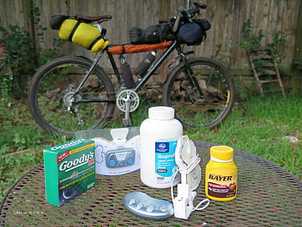 After a recent occurrence of extreme sciatic pain symptoms I decided to share some of what I learned to not only get some pain relief but so that I wouldn't have to cancel my summer vacation plans.
Of most significance is that after several years off and on of going to chiropractors and physical therapists I just recently was informed that sciatic nerve pain is a symptom rather than a condition. I don't remember ever having been told that if it was then it wasn't explained in a way that I would have understood it. In one word "Piriformis". A muscle which connects the hip and femur and is very deep below other muscle tissue and is therefore difficult to reduce swelling and inflammation with cold pack remedies. Consequently some sort of anti inflammatory may be necessary at times help reduce swelling of the piriformis for stretching and pain relief.
Many cyclists have reported the condition of so called "piriformis syndrome" over the years due to over training, improper bike fit or incorrect riding posture being some of the most common reasons. For bike touring and bikepacking I was wanting some new methods for maintaining sciatic pain relief now that I know it is the piriformis muscle needing the attention.
When my sciatic nerve pain acts up it is typically noticeable in varying degrees of pain. One chiropractor showed me a simple test for sciatica by pressing on the back of my right knee and if painful was an early indicator of sciatica. When the sciatic nerve is getting more pinch pressure from the piriformis muscle my left thigh is numb and tingling and I feel nerve pain extending to my right foot making it painful to even stand on that foot. This was the type of pain I was experiencing when I was planning to drive seven hundred miles in one day for a vacation destination. My goal was to get the pain reduced to where I would only feel it when pressing on the back of my knee. After forty eight hours of several alternating fifteen minute hot cold treatments,
tens electrotherapy treatment
, all the while taking three aspirin twice a day and gently stretching the piriformis muscle I found this excellent
video
from Kai Wheeler. Kai Wheeler is a former D1 track and field athlete turned Personal Trainer out of San Diego, CA who specializes in functional training, athletic performance, corrective exercises, self myofascial release training and teaches a balanced approach to maximize workouts.
Her method of using a
lacrosse ball
to gently roll on the area to find sore spots, then holding that sore spot for a minute or two prior to stretching proved to be an excellent method. Although I had been shown a few effective stretches to relieve sciatic pain over the years Kai offered a couple different stretches which were very effective.
By the time I needed to get on the road after implementing all the treatment methods described in this post I gently pressed on the back of my right knee and was pleasantly surprised to find there was no pain. Wow! I was reading bike forums where many folks spent weeks and months without ever getting complete sciatic pain relief. I added a
cushion
to the driver's seat and stopped a few times to stretch the piriformis muscle along the way of my nine to ten hour drive. Not only did I reach my New Mexico destination but I did a lot of physical labor pruning pecan trees, repairing bicycles and removing a collapsed chicken coop which required bending, lifting and some awkward muscle tensioning positions. I was riding my bike on trails though careful not to overdo it ensuring I could drive home pain free, which I did!
Use any and all the links provided which are underlined in bold for information on stretching exercises or products I used to reduce swelling of the piriformis muscle prior to stretching.
​