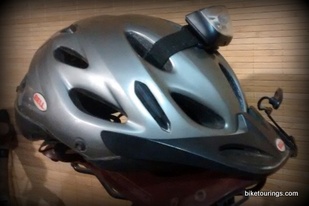 Having tried several different bike lights over the years it is a pleasure to have something as bright, easy to recharge via USB and a few options of light functions.
Though I still use my old
Cateye HL-EL520 front light
for the simple fact that it still works just fine. It looks retro and seems clunky compared to the new technology provided from Cygolite and other manufacturers of USB rechargeable bike lights. Checking if my old Cateye light is even available I was surprised to find it listed at the same fifty dollar price range as my much newer
Cygolite Metro 300
.
Over the past ten years or more I have used the Cateye HL-EL520 front light in combination with my
Planet Bike Sport Spot 4 LED
and helmet mount. This provides a strobe effect to complement the non strobing function of the Cateye as it only has two settings for bright and dimmer. This combination has worked very well particularly when I consider the long run times both these lights provide and the fact that I could simply switch between using one or the other or both depending on traffic situation. Having a helmet mount option is also very nice to have if you ride with a handlebar bag or basket that would require using a handlebar extender or some other method of relocating the light over or around the bag or basket. Another added benefit of a helmet mounted light is getting driver's attention when bike commuting at night. I use a full strobe setting and by simply looking in the direction of the vehicle almost always get the driver's attention with the helmet light strobing directly at the driver. I have recommended this method to many bike commuting customers for added night riding safety.
When I designed and built our mountain bike for touring and commuting (photo above) I wanted a newer model of front bike light. After reading reviews based on another bike fellas suggestion I decided on the
Cygolite 300
. That was almost two years ago and I have just recently discovered the
helmet mount option
. Cygolite makes a few different models of
helmet mount kits
for their various USB rechargeable lights as indicated in compatibility chart shown below. If you are not familiar with how bright most if not all the front lights from Cygolite are there are many other reviews regarding the products ability to shine the way along even the darkest unlit side roads. Due to the brightness of this light's strobe mode it could be hazardous to a driver if this light were aimed directly at them on purpose. For this reason I will continue to use my old Planet Bike helmet mount when exercising that type of riding safety method when bike commuting at night. Besides, the
Planet Bike Sport Spot 4 LED
includes an optional mounting strap to use as a headlamp around camp when bike touring without the light having to be worn on a helmet.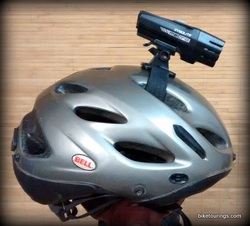 This
helmet mount kit
from Cygolite is a very practical consideration for anyone who owns one of their many top quality front lights. If you own a few different bikes or borrow or rent a bike having a helmet mount option only adds versatility to one's bike packing kit.
With a simple velcro strap mount which is passed around and through the air vents of virtually any helmet the light is surprisingly solid and secure feeling. Though a bit more weighty than the much smaller model from Planet Bike the strap is comfortable enough to be worn without undue irritation to one's head. An adjustable knob is provided at the base of the helmet mount for securely directing the angle of the light, something not included on most other helmet mounted lights. I can't say how the helmet mount kit would feel when used with some of the other models bulkier than my
Cygolite Metro 300
, which is one of the smaller USB rechargeable front lights available from Cygoite.
All of the bike lighting products discussed here provide different qualities for varying bike commuting or bicycle touring scenarios. For longevity, I have owned both the
Planet Bike Sport Spot Light
and the
Cateye HL-EL520
for several years and both are still performing very well despite being exposed to all sorts of weather and getting bumped around and dropped. After almost two years of owning the Cygolite Metro 300 it is nice to have for commuting in heavy rain on dimly lit roads and the convenience of a USB rechargeable front light with long battery time is very convenient. It might seem that there is no added convenience or benefit of having to charge AA or AAA NIMH batteries for the other bike light models mentioned. However, because I had carried some spares with me I was able to simply swap out the batteries for some wet weather commuting in Portland whereas USB rechargeable lights don't provide that option. That having been said, for bike touring and camping there are solar chargers available that could easily recharge any USB rechargeable bike light. It's always good to have plenty of options to suit one's needs.
Links related to this topic:
Rechargables for Bike Touring and Commuting
Four Bike Commuting Lights for About Forty Bucks