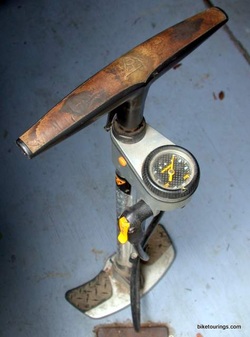 Finding a good shop quality floor pump proved to be a bit of a challenge. We had two of Park Tool's shop quality floor pumps seize up on us and used the Home Mechanic Model instead. Shop quality air compressors are standard of course but the atmosphere of our coffee customers necessitated a more quiet method for our particular shop's needs. After much experience with various floor pumps either failing to perform under the rigors of everyday shop use or simply not efficient enough for rapid tire inflating I decided to try the
Topeak Joe Blow Pro Bike Floor Pump.
The pump itself proved to be a very dependable tool and we used it daily for at least two years. After eighteen months we overhauled it with a
Rebuild Kit for Joe Blow
. Not bad considering we used it in place of a compressor and we had several folks a week needing flat repair with all the thorns along the bike commuter path.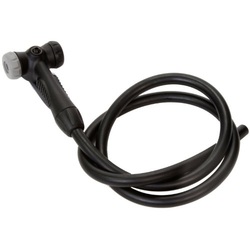 My only complaint about
Topeak's Joe Blow Pro
is the so called smart head, which is supposed to be able to switch from presta to schraeder valve simply by shoving the smart head onto the valve. It never worked consistently enough to be very dependable and we had switched the original smart head out for a new one considering how many times the thing had been dropped on our concrete work floor. We kept two pumps using the
Topeak Joe Blow Pro
for presta valve and the Park Tool Home Mechanic model for schraeder valve. This was a practical solution as most of the schraeder valves were typically on lower pressure tires.
After researching the issue I found it to be a very common complaint regarding Topeak's so called "smart head". An affordable and practical solution is to replace the hose and head with one like the
Sunlite Twinhead Hose Pump Kit.
Despite the criticism of that pump I still recommend it as a very good quality pump as I still occasionally use that pump which is approximately ten years old with only one rebuild kit having been installed. These days I use my
Porter Cable Inflator
on most of our bikes but keep that old pump around as a solid backup when needed.