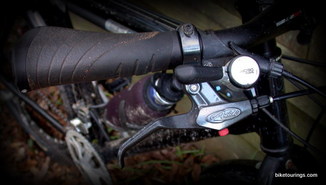 Riding a bike consists of two basic functions, stopping and going. Whenever I go about building a new bike and I can pretty much select whatever brake system I want I choose Avid for stopping the going.
My seven year old touring bike was built with
Avid Shorty 4
Cantilevers and other than replacing brake pads as needed they require little or no spring adjusting.
For my expedition touring bike I knew I wanted to install the
Avid BB7 mechanical disc brakes
and top them off with
Speed Dial Levers
. While working at a shop in Colorado for a few years of all the assorted hydraulics and other disc brake systems the Avid BB7's required the absolute least amount of maintenance of the rental fleet. If they were set up properly of course, which seems to be the biggest gripe most folks have with the BB7 system.
I have tried a few different methods of installing the BB7's to get the best performance from the system other than using their own specific cable housing. It hasn't been an issue at all, however when the cable housing needs replacing I will probably install
Jagwire Ripcord Compressionless Housing
. Only reason being that to get the best feel from the BB7 with Speed Dial Lever system so that it is just as "nice" as hydraulic system. It's not something I need at all for the type of riding I do but would be fun to have.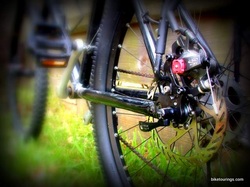 Avid BB7 mountain disc brake
shown in photo at left was installed almost two years ago and still using original pads. Another consideration in providing good braking performance and less noise it's preferable to use organic rather than sintered pads.
Avid OEM pads
are sintered though last much longer than the organic pads. When shopping for replacement pads both types of
brake pads
are typically available with sintered being slightly more expensive.
Folks who prefer the BB7 brakes have shared information on how to get the most out of the system for various riding applications such as downhill riding by using different rotors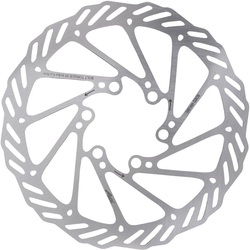 I noticed there is some old information at reviews and how to installations for the BB7's so I thought I'd mention this for folks who might mistakenly expect to have to unnecessarily upgrade the brake rotors. In 2012 Avid replaced the Roundagon rotor on the BB7's with the cooling qualities of the
G2 Clean Sweep Rotors
.
If you are shopping for a disc brake system consider the
Avid BB7 Mechanical Brakes
and consider the fact that many serious bike touring experts ride with an Avid brake system. It's the system consistently installed on many high end touring bikes. It's a very dependable system, preferable to hydraulics with bike touring and commuting for their ease of service and quality feel rivaling any hydraulic system when set up properly.
Links related to this topic:
Best Disc Brakes for Long Distance Touring
How to Set up Avid Disc Brakes