"They don't make a good mini pump" to quote our instructor at
United Bike Institute
. After about a year of not listening to him, preferring to pack a pump I could fit in a jersey pocket or pack I realized he was correct. Immediately following my attendance at bike school I found myself commuting on steep dirt, rocky and muddy roads of Colorado to get to the paved highway eight miles from town. Being able to change tire pressures to accommodate the varying terrain proved to be too much of a hassle with a mini pump. Later, when I could afford to do so I upgraded my tires which didn't necessitate reducing air pressure of rear tire so it would grab going up the steep incline which was so steep it caused my rear tire to spin out if I didn't keep my butt on the saddle.
One of the reasons I wanted to hold on to a mini pump was due to the fact that I always seem to own several bikes at a time and enjoy riding different bikes for different reasons. Having each bike equipped with a saddle bag, spare tube and or patch kit is enough but I still don't equip each bike with its own pump. I wanted a frame pump for my bikes and considered getting a couple different lengths, perhaps a shorter one to throw in a bike pannier or hydration pack until I found the
Park Tool PMP 5 Dial Adjust Frame Pump.
If you've ever compared the efficiency of a frame pump to a mini pump you know that instructor was correct in his statement, particularly when properly inflating to higher pressures. That's one of the reasons Crank Brothers mini alloy pump has a "high volume" or "high pressure" switch at the base of the handle. What that amounted to was having to pump, pump, pump and pump some more and yet even some more until some folks are so exhausted after a flat repair they don't feel like riding. I'm kidding of course but you get the idea. With a frame pump like that from Park Tool that is not the case where even at high pressures the pump performs smoothly and rather effortlessly.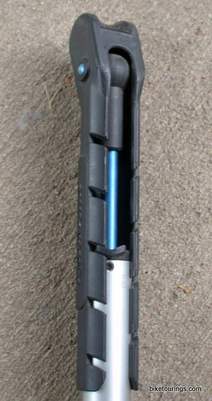 The versatility offered by the
PMP-5
is that the handle has small grooves or notches where the pump can be re sized for varying frame lengths with a "V shaped" stationary piece which holds the aluminum pump barrel to the handle. A tough resin plastic of which the handle is made is very strong and resilient. I have had a handlebar swing around and knock the pump out of the frame sending it on to the concrete on several occasions. Perhaps that's why the photos of my pump are with a concrete background, not at all. I haven't tried using this pump as a weapon to ward off chasing dogs as I have heard of some bike commuters doing with their frame pumps but I can attest to that as a pump this thing is a work horse.
I used this pump at a job where I needed a convenient method of maintaining tire pressure on the sales floor of a major bike retailer. Rather than using a cordless drill tire inflator which was very loud and obnoxious to customers this pump proved to be fast, quiet and efficient enough for me to keep up with my work. I used this pump on countless tires without issue of higher pressures requiring me to stress or strain. Of course the pump head of the
Park PMP-5
can be used with either presta or schraeder valves by unscrewing the cap and inverting the round rubber washer and tip.
With an overall length of 19" when collapsed and approximately 17 1/2" when compressed the PMP-5 fits nicely inside my hydration pack. It also fits safe and snug on the rear rack of my 20" wheeled folding Dahon when tucked under the rack bag.

I don't know if I have said enough here about how tried and true this excellent pump has served me over the years. Knowing how it performed at work under daily use conditions which it was not designed for only proved to provide more confidence in the

Park Tool PMP-5 Frame Pump

to work when I need it to, which thank goodness is very rare as I rarely get flats.

Click on any of the text links or photos for more information or to purchase. I picked mine up approximately five years ago and at the very reasonable price of twenty five dollars it is a very affordable, quality accessory for bicycle touring and commuting.