Feeling safe, confident and comfortable on a touring or commuter bike without compromising performance begins with establishing effective bike posture. Riding a bike consists of three points of contact resulting in direct pressure on hands, feet and buttocks. Effective bike posture results in relieving undue pressure at all three points of contact and lends to a lighter, more agile and responsive feel while riding. An old diagram depicting a good average touring posture reveals that this method has been around a very long time. It's easy to incorporate on most all modern bikes with slight modifications. Diagram on right I have added what I consider to be a very important point of establishing good commuting posture and that is when the mounting point of the handlebar is aligned with the front axle one's line of sight is perpendicular to the head tube of the bike when looking down at the front axle.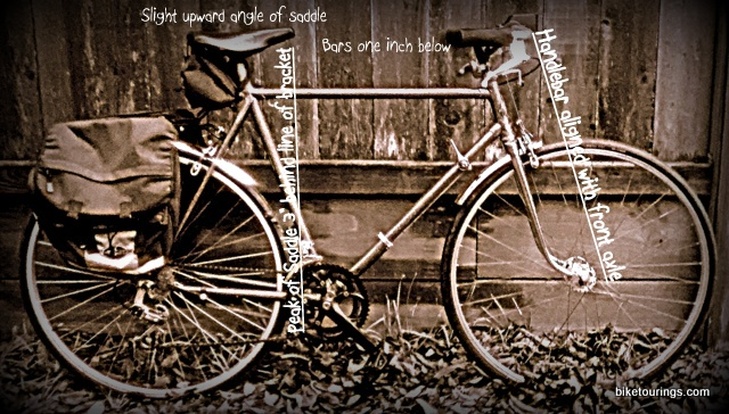 An old Puch Bergmeister refurbished meeting all the parameters of a comfortable commuter touring bike.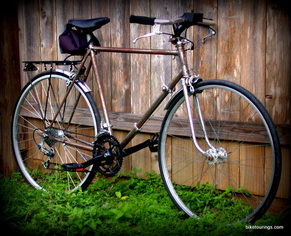 Thanks to my swapping out the original drop bars with the
Velo Orange Porteur Bars
the restoration job of the old
Puch classic
in above photo provides a near perfect example of a bike designed for effective bike posture. "If I have learned nothing from working on bikes I know that nothing has to be perfect". I love that quote, not just because it's my own but mostly due to the fact that there are no hard and fast rules when it comes to riding a bike which is one of the reasons I love bikes so much. That being said I have built every bike I own as well as many more for satisfied customers with only slight variations on the method being described here in achieving effective bike posture. By effectively distributing a rider's body weight between the saddle and the handlebars there isn't too much pressure applied to one or the other.
With the exception of "pedal forward" designed bikes, which are not designed for touring most any bike used for commuting can also benefit from this technique of aligning handlebars with front axle. Anyone familiar with the ever popular Bridgestone MB-1 from the nineties which included Tom Ritchey's long flat stem and bars are familiar with bike design where the handlebars are not at all aligned with the front axle. That is due to the fact that it was designed as an aggressive trail bike. Later on many folks who began using their mountain bikes which were designed in a similar fashion from that era complained of hand numbness and pain. Older steel hardtail mountain bikes have found a new niche as excellent commuter touring bikes and perhaps serve as the best example of bikes needing slight modifications for achieving better bike posture. Photos below of a '93 Bridgestone MB-1 are indicative of changes made in achieving a more comfortable riding position. In reference to diagram at beginning of this post note how the modified Bridgestone on right compares to "good average touring posture".
In most instances when converting an older steel frame mountain bike for touring and commuting a 90mm length stem with a 20 degree rise has been the stem of choice. This has been determined after experimenting with different adjustable stems of varying lengths. Though I have nothing against some of the higher quality adjustable stems it doesn't make sense to add another item which needs to be routinely checked to ensure it's tight.

For the long haul most folks prefer to ride with road drop bars permitting use of multiple hand positions. With drop bars aligning the stem with the front axle proves to be even more effective in establishing good bike posture for touring. By placing hands on the brake hoods (which is where most folks spend their time while touring) is the position to use when determining length and stem angle height for aligning with front axle.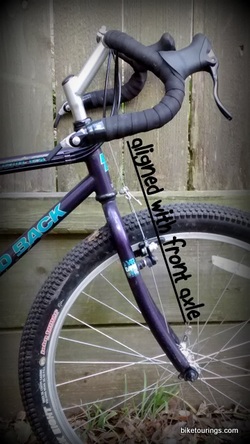 When I converted a
'91 Diamond Back Ascent EX
with
dirt drop bars
I used this method to build a flexible off road touring bike that could also be used for commuting. As there is an exception to every rule the very long angled top tube of the 17 1/2 inch frame may have proven to be a bit troublesome if I hadn't inadvertently picked up a couple 1 1/8" quill stems on close out from my parts supplier. Those stems had been stashed away in the spare parts bin and while I sort of marveled at the bike's overall funky geometry wondering just how I was going to install dirt drop bars and at the same time improve the riding posture of the bike I recalled those just as funky stems.
Photo at left offers an excellent example of aligning drop bars with front axle on a bike that offered up some difficulty in accomplishing the task with a frame that could best be described as long and short and that being the case I guess that's the long and the short of it and a good place to stop.
I could provide examples of several more bike build examples with more information but I feel that the ideas of modifying a bike to achieve a comfortable posture for your commuter touring bike has been well covered. If you're looking for more information relating to this topic such as basic bike nomenclature or bike fit I have provided some links below.