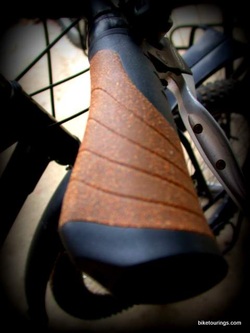 Anodized alloy handle bars can often times pose a problem with getting more inexpensive grips to stay in place so that the grips don't twist around on the handlebar. All sorts of techniques can be used in getting grips to stay in place including the use of hair spray, or simply spend a few extra bucks on some locking grips.

There are lots of quality locking grips on the mountain biking market some of the most popular being the ODI Ruffians, Lizard Skins and Ergon. With the exception of the Ergon which is an ergonomically hand friendly comfort designed grip most other locking grips designed for mountain bike trail riding do not provide the comfort for longer rides on a touring bike or pleasantries for a bike commuter. It has been said that whatever part of your body touches the bike it will hurt while you ride. For this reason the bike market has a plethora of grip designs to choose from, some of which include integrated bar ends for multiple hand positions and are made from a variety of gel, plastics, rubber compounds and even cork. With so many options it's no wonder there are so many forum discussions on the topic.

While I appreciate the comfort and design of lots of different grips I also appreciate grips that are durable providing long wear attributes for changing weather conditions. Bike commuters understand very well that having components and accessories that hold up through varying conditions such as rain, freezing temperatures, UV rays and perspiration is important. After all one of the perks of being a bike commuter is economic satisfaction of efficient transportation. So having to replace any components or accessories with any frequency can seem defeating when shelling out extra cash on less than quality products. Why cork? One of the most common complaints is that many of the rubber compounds become sticky after being overly exposed to UV rays. A durable composite cork like that found on many of the popular handle bar tapes don't incur that issue.

When shopping for grips the most basic consideration is getting the correct length and if you're using grip shifts getting an appropriately shorter grip specifically designed for that type of shifter. If you take your bike to your local bike shop that is not an issue as they will most likely have product that they know to be of good quality, economical and comfortable. However, if you're a consumer who likes to shop online looking for best deals reading product reviews and such narrowing your search for affordable quality grips for your touring bike or commuter needs this article is meant to provide useful information for that search with a list of four of our favorite grips for a touring bike or bike commuter.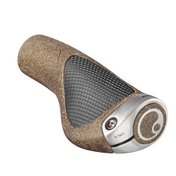 Ergon GP1 Biokork Bicycle Handlebar Grip
Ergon's top selling most popular design has a kraton rubber combined with organic cork. What we like is the large clamping mechanism that is stout and secure while also lending to aesthetics.
Size options are for the grip's circumference and is the only grip featured here providing such an option. While we like this grip the price is comparable to Portland Design Works all cork model at slightly more than thirty bucks. Whereas the PDW all cork model has an inner locking ring, Ergon's placed their's externally where the ergonomic palm pressure is designed to be applied to the grip and we like that.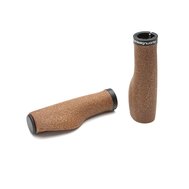 Portland Design Works Cork Chop Bicycle Grips
Though I can't speak directly from experience about these grips, because I'm from Portland, Oregon and due to the fact that PDW makes other high quality components and accessories for the bike commuter we thought we would include their grips here.
PDW's cork grip design is the only grip featured here that is all cork, single inner locking mechanism, ergonomic shape and as PDW has added "pop the cork and relieve the pressure, it's a celebration". If their grips anything like the rest of their products that's probably true. As mentioned previously the price is a bit more than thirty dollars and availability is limited.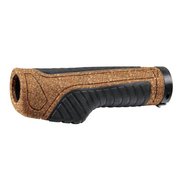 MegaSoft Ergotec SL1 Lock-On Grips - Cork
I know little or nothing about this grip but the price of sixteen to seventeen dollars is very agreeable, the only part we disagree with in the design is the inner lock on an ergonomic palm pressure.
We like to see the ergonomically designed grips having the locking mechanism externally where the pressure is designed to be placed. However, if you're not an aggressive rider and just want a comfortable bike commuter grip, this one may be a winner for the nominal price tag. Also note that these grips have more rubber to cork than any of the grips listed.
Last, certainly not least we found all the features we were looking for at an unbeatable price. We like the design of external lock ring and the lager wing grip design which disperses hand pressure more evenly.

Though this grip doesn't have the sizing options of the ERGON we thought we'd throw seventeen dollars at it to see what it's like. So, yes indeed we like this grip very much although we can't speak of its' longevity it is certainly durable and feels solidly comfortable without compromising performance. These grips have been well reviewed and we snagged a pair while they were on sale for sixteen bucks with free shipping. Installation was simple, less than five minutes which included removing the old grips. If interested in these grips better act quick as they are selling fast.