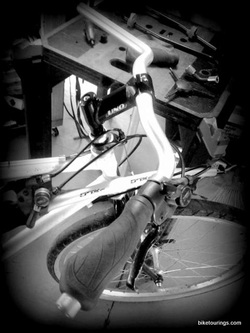 While test riding some new handlebars a friend described them as "not as forgiving" compared to other wider handlebars. Granted he had a few beers in him and when he rode the bike sober he liked it just fine. Now, I'm not suggesting that how a bike rides while drunk is a good test of a bike's performance. Nonetheless I found it to be an interesting statement and useful information for this blog.
So today I replaced those handlebars with a wider
"Ergo Bar" from XLC.
With a 59 degree sweep and a curved design it is a very nice handlebar that I feel obliged to recommend particularly for the price at under ten bucks. The style and design is reminiscent of the ever popular Albatross handlebars at a quarter of the cost.
When someone complains about a sore butt, hand numbness or any other physical pain due to improper equipment or bike fit they are not "imagining" anything. So that when approaching a bike to have it cooperate with the individual rider's comfort we use the phrase "ride your own ride" and sheds light on the autonomy of riding a bike.
Proper bike fit has been a popular topic with some bike shops offering advanced methods of custom bike fit as an added customer service feature. Following is an example of proper bike fit that anyone can implement with basic bike tools or a bike multi-tool
A simple idea of setting up handlebars, brake levers and shifters is a good example of the importance of bike ergonomics. Photo below left provides an example of improper hand position where due to the wrist having to bend from the grip to the lever is sure to produce some discomfort, usually hand numbness or pain. Photo on right illustrates proper hand positioning where the wrist is straight providing stronger movement for grabbing the brake lever and does not interfere with circulation preventing hand numbness and pain. This is just one example of proper bike fit and ergonomics so important for bike riders of all types. For bike commuters and those interested in bike touring it is very important not to be distracted by unnecessary pain caused by poor equipment or improper bike fit.