DIY Brake Lever Tips for Velo Orange Handlebars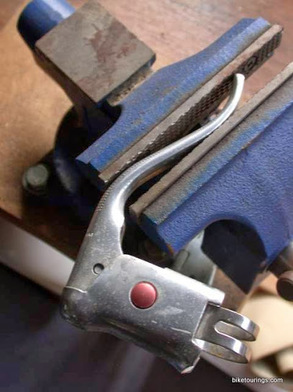 A fellow bike appreciation friend who honors the quality of old steel lugged frames and such recently commented about how much he "hates retro bikes with a passion". His rant had more to do with bikes refurbished in keeping with an older bike's original design and components with their inherent inability to perform or function satisfactorily. An example he focused on is older non aero drop bar brake levers which typically provide poor comfort on the small rubber covers or "hoods" and simply do not provide enough comfortable braking power. Hmm, debatable as anything else I suppose and to each their own. However I enjoy finding use for components as I see fit, it helps to keep me open minded for solutions to repairs or other modifications.
I have found a nice use for the non aero brake levers particularly when converting drops bars to a trekking or touring style handlebar as pictured here when I modified a '70's Vista Summit steel lugged eighteen speed. I wanted to convert the old drivetrain to a 24 speed cafe style bike without having to fork out a lot of money and I was confident of having plenty of spare parts kicking around the shop.

After cutting and bending the steel handlebars to shape it is necessary to straighten the non aero caliper levers for sufficient clearance for the flat style bar as pictured above. Recently I decided to add the Velo Orange Porteur Handlebars to our Puch Bergmeister in a classic commuter style for running errands.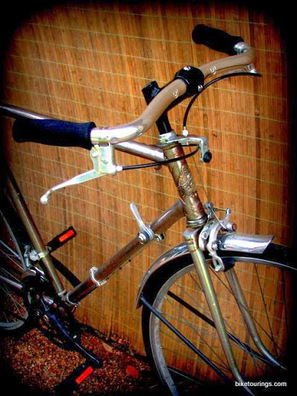 Velo Orange provides quality craftsmanship with original retro styling which works very nicely in retro fitting components for bike restoration projects. When I removed the drop bars from the Puch Bergmeister I decided to leave the bar tape, levers and orignial copper stem intact as an option so I didn't use the non aero brake levers to be modified.
Velo Orange Porteur Handlebars
have an outside diameter of 23.8 mm so conventional caliper levers will not fit. Velo Orange offers their
City Levers
which are a very simple design and uses a standard mountain bike style brake cable, whereas the modified non aero levers use the road style brake cables.
At the very reasonable price of twelve bucks and free shipping I didn't see the point in tearing apart the original drop bars to use the brake levers. However, the old non aero levers will fit the 23.8 mm
Porteur Handlebars
. Just another reason I appreciate those old retro bike parts. Nothing against Velo Orange City Levers but I personally like the style of the modified non aero levers better than the City Levers. So, if you're looking to install some Velo Orange Handlebars with the 23.8 mm diameter and you have some old non aero brake calipers dormant in your parts bin pull them out and use them, they work great.
Happy Spring, good time to get those bike projects going for a fun year of riding. Cheers!
Velo Orange Porteur Handlebars
can be used with Inverted Brake Levers or Bar End Shifters as well. I went with the City Levers as I may install Bar End Shifters later.