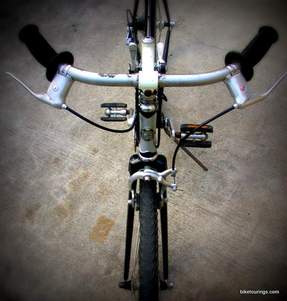 There are many methods and techniques for creating a more comfortable riding position on any bike. But the most affordable and simplest way to accomplish this is by finding a proper handlebar that fits an individual's needs.

Differences between road bikes and mountain bikes are obvious for many reasons so it makes sense that a bike for commuting would be a bit different from both. Mountain bikes are most typically designed to put the rider's weight a bit more forward thus adding some pressure to the front tire for more grip or traction. What has become termed a "more aggressive riding position" varies from bike to bike. These days we see fat bikes designed with a much more upright posture lending comfort and ease of expression to a fun relaxed ride that for all purposes does not lack performance.

This illustrates the point of finding a proper handle bar for bike commuting performance, pleasure and comfort. There are many variations on handlebars these days, sometimes difficult to keep up with all the latest designs and added features. However there are some tried and true handlebars that are simple in design that have been around for quite awhile with proven satisfaction, popular with many types of bike commuters and available in the most common stem mounting diameters of 25.4mm, 26.0mm and 31.8mm. Remember to choose the right diameter for your particular stem or if necessary consider replacing the stem to get your preferred handlebar.
Handlebars with a significant degree of sweep have been around for decades and although most associated with a beach cruiser type of bicycle, mountain comfort handlebars like the one pictured at left have become quite popular. Another example of the tried and true nature of a sweeping handlebar is what has been dubbed the "North Road Bar" and Nitto with their established reputation still provides such an option.
Velo Orange Porteur
with 15 mm rise or drop by simply flipping the handlebar over and usually at a very reasonable price is another very good choice in an example of a sweeping handlebar.
Some of these types of handlebars are available in different widths to accommodate various shoulder widths in order provide a nice custom feel when added to a commuter bike. Other mountain style handlebars like the one pictured above provide options for cutting to width as well as typically being available in 31.8 mm clamp diameter.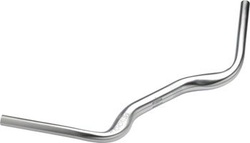 The popular option provided by being able to simply flip the handlebar over, referred to as "flip flop" for higher or lower handlebar height like
FSA - Metropolis Handlebar
. Although this type of handlebar is only available in a single width of 62cm the approximate 40 degrees of sweep and length can provide a couple nice hand position options with longer grips. Some bike commuters prefer the 31.8mm clamp diameter as the larger size seems to transfer for a more solid feel in overall handling.
For more information visit our article at
Bike Answers
. Or shop the bicycle commuter handlebar links provided.