Minoura Front Bike Racks for Touring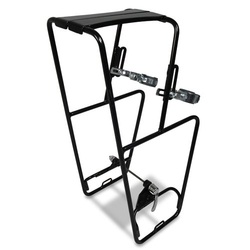 I have been searching hither and yawn for a disc compatible front rack for a recent mountain bike build.
Here's link
to an earlier post regarding a mountain bike for trekking, touring and commuting build project. A process of building a new mountain bike for trekking and touring has been a bit frustrating searching for a front rack that would suit the build.
I kept looking at Old Man Mountain products but I had a goal of keeping the build project as reasonably priced as possible without compromising on quality. For this reason I couldn't justify spending $150 on a front rack, or more after shipping and mounting brackets.
After a few months of searching, looking, perusing and most all forms of asking "where is the rack I'm looking for?" I began to become a bit discouraged. Knowing the proper rack exists to meet the following criteria:
Mount to canti bosses on fork
Disc brake compatible
Fits 26" wheels
Top plate for an aerodynamic camera bag instead of a wind block handlebar bag.
Steel construction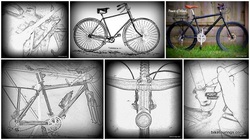 I posted a
disc compatible front rack primer
this past September, so I was on the look out for a rack probably a month or so prior to that article. I really like the Kona Project 2 fork but was disappointed when the 440 cm length didn't include threaded eyelets for midway fork mounting. Now I'm happy with the design as the
Minoura MT-4000SF
Front Pannier Rack
looks like the sweetest front rack for this build. Not only does it meet all the criteria listed above, but it is very reasonably priced at under $60. I have not found any reviews of the rack on line. My only experience with any product from Minoura has been the Workman Pro portable wheel truing stand and is an excellent product. So, I've order their front rack to see how it is. So far it appears to be extremely versatile for suspension fork mounting with clamps or to canti brake bosses and can fit both 26" and 29" wheel sizes. Mounting hardware included with price, nice.
Girls here keep asking "what do you want for your birthday or Christmas?" I just didn't have an answer, couldn't think of anything, really and thought "oh let's get some beer and pizza and watch a movie". Yep, that's just what it feels like to have found this front rack, everybody's happy. Yep, I feel we are building a pretty nice "all rounder".
Cheers!