Front Touring Racks for Ease of Installation and Proper Handling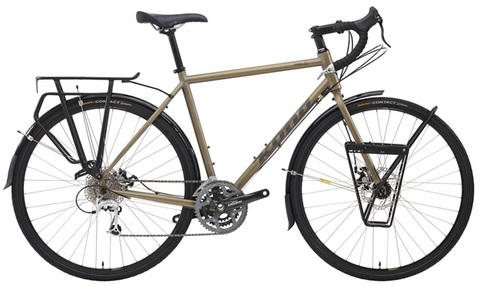 Looking for a Disc Brake Compatible front rack for bike touring? Me too. Found Anything to purchase? Me neither. However, there just might be some front racks not being marketed as "disc brake compatible" that work. Here's some new information from my research on this common dilemma.
I love Old Man Mountain racks. Ten years ago or so I had one of their front racks on my Mountain bike with Rock Shox fork. As I chose different bikes over the years as my primary mode of transportation I used to transfer that trusty front rack to whatever it was I was riding. I eventually sold the rack with a bike I had for sale in our old bike shop. Since that time I have used a couple other much less expensive front racks such as the Axiom Journey DLX, Delta Megaloader with very satisfactory results. Neither of the racks broke or adversely affected bike's handling.
In keeping with the changing times and bike market finding a disc compatible front rack is a good idea and finding one that doesn't cost over $100 is an even better idea. I understand as well as anyone that the "you get what you pay for" applies to purchasing bicycle touring and commuting accessories as much or more so than any other interest. Keeping this in mind I tend to look for information from industry leaders who have proven track records of innovation and reputation. I like Kona, the company has helped in keeping bikes fun for a long time now. So, when I discovered the 2014 Kona Sutra (photo above) marketed as shown in photo with the
Blackburn Lo Rider Rack,
which doesn't claim to be disc brake compatible I thought, hmm is that the tried and true P2 fork? Yep. At a price tag on the rack of $40, beginning to seem like a good idea.
With the growing trend and popularity of expedition touring bikes I see quite a few folks embracing and keeping 26" wheel bikes as their ride of choice.
Surly's line of 26" forks
seems to dominate the market and show in most popular search results as well as Dimension and a couple others.
Not that there is anything wrong with those forks, but from a touring perspective having the multiple braze ons and brake bosses provide multiple rack, fender and or basket options. I contacted Kona to inquire about the front rack on the Sutra being just as compatible with the 26" P2 fork and I did describe the 26" model specifically despite his denial of that in his response. Here was the reply from tech department.
Hi, unfortunately I can't say for sure. We have many versions of the P2 in 26". If I had to guess I'd say it won't be as easy a fit as the Sutra.
With a bit of work with clamps and fixtures a rack can be fitted to most forks.
Happy Trails!

The mid way threads featured on quality touring forks for low rider style racks are perhaps the most defining feature of a true touring fork. Based on personal experience carrying panniers at that midway mounting point provides better handling, particularly when considering the option of carrying more weight on the front than the rear for balance. Photo at left shows the

Racktime Top It front rack

which requires the midway mounting point I'm referring to. That design provides an easy solution in providing a front rack that doesn't interfere with the brake caliper. Also, the additional light mounting option keeps "handlebar real estate" open for other goodys. However, reviews are stating that panniers do not fit on to the rack. I found this rack on sale for $32! The fork shown is from Civia Loring but does not provide canti bosses like the Kona Project2.

Another Blackburn Rack pictured below left is also sold at a reasonable price ($40) and is described as "

The Ultimate Mountain Bike Front Rack for off road touring"

.

I inquired with sales rep. on usage of the

Blackburn MTF-1

with disc brake and he said:

"

Yes, that will work fine with a disc brake fork".

Notice that the upper mounting stays also require use of midway mounting point on fork for this rack to mount properly. In reference to the reply from Kona where racks can be made to fit using clamps and what not, simple is best particularly when you want to do some off road touring with it. MTF-1 design accommodates most front pannier sets on the sides with top carrier deck. I like this rack design particularly for the price.

Funny to find that the best fork option for this application has been coming from Kona for twenty five years now. Happy Anniversary Kona Project2!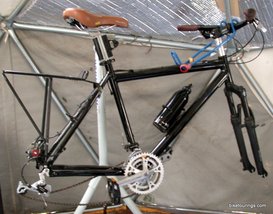 This article is meant to simply share information I've found while researching for my own mountain bike build project. Haven't made a decision thus far on what type of rack I want for the front, will wait to test ride with fork on to see how it handles. Always a Good idea.
Cheers!
Rideon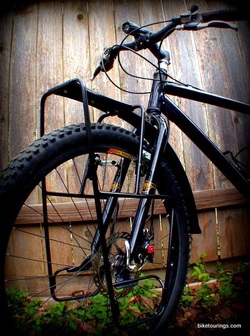 In order to get this post current here is the rack I settled on for my bike commuter, off road touring bike.
Minoura MT 4000-SF Front Pannier Rack
. Installed easily on the Kona P2 fork and all feels well in my world these days. If you're in the market for a disc compatible quality steel front touring bike rack Check out Minoura's as it is made to fit both twenty niner or 26" wheel size and can also be mounted to a suspension fork. Link for more Information regarding
MInoura MT 4000-SF front pannier rack.
This rack can also be found at the
Bike Tourings' Store
check often to see if it's available as this rack sells quickly at less than seventy bucks you can't beat it.