Steel Front Rack Provides Mountain Bike for Bicycle Touring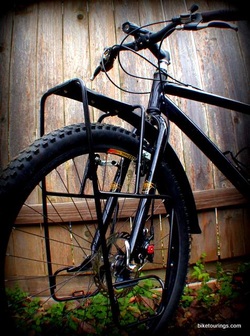 Whenever I receive a product to review the very first consideration I look at, particularly with bicycle touring and commuting accessories is ease of installation and use. Other than assessing the overall quality there really isn't much if anything else to consider. At the beginning of September I had posted an
article regarding disc compatible front racks
for touring. At that time I wasn't privy to Minoura's disc compatible front rack and therefore it wasn't mentioned. There are some very nice front rack options in that article to suit most needs. Before we get started here I must mention that per Minoura's instruction manual this rack is not intended to be installed on a rigid fork. So this post is not only a product review of the MT 4000-SF, it is also a "how to install this front rack on a rigid fork".
When I received the Minoura
MT 4000-SF front Pannier Rack
as a gift I was pleasantly surprised at my first assessment of the quality, even if all of the instructions were in Japanese. I have provided a PDF instruction manual for download at the end of this post. First of all it is a steel rack, which I really appreciate just in case I should somehow bang it around while touring. So many other bike touring folks recognize and have an appreciation for steel if only because it is so easy to repair should welds break or come loose. Having said that looking over welds, design and even the paint this front rack from Minoura is unique in quality to price comparison it's unbeatable. At about half the price of Old Man Mountain Racks , which I consider to be the best,
Minoura's front rack
also includes all the mounting hardware at no extra charge. Includes mounting brackets for canti brake post mounts or clamps for front suspension fork mount. This rack is also disc brake compatible and will fit all mountain bikes including twenty niner. Similar to Old Man Mountain racks a rack specific front wheel skewer is supplied for axle mount.
Most notable unique aspect of Minoura's design is the rack comes in two pieces that must be bolted together as shown in photo at right with the supplied stainless steel hardware shown in item number (1). I wasn't too certain of this element of Minoura's design until I assembled it. I was pleasantly surprised at how rigid and stiff the rack immediately became after tightening in place.

The only hardware not included for this installation was brake mounting bolts item (2) for cantilever post installation and using the supplied "L" shaped brackets previously attached to rack shown in photo. For suspension fork installation the rubber lined round clamps are included and are of very good quality shown in item (3). And finally the front rack skewer for attaching to fork and front wheel.

In concept the idea of attaching directly to brake posts and skewer is a good one and is why Old Man Mountain Racks are so distinctly popular.

Thick washer like those found on V brake type pads were used between canti post and mounting bracket to prevent the slot in bracket from sliding over the threaded shoulder of post.

After getting this front rack installed I test road it on some single track around our shop with my dog. He's good for test riding things like this, particularly while checking out the handling with the added weight and feel of maneuvering. So far I am quite pleased with how this rack fits, looks and should perform well for my intended use of mountain bike trail touring and camping. With a weight of three pounds and capacity of 40 lbs. it will suffice, though I am certain that with the type of installation described here that rating is increased.

Other than the instructions being in Japanese the only other issue when I went to install this rack was the groove in the "L" shaped canti mount brackets were a hair too large and wanted to slip over the brake mount post when the mountain bolts were tightened. I remedied this with some ovalized washers found on linear type brake pads. This also added some distance to help get the rack level without creating a weak spot for this installation as shown in photo at left.

The supplied "L" shaped mounting brackets are a fairly versatile piece of hardware and well thought on the part of Minoura. Depending on width of fork, distance between cantilever posts the brackets can be mounted inside our outside of the rack mounting surface. With our Kona P2 fork I installed the brackets on the outside of the rack and fits nicely. Depending on the fork you are using and tire width the brackets may interfere with tire removal. In this article we see a Kenda Nevegal 2.125 being used without issue. This rack weighs 3 lbs. or a bit less as shown. I'm very pleased with it.

Minoura also offers a low rider style steel front rack with the
FRP 3000
. If you don't need a front rack that is disc brake compatible or for suspension fork check it out at link provided. I have installed this rack on an old Bridgestone MB-1. Easy to install with axle skewer and brake boss mounts.
Click Here
for my review.
Photos of Minoura Front Pannier Rack loaded with Panniers
A few folks have asked about mounting panniers to the Minoura front rack so I have added some photos. I have been able to attach three different brands of panniers to this rack, two of which are shown below in photos from Axiom, Delta and Avenir in the case of the top rack trunk bag. Photos link to more information regarding the panniers. Enjoy. Also, as I mentioned previously this rack has become popular and at times is difficult to find for purchase. Here is a LInk to other reviews of
Disc Brake Compatible Front Touring Racks.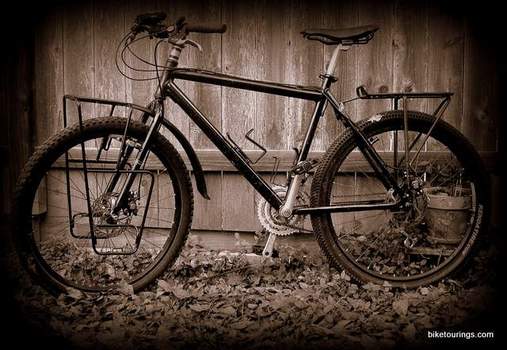 Minoura MT 4000-SF installed on Kona Project2 rigid fork for mountain bike touring, trekking, commuting. Classic retro style for a modern bike touring build