Seems like more and more bike commuters and folks interested in bike touring are turning to
older mountain bikes
for converting to road use. Replacing heavy knob tires with narrow slicks, adding fenders or racks and in most cases older mountain bikes makes ease of installation one of its most appealing characteristics.
If you're in the market for a new commuter bike or simply interested in picking up a bike for any practical lifestyle solution consider some of the readily available older mountain bikes from the eighties and nineties that are commonly available Besides the reasons mentioned above the frames are typically made of quality steel of the era, provide a comfortable and relaxed frame geometry which can typically be customized for one's preferred riding posture by simply raising the quill stem and or handlebars, something not applicable with more modern threadless stems. Another reason of course is that older mountain bike frames typically have all the braze ons needed to easily add accessories such as racks and fenders for touring and commuting.
In today's market bikes constructed with steel frames are not only desirable but are fetching a tidy sum with few kits costing well over a thousand dollars. Arguably worth it or not or whether or not that's a lot of money to spend on a bike is irrelevant. When considering the wealth of quality steel frame mountain bikes available to purchase as an affordable, quality used item the only compromising part is being stuck with a 26" wheel. Many of today's steel frame bikes are still being built with cantilever brakes and in some instances an older mountain bike can be converted to disc brake though usually not necessary as linear pull brakes have ample stopping power for most practical purposes.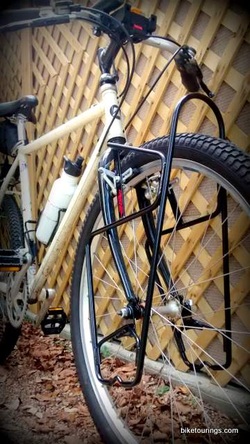 Finding quality accessories which provide improved commuter or touring options is key. Look for products which will install seamlessly with the least amount of add on brackets, holders, etc. This is particularly true in the case of adding front and rear racks to a bike for touring. Some of the qualities I was looking for in a front rack for bike touring are steel construction, solid design and ease of installation which attaches directly to the bike's pre existing mounting options. In the case of my
'93 Bridgestone MB-1
an obstacle was that there was no threaded mid way fork eyelet, which is very common. Most typical solution for this is a U shaped threaded bolt which wraps around the inside of the fork stanchions for a front rack to be attached and secured with a backing plate. One of the reasons companies such as Old Man Mountain and Surly have such a solid reputation is due to their racks mounting more solid than the method described. I like the designs from Jandd as well and often thought how nice to have a design like that of Old Man Mountain made of Steel like Surly Nice Rack without the excess weight.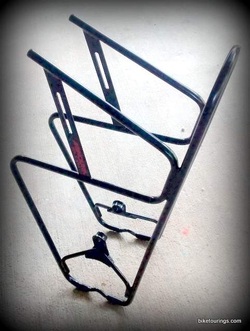 That's where Minoura found a niche and hopefully will continue to manufacture and provide their two most recent steel front touring racks. Since my previous review of the
MT 4000-SF Front Pannier Rack
late last year I have noticed the average price of that rack has doubled from it's introductory price of a bit over fifty bucks with free shipping. I noticed the price increase when shopping for the
Minoura FRP 3000 front rack
for the Bridgestone. Luckily I was able to find a returned item at the warehouse without all the mounting hardware. A rear length skewer was used to mount the rack in the dropouts and works perfectly well. I had some longer brake mounting bolts which made installation a breeze even without the replacement skewer or instructions.
Minoura's FRP 3000 model
is approximately one pound less than the
MT 4000-SF
though it doesn't have the top plate, the FRP is one solid welded piece of steel whereas the MT model comes in left and right sides which must be assembled prior to installing on a bike.
These racks from Minoura are both very versatile steel racks that can be mounted to bikes with 26" wheels, twenty niners or 700c touring bikes. If you have have a disc brake or suspension fork get the
MT 4000-SF
Specifications for the are listed below. Click on links provided for specifications regarding the
MT 4000-SF front pannier rack.
Minoura FRP 3000 Specifiations
Weight 1.2 kgs, or 2.6 pounds
Weight Capacity per side: 5 Kgs. or 11 pounds for total capacity of 22 pounds
Fits 26inch to 700C (NOT recommend for suspension forks)
Low-rider type Front carrier for 700C touring/ Cyclocross or MTB bike with V or cantilever brake
Steel tube construction with black powder coated finish