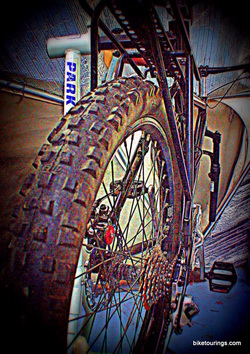 In pursuit of the ultimate multiple surface, multiple terrain touring and commuting bicycle? With the ever expanding market of fat tire and touring expedition bikes, popularity in that style of bike is here to stay.
As I was perusing fat tire mountain bike reviews, forums and the like I read the following statement; "to me $1,500 is not a lot to spend on a bike". That quote relates to the low end price of a quality "fat tire bike" as compared to Surly Pugsley, Moonlander, and others. It's a national trend and bike shops are selling them like hot cakes. Really, in this so called "awful economy" folks are going out to spend well over a thousand dollars on a bicycle.
As good as that is to hear, I set about to build a bike the way I ride, middle way. I'm referring to cost as well as tire size. So far my "like new build" or "new to me build" has cost something around $442. 93. Yep and I have two rear wheels as I found a WTB Dual Duty 24" disc rear wheel with tube and Kenda Kinetics 2.6" tire all intact at a thrift store for $2.93. I later found a Mavic Disc Wheelset for $40 that I can select tires for as a more practical commuter bike.
I prefer my brakes and shifters to be separate rather than the popular integrated models. I also prefer that the inner working mechanics of the shifters not be made of plastic as I have observed them wear out and are expensive to replace, particularly the integrated models. One of the reasons bar end shifters on drop bars are so popular with today's touring bikes like Surly's Long Haul Trucker.
I found the precise component group I was looking for on a '91 Diamond Back Ascent EX that had hardly been ridden by evidence of no wear on original chain and original tires still had "whiskers". I considered sticking with that frame but it was too small at 17.5" and I was looking to build a bike for touring with disc brakes.. Deore thumb shifters with index and friction options are still sought after and get a pretty penny in good condition on ebay. Paul Thumbies were over priced for this build. So, for $50 I purchased the entire bike, pulled the components which were all of the Shimano LX line including cassette, chain, crankset and rear derailleur. Of course I kept the DB frame for another build as the frame design is very interesting meeting some of the standards of a touring bike. Such as three bottle cage mounts with one under the downtube, longer top tube and chainstays.
I also wanted to be able to add a rear rack with disc brake without too much hassle.
Read Blog Post Here
.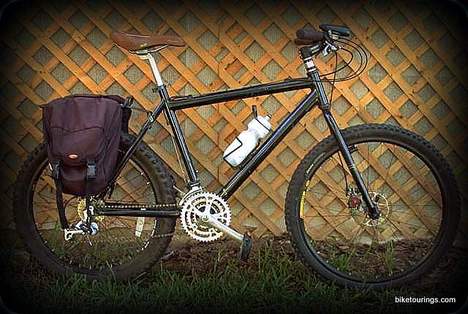 Photo shows compatibility of Kenda Nevegal 26" x 2.1 on front with
Kenda Kinetics
24" x 2.6" on rear. Due to the size of the rear tire it doesn't effect riding position enough to be noticeable and sure makes for a fun trail bike with aggressive tread pattern on rear.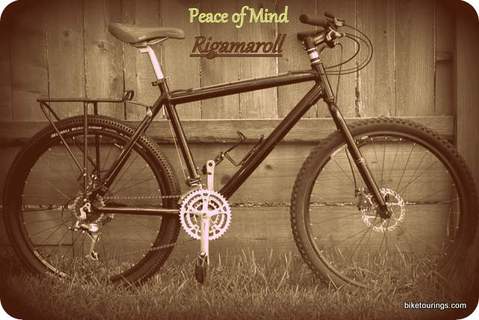 For commuting the Kenda Small Block Eight is used in place of the Kinetics for low rolling resistance on pavement and dry trail surfaces. Nevegal on front maintains sure handling.

A bicycle that rolls fast for commuting with lots of starts and stops, ability to take on pot holes, ride across grass, etc.
Oversized 31.8mm Mountain Riser Comfort Bars provide sure handling with loaded commuter panniers and handles changes in riding surface.