Import and Edit RAW Photos while Bike Touring
I had intended to get this post written up earlier in the month but since every month is bike and photography month around here I'm none too worried about it. Part of the delay involved a bit of a learning curve while helping Lisa resolve some issues with her
Samsung Galaxy S6
. First of all, I would advise against investing in that particular model of phone as the S6 does not include an SD card slot. Why was that important? Because while I attempted to help her get the photos off of her phone (all 2,200 +) by exporting them to her desktop the computer stated that "the USB device had malfunctioned" due to the simple fact that the phone had run out of space to function properly. Not only were there a significant number of pics but each photo was a rather large file size. That's when I learned that the phone did not have an SD card slot but fortunately I had the necessary gadgets to connect an external SD card to her phone very similar to that shown in photo below.
When I noticed that some of the photos created by the twenty megapixel camera created file sizes exceeding seven megabytes I reconsidered a previous decision to only shoot high quality jpegs for travel. Not only because many of the RAW files created by my twelve megapixel
Canon G16
often push toward nine megabytes but due to the hassle of trying to import RAW images for editing as the camera's built in wifi feature doesn't support RAW file sending to a device. W
hile bike camping or bike touring
this is of no issue as I prefer to connect a USB Host Dongle or
OTG cable
for connecting the camera to phone or
tablet
. Although there are several photo editing apps which support RAW file viewing and editing the problem still remained how to move the pictures from the camera to a device for editing.
Earlier this year I made a modest purchase of an
RCA Voyager Pro Tablet
which cost less than a hundred bucks but has an excellent processor. A seven inch tablet with built in keyboard at that price it was worth it just to experiment with some various photo editing apps. It has proven to perform reliably and efficiently enough for many of my most basic photo editing needs which included installing Adobe Lightroom for editing and Snapseed for RAW files, a simple image resizing and watermarking app for blog and site photos and Flickr for photo storage and sharing. As most photo buffs are aware Flikr does not support RAW file photo storage and converts to jpeg by default. I was beginning to wonder if I would have no choice but to pack my bulkier more expensive laptop if I really wanted to shoot and edit high quality images and then decided it wasn't an option.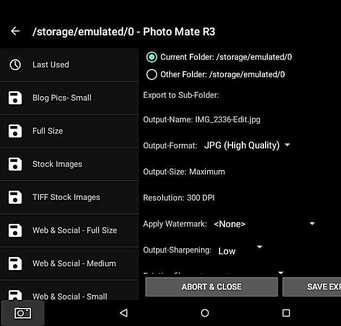 With some of this year's scheduled bike travel plans quickly approaching I was also finding it difficult to have a RAW file photo editing method in place that would be small enough to pack and lightweight enough to not be burdensome. Another travel consideration is cost. Due to some of the inherent equipment risks with travel I look for the least expensive items that can suitably perform in maintaining affordability without sacrificing performance. For example if I were to damage a several hundred dollar
Mac Book
while trail riding or camping when it isn't necessary to have such an expensive device on such a trip then the financial risk or loss is just ignorant.
Then I found the answer to most all of my limiting options in
Photo Mate R3
. Available at the play store for less than ten bucks and worth every penny as it resizes to custom settings with or without adding a watermark and works with Adobe Lightroom. Best of all? It supports RAW file import from my camera via the camera's USB cable attached to the previously mentioned OTG cable. Photo above is a cropped screenshot of the left hand side of the apps screen for exporting, sharing and saving files while providing TIFF and PNG options. Thanks to the good folks at
dpreviews
for providing the information about this very efficient work flow app.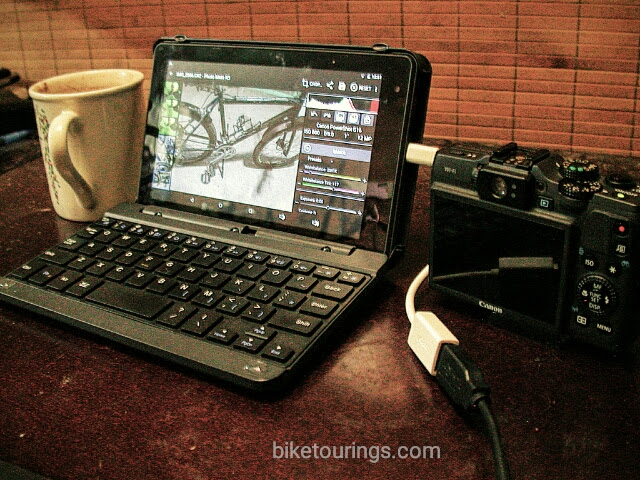 From right to left Canon G16 with "USB Host Adapter Dongle" connected to RCA Voyager Pro 7" tablet with Photo Mate R3 for importing RAW files for editing. Oh, an a cup of coffee of course.