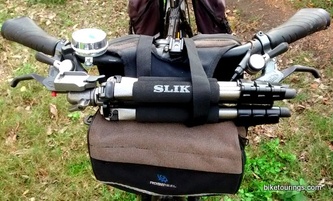 After much research and lengthy comparison of some of the leading travel tripods I decided on the
Slik Mini II
as the perfect complement to the
Canon G16
for my bike touring photography kit.
Considering this tripod weighs less than two pounds and closes down to less than fourteen inches makes this one of the most compact, lightest weight tripods available and is considerably more stable than others I had considered. I basically had three criteria for a new travel tripod.
Weighs less than three pounds
Small enough to fit inside a pannier
Cost less than a hundred bucks
While I had considered some of the tripods from mefoto and Manfrotto I preferred to have the tripod legs extend and adjust with tab levers rather than the screw type which seems to be more common on some of the most popular travel tripods. Some simpler models don't have a quick release plate for the tripod head and was also something I found to be quite preferable.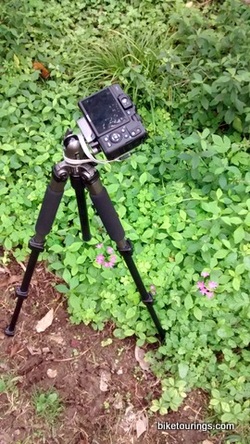 Many of the light weight tripods designed for travel have very low working heights. While the mefoto daytrip can only extend to a maximum working height of twenty four inches the
Slik Mini II
has very reasonable heights of thirty five inches as shown in photo at left and the center pole extends to an overall height of forty three and a half inches and is plenty stable for my little Canon G16.
This is a very well designed tripod that provides versatility for a variety of photo opportunities. Ratcheting leg design allows the tripod to be used low to the ground and the center pole can be inverted for photographing close ups of flowers and such. Protective foam rubber sleeves are an added bonus not only for when it's cold outside but makes it nice to grab, hold and pack.
When I compared and considered all the basic qualities of a travel tripod I was pleasantly surprised to find that the Slik Mini II not only met all my basic criteria but I was able to get a lot of tripod for less than a hundred bucks. If you're looking for a light weight, compact travel tripod for bike touring, the
Slik Mini II
is simply the best available and at a very reasonable price. Oh yeah, it also includes a nice little carrying bag with shoulder strap. Click on photos or link provided in post for information or to purchase.
Links related to this topic:
Camera Favorite for Bike Touring
Bike Touring Pack Kit
Bridge Cameras for Bike Touring