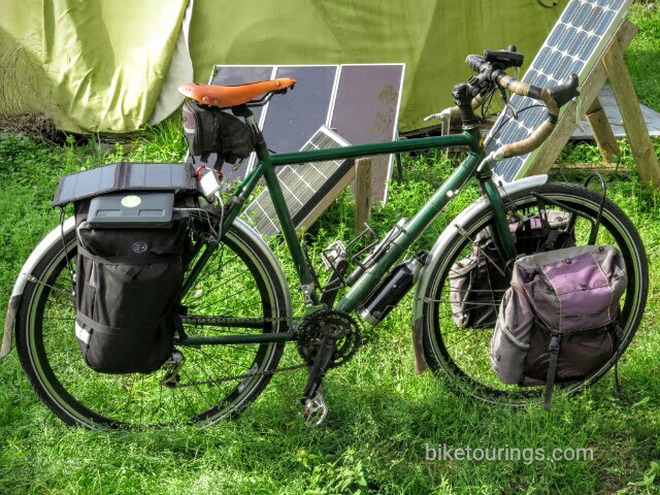 Monocrastalline 7 watt portable solar panel with 6800 mAh power bank for charging phone, camera batteries, tablet, any USB rechargeable devices while bike touring.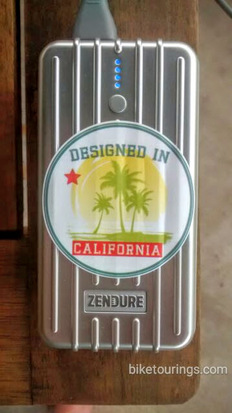 Photography is something I enjoy as much as riding a bike so while planning this next bike tour it was important for me to figure out a way to keep my
Canon G16's
batteries charged while bike camping and touring.
Within the past couple years or less small, lightweight solar panels have become exceptionally affordable with many company's offering very similar looking products in a folding monocrystalline portable power unit for travel. Providing these in a variety of watt sizes such as three, ten or twenty watts for example, solar power is becoming more and more available due to improved panel technologies and designs as well as some competition for better pricing. This is good news for folks looking to powering or keeping gadgets charged while pursuing outdoor activities and traveling. Some quality review sites make mention of quality solar panels from
Anker
and particularly the
Goal Zero Nomad 7
with a waterproof, dustproof battery pack or power bank. The Goal Zero Nomad 7 is a seven watt panel paired with a 7800 mAh power bank. I picked up a
SEcur 7 watt panel
and paired it with what I consider to be a better quality power bank with "charge through" function for approximately sixty bucks.
Depending on what gadget wants or needs you might have the assortment of quality affordable solar options most likely has something to offer for everyone. I have kept my gadget needs to a minimum even while blogging and for photography. Here is an example list of items that can easily be charged with a seven watt panel which can be connected to a compatible power bank or directly to any USB device. The
Zendure A2
(photo at left) is a very solid power bank available in different sizes offering a few options for the number of USB ports when charging a couple devices or more at once. An important consideration when selecting a power bank is whether or not it can continue to be charged from a solar panel while it's charging other devices. There are only a few that do and
Zendure
makes an excellent quality power bank and the "charge through" function is an extra bonus. Zendure started out as a kickstarter program and has since established a reputation for durability and charge performance.
My first testing of the Zendure A2 was to see how quick it would charge my
RCA Voyager Pro 7" tablet.
The Voyager Pro's battery is not so great which is one of the reasons I put together the solar recharging kit being discussed here. After approximately an hour and half the battery drops to fifty percent so I plugged the tablet into the Zendure A2 which had the tablet fully charged in about an hour. Not bad at all and the Zendure power bank still had seventy five percent capacity left! Excellent for such a tiny, lightweight unit. Just want to make mention of the silly little Voyager Pro Tablet. Although it retailed for fifty bucks it has since had a significant price increase to seventy five. I guess folks figured out what an excellent product it was for travel being that RCA put all the money into the tablets processor and comes with a pretty decent keyboard. I have found it to be the smallest, lightest weight tablet available that can easily handle running all the photography apps installed for resizing, editing RAW files and uploading to my stock agency. It works just fine for typing up emails, some blog posts but I certainly would not recommend it to students needing to write lengthy term papers. But for travel and in my case bicycle touring it is a very affordable quality option that serves my needs. Photo below shows the
Secur 7 watt panel
charging the
Zendure A2
while the power bank charges the Voyager Pro Tablet. One of the reasons I chose the Secur 7 watt panel was for its' rack friendly size and shape which can easily be secured with included loops placed around the perimeter of the two folding panels. There is a velcro closure underneath or on the backside of the panel for storing the power bank so that I have the option of charging it while riding.
Two add on items were a
USB battery charger
for the Canon G16's batteries and a new phrase to me an
"OTG or "on the go cable"
. This is simply a USB cable extension which provides a USB cable to be attached via micro usb port to a tablet or phone. This makes it possible of course to download or transfer photos directly from the camera to another device and is used when tethering a camera to another device which has become quite popular with many professional photographers. This is an excellent option when wifi networks are not available to transfer images to my phone for editing or sharing. A bit of info. for Canon Camera users only EOS system cameras have the "tethering" option but for the simple transfer of images from my
G 16
to my phone the OTG cable is excellent.
Green technology is something I have been investing in for more than ten years so I have observed the vast improvements with the newer monocrystalline panels' efficiency. I consider the bicycle to be one of the earliest forms of green technology although that was obviously not the intention at the time of its' invention. Today, the bicycle is the most conscientious form of bike travel whether that be touring or commuting and with some of the latest advancements in portable solar power for travel we can all feel that much more empowered. Click on any of the links provided in bold and underlined or click on photos for information or to purchase.
Links related to this topic
Camera Favorite for Bike Touring
Tripod Favorite for Bike Touring
Fun Filled Multi Day Pack Kit

Bridge Cameras for Bike Touring