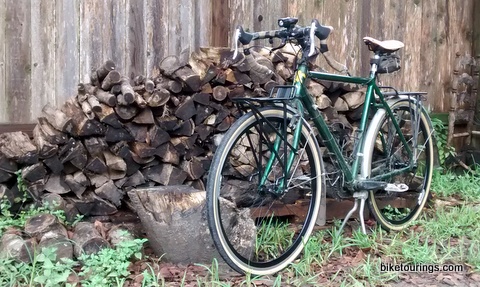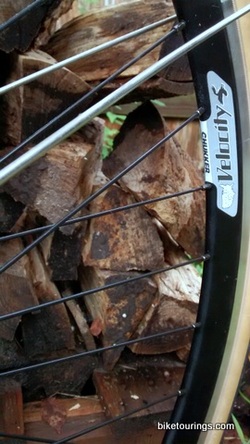 After a recent post regarding
wheels for bike touring and commuting
I decided to get a set of
Velocity Chukkers
. Just received these wheels today, several days earlier than expected and wow! I really like this new beefier rim and of course, yay now I have serviceable hubs. With a front and rear wheel combination built with thirty six spokes there is a noticeable feeling of confidence for loading the front rack. Twenty five pounds? No problem, not that I load that much weight over the front wheel but when and if I want to it's not going to be an issue.
Most noticeable difference between the
Velocity Chukker Wheels
and my older
Velocity Dyad Wheels
is the rim depth. Not a huge difference just needed a slightly longer stem for the presta valve to comfortably clear the rim with easy access for a pump. Fortunately I had a couple of 48 mm stem length tubes in the shop. So, if you're someone interested in the
Chukker Wheels
note that you need a presta valve stem of at least 41 to 55 mm however I would suggest getting a stem no shorter than 48 for ease of pump use. For added convenience this is a common stem length found on
700c Slime Tubes
with presta valves and are available at many department stores if you find yourself in a bind needing a replacement tube while bike touring or commuting.
It's not that I like the Chukker rim better than the
Velocity Dyad
but I like the hubs much better than the sealed cartridge hubs of my '07 Dyad Wheelset. Also, it's worth noting that because of the 135mm hub width I was able to change out the rear axle spacer for a nice easy fit with 130mm drop outs. I'm not particularly fond of black spokes and the color of the wheels had nothing to do with my purchasing decision but the machined side walls were a better price on sale. Although the thirty two spoke front wheel of the Dyad set never posed an issue when loading the front rack it concerned me when I found some lateral play in the front hub and took it to a shop in Colorado to have them look at it. The shop had pressed in some new cartridge bearings and a few weeks later there was some (though not as much) lateral play. So, I have decided since then that having hubs I can use cone wrenches on is better for maintenance reasons. Speaking of which due to the beefier rim design of the Chukker I know these wheels require minimal truing as I rarely needed to adjust the slightly less rugged Dyad wheels. When combined with the
Vittoria Randonneur Trail II RFX
in the 700c x 35mm sizing it provides substantial durability for getting off road for some trails or off road touring.