Proven Top Quality Wheelset for Bicycle Touring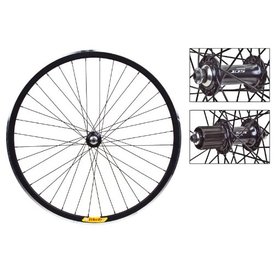 Providing a newer link for folks interested in the
Velocity Wheelsets
. Due to unavailable disc wheels in the 700c 36H specifications ideally suited for bike touring and commuting some other models for rim brakes are usually available.
There are very solidly built wheel sets typically reviewed by "clydesdale" riders looking for a strong, solid set of wheels that don't stress and strain under load. Another added benefit and one that I have become quite fond of is the good old tried and true cup and cone Shimano hubs.
Many good things have and will be said in reviews of sealed cartridge style wheel bearing hubs. After riding with them for a few years I still prefer cup and cone hubs for ease of servicing and less rolling resistance. As I was shopping for a new
touring bike wheelset
of my own I noticed this set available in both black and silver. Laced together with a Velocity rim this is a wheel set for bike touring and commuters alike looking for a durable, easy to maintain set of wheels. Use links provided above or click on image for information or to purchase.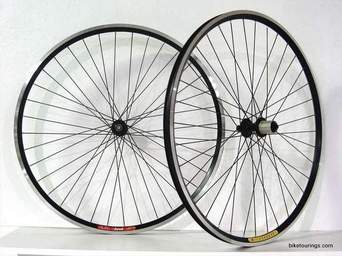 I have been riding on Velocity Dyad wheels for several years and can attest to their reputation of proven quality and dependability for bicycle touring.
In the past five years I have only had to tru these wheels two or three times. With the 24mm Velocity Dyad rim being wider than most rims and paired with the Velocity sealed bearing hub these wheels provide confident trouble free riding for bicycle touring when broken spokes are possibly the number one culprit of ruining a fun bike touring vacation.
Now that this wheel set is available for disc brake at an exceptional price I thought I would give it a "blog about" as Velocity is an Australian based company sounds appropriate. Any how, Velocity USA is providing hand built wheels for the U.S. market and doing so with good stuff.
Here's information from
Velocity's Wheel Department
,
"We have been building with DT
Competition
and
Champion
spokes for many years. The Champion is a 14G spoke that is used in most of our standard wheel builds. The Competition is DT Swiss's double butted option that we use for our Comp builds.
The Wheel Department
chooses to build with them for many reasons: the overall build quality is superior to other spokes on the market, they do not de-tension once stressed and relieved of windup, and finally the spoke elbow interface at the hub flange creates a very precise connection ensuring the longevity of the wheel".
So, rather than go over all the specifications of Velocity wheels in an effort to share what a quality wheel this is, click on any of the links provided above to visit Velocity's site with detailed information for your next wheel purchase. For the best price on this wheel set available today use the link provided below.
Cheers!
Rideon