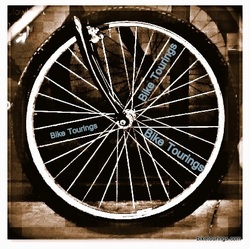 I decided this year to replace my touring bike's wheelset for a couple of reasons.
1. My experience with cartridge style bearings is that I don't like them. I received a rather high quality wheelset from a company I won't say who and I was told that one to two millimeters of lateral play in the hub was normal. Yeah, I disagree there shouldn't be any lateral play in the hub of a wheel and so I'm sticking with good old cup and cone hubs.
2. Do I really need forty spoke wheels for my bike touring needs? No and this is mostly due to the fact that my experience with quality wheels is simply that a hand built wheel or "how" a wheel is built vs. machine built wheels provides a significant difference in wheel maintenance. This translates as quality hand built wheels require less frequency of truing than a machine built wheel.
A lot of information is available regarding this topic and I'm not going to venture into the philosophical kaleidoscope and never ending debate of wheel building, wheel engineering, or physics. There's been plenty of banter about what is the minimum number of spokes for a solid bike touring wheel. Forty on the front and forty eight on the rear has been a rule of thumb by a few wheel building experts. I agree that if someone plans on hauling uh, how much weight are we talking about hauling on a bike with that stout of a wheelset? That's how you find what wheelset is really necessary for your own bike touring and commuting needs. Refer to previous post regarding
Loaded Touring Bike Weight
.
On the other end of the spectrum are road bike wheels with twenty spokes which have to be trued too often when used for bike commuting, let alone touring. I have heard folks complain about feeling scandalized by their local bike shop for selling them a bike for commuting that didn't have the wheels needed to meet the demands of pot holed roads and minimal load carrying. These days the wheel size options for any bike that can be used for commuting in 650b, twenty niner, 700c and of course twenty six inch wheels provide varying strengths, weaknesses and efficiency differences. For example a thirty spoke twenty six inch wheel is sturdier than a thirty two spoke 700c wheel but the 700c wheel provides better rolling efficiency. Personally, for my commuting needs the efficiency variable between twenty six inch wheels versus 700c wheels has never been an issue. For mixed terrain of dirt, gravel, pavement, potholes and load carrying capacity for commuting the twenty six inch wheel has always performed admirably with much less need of truing maintenance. Tire selection of course also contributes to wheel maintenance as a larger touring style tire while providing load bearing qualities is also better at absorbing bumps and providing a type of suspension absorbing quality between the riding surface and the wheel. Of course for longer miles of road touring the efficiency of a 700c wheel dominates.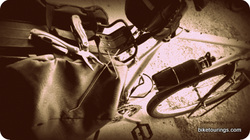 My own experience with a thirty two spoke twenty six inch wheel has kept me from "upgrading" or changing to a 650b wheel. While riding my '93 Bridgestone MB 1 to run some errands this past winter I heard a front spoke break so I immediately stopped, quickly removed the broken spoke with my
Leatherman Tool
, spun the wheel and was pleasantly surprised to find that the wheel was still holding true! I was able to finish my ride of approximately seven or eight miles without issue so I could repair the wheel when I got home at my leisure. A broken spoke on my road bike with twenty spokes on the front wheel wouldn't have been as uneventful. So regardless of wheel size here are the basic characteristics that contribute to a quality wheelset for bike touring and commuting. There essentially four basic categories of a complete wheel and consist of a rim, spokes, nipples and hub. That's it, so it's actually very simple to determine what is a good quality wheel set for bike touring and commuting.
1. Rim: Double walled rim construction. Absolutely, I have heard of folks being happily content with single walled wheels being used specifically for gravel road riding but for tried and true commuting and touring purposes a double walled rim is a must. Velocity, Sun Ringle, Sun CR 18 and Mavic Open Sport are a few examples of quality rims with established reputations for bicycle touring and commuting.
2. Spokes: At least thirty spokes. A quality built wheel set like those provided with a
Mavic Open Sport
Rim and Tiagra hubs have an established reputation of durability. Sheldon Brown praised the Shimano Tiagra hub as rivaling even more expensive top of the line hubs at a modest price, not to mention the ease of servicing the hubs. This is the type of wheel that can be used for demanding commutes or light weight bike touring and can easily handle weekend bike camping getaways. Stainless Steel Spokes. Yeah, ever worked on a bike with galvanized spokes, hahaha, quality wheel sets are going to be built with quality spokes, duh. DT Swiss spokes are worth making mention as they are commonly used on some of the finest wheels available. Good stuff.
3.
Brass nipples are common and many new alloys are making better spoke nipples than those qualities offered by brass. Weight and corrosion resistance are the two most touted qualities of alloy nipples. However, regular lubrication of brass spoke nipples when a wheel needs to be trued for instance, is enough to keep the corrosion from setting in on the spoke nipple for it to be an issue.
4. Hubs: As I mentioned there are two basic types of hubs commonly available today. Sealed cartridge bearings and cup and cone bearings. Don't be fooled by a sealed bearing to mean cartridge bearing. Some of the descriptions of a sealed hub does in fact contain cup and cone bearings.
If you find some good wheels at your local bike shop and they have the tools to service the cartridge bearings and you plan to ride mostly for commuting or local touring then the hub construction wouldn't be an issue. However, if you plan on servicing your own bike or want to be able to have the wheels serviced wherever you might be in the world then get cup and cone bearings for their serviceability.
Determining your needs for a quality bike wheel set need not become rocket science. Determine your own personal needs or what you intend to use your bike for. Reference some of the leading touring bike manufacturers and see what is being installed on their rides. Thirty six spoke front and rear touring wheels can last for many thousands of miles of loaded touring. Many folks who know how to appropriately pack and load their rigs for bike touring or bike packing are sharing their information online. As we were taught years ago in Oregon to load more weight on the front wheel than the rear was based on the idea that the front wheel is not bearing the load of your body weight like the rear wheel is. For that reason having a thirty six spoke wheel in the front as well is a good idea. Some folks don't like how a bike feels or handles when packed that way but for all practical considerations of wheel maintenance it is the preferred method. Some of our favorite wheels for bike touring and commuting are listed below for information or to purchase. I have only listed four wheelsets, two for 700c touring wheel size and two twenty six inch mountain bike wheels for touring and commuting that can be used for disc or rim brakes. My favorite rims are from Velocity and I have been enjoying a rather maintenance free set of touring and commuting wheels for several years. The Velocity Chukker Wheels consist of thirty six spokes front and rear and are available with machined or non machined side walls.
26" Wheels for Bike Touring and Commuting:
Sun Rhyno Lite MTB Wheel Set 26" x 1.75, Deore 8/9-Speed QR, Black 32 spokes
Sun Rhyno Lite MTB Wheelset 26x1.5 Black Rim Brake 36-Hole Shimano M525A 8/9/10S
700c Wheels for Bike Touring and Commuting:
Rims:
Sun CR18 Rim, Hub: SHI M430 8/9sp BK 32H
Sun CR18, 36H, double walled, silver
Hubs: Shimano M430, 8/9-speed, quick release, silver
Links related to this topic:
Velocity Chukker Wheels for Touring and Commuting
Velocity Dyad Wheels for Bicycle Touring