Vittoria Provides Bicycle Touring Tire for Casual Trail Riding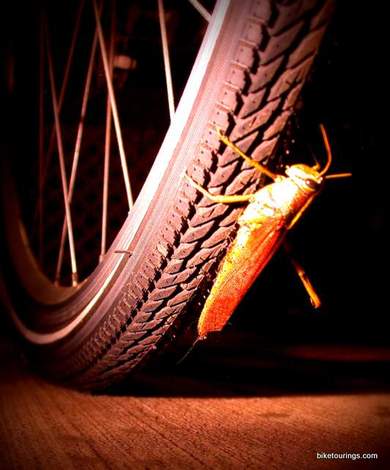 Oh grasshopper, choose your tires wisely and keep some extras around.
I enjoy discovering unique products for my rides, particularly when it fills a need, improves my ride and provides more riding options. As is usually the case with my posts I look for versatile, dependable equipment that can (for the most part) do it all.
Finding a 700c touring tire with durability for both flat protection and wear that adds some much needed suspension for absorbing road vibration, protect wheels while carrying a load and recently added to my list, improved trail riding tread.
I have been a devoted
Schwalbe tire
customer for several years both as a rider and with retail sales. As my old
Schwalbe Marathon tires
were being held together with tire repair boots I decided to begin shopping for some new and different tires that would provide a bit more tread for light trail riding. As luck would have it or if you don't believe in luck the bike gods were smiling on me or if you don't believe in that my savvy ability to find a good deal landed me tires I was hoping to find. Yep, that's it or perhaps all of the above.
Vittoria tires have been described as the most economical when considering the number of miles a cyclist can get out of them and the least expensive tire any serious touring cyclist would consider. Vittoria has a line of touring tires with puncture protection described as "double shield", "ultra shield", etc. I wasn't concerned about a folding bead as I keep a spare Panaracer Tourguard 700 x 32 with kevlar bead as my folding spare tire. Due to the fact I have been riding with Schwalbe tires I have never had to use that spare tire. A neighbor brought his old Cannondale by for me to look at his tire issue with Vittoria double shield tires not seating into the rim correctly. Here's a
link to a common problem
followed by other complaints regarding mounting issues with Vittoria tires. What is defined as a "flat spot" around the tire where a portion of the reflective stripe on the side wall appears to sink into the rim while the rest of the strip is visible. It is a very common complaint found when doing a search on these tires. Second most common complaint is the inability to get the tire on and off the wheel when out on a ride. Reason being that the tire is so difficult to mount that folks were using liquid soap and a host of other products I hadn't heard of before.
With the exact same tires and issue before me I decided to try the old tried and true (baby powder can also be used)
tire talc
. I put a considerable amount of
tire talc
into a large durable plastic bag, placed the tube into the bag and shook it thereby covering the tube with talc. I learned this method at
bike school
and it has worked to help resolve so many stubborn tire mounting problems and regarding the Vittoria tires I was able to mount the tires without tire levers! As for being able to get tire off and on again while out on a ride the talc stays on the tube once installed, unlike the other products which evaporate and necessitate carrying some type of extra liquid. Another idea is to pack a tire jack like the
VAR Nylon Tire Lever System
, I keep a set of these in my hydration pack. In my shop I use the
Kool Stop
Tire Bead Jack as it is a bit bulky to pack for bike touring yet is good for shop use.
Feeling good about being able to provide a solution to a common problem and now sharing that information I can praise my new tires from
Vittoria for trail riding
. With the same qualities as the
Vittoria Randonneur with extra tread
depth and tread pattern for dispersing water and dirt this tire provides sure footing for casual trail use. I picked up the 700x35 tires for clearance with fenders and I am so pleased to have a tire this versatile for touring.
Ride characteristics are excellent and I like the larger tire size for bike trekking as well as an excellent winter tire. So far this tire matches up to all the qualities I mentioned earlier with improved trail riding tread as shown in photo, even the grasshopper likes it. Click on link provided or images below for more information or to purchase.