"Neither rain, nor sleet, nor gloom of night stays these commuters from the swift completion of their appointed rounds". Adopted from the unofficial postal service motto but is true of many hard core bike commuters as well.

However if you're new to bike commuting you may have had some rather unpleasant experiences attempting to ride a bike in adverse weather conditions. If not, consider yourself lucky as most well traveled bike commuters have many stories to share regarding their learning curve on the way to obtaining expert knowledge of what does and does not work under certain conditions and the most popular is winter bike commuting. From trying different tires on varying wet surfaces to pedaling out fifteen miles in sub zero temperatures knowing what to wear and how to layer different fabrics can sometimes make a difference in a joyful ride or a miserable commute leaving some folks abandoning winter riding altogether.

Layering is effective in not only keeping a person warm and dry but also provides ability to stay cool under varying temperature changes. In severe winter climates with drastic temperature changes ranging from zero degree morning wind chill factors and sunny late afternoons supplying a balmy 40 to 50 degrees knowing how to effectively layer clothing not only for changing temperatures but wind and precipitation as well.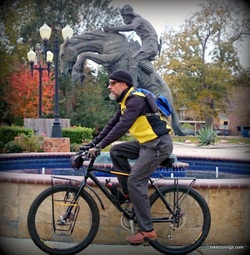 Ten years ago while living on the property of an "off grid" cabin in Colorado I was car free and spent three winters bike commuting approximately twenty miles round trip five or six days a week. I made some mistakes along the way hurt myself a few times on steep frozen dirt roads but for the better part of it I didn't just survive, I thrived. Information discussed here is effective layering that not only worked well for me in Colorado but in wet climates like Portland and Astoria, Oregon. It is actually a fairly easy task to run out and purchase stuff to stay warm and dry but keeping bacteria and body odors from accumulating after several days of use is something to consider when purchasing warm gear for cold weather riding to the work place.


Beginning with a good moisture wicking, fast drying and antibacterial fabric that wont add too much bulk for layering is very important. Afterall it is the material which is touching your skin and is either holding or wicking perspiration. Wool, synthetic blends and silk are all good to consider and each has it's own best qualities. Therefore I found having a cotton, wool, synthetic blend from Duofold worked best for most all conditions due to the 25% wool that acts as a natural antibacterial fabric and the faster drying wicking properties of the lesser synthetic I found it lasted longer before it needed to be washed. Rather than push the limits of one base layer of thermal underwear I opted for two pairs to alternate through the work week and so I have a second set of silk underwear. Silk is not as fast drying and is extremely warm so I found I didn't need to layer as much with it. Plus it is very nice to sleep in. Having these two options as base layers worked extremely well. The only reason I didn't try merino wool underwear was the price tag.
Ear muffs,
helmet rain
cover
and replaceable lens sunglasses that don't fog up while wearing a face shield makes for a very pleasant ride. Folks argue that wearing ear muffs cancels out too much sound so that they can't hear cars and don't feel as safe not being able to hear as well. My ears had a tendency to become so cold that I had to stop to warm them and if I was running late it was miserable not being able to stop. Therefore I wear ear muffs whenever I feel like it. I found that wearing a
beanie
under my helmet and adding a
helmet cover
to close the air vents from the frigid cold reduced my need to wear ear muffs and the original Masque is very nice to have when it's so cold that breathing ice crystals is a health risk. Ya, if it's that cold definitely get. Why invest in good sunglasses for your winter bike commute? Besides changing light conditions and shorter wintery days using clear lenses when it is so cold that your eyes water so profusely you can hardly see where you are going and they have proved to be very helpful in heavy rain as well. Not to mention a truck passed me on the highway once sending a rock directly into one of the lenses but didn't crack the polycarbonate. Nice. Lastly but not leastly is a good helmet light. I have had my
Planet Bike Sport
Spot light for many years now. I like the long run time in flashing mode, very bright and because I was riding unlit rural roads if I were to get a flat it worked great as a hands free work light for repairs. I installed rechargeable NIMH batteries and has been nicely cost effective.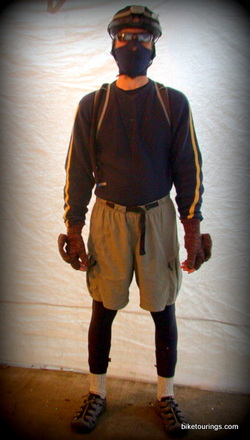 Wool sweaters
are simply a must have for winter bike commuting. Natural insulating properties that keep you warm and with water wicking lanolin fibers is warm even when it gets wet. Wool is also naturally antibacterial usually for the life of the garment and when not too bulky is excellent for layering. I was fortunate enough to find a fairly form fitting light weight wool sweater that I could zip a wind proof shell over if needed. Here's some quoted information from the wool experts at
David Morgan
.
"Because of the temperature gradient between the warm skin and the colder exterior of the wool garment, the moisture from perspiration migrates towards the outer surface of the wool, and there evaporates into the ambient air. The insulating value of the wool fleece or fabric is determined largely by the pockets of air trapped within the fabric. The amount of water vapor in the air within the wool fabric is a function of the temperature and the amount of water in the fibers, and affects the heat conductivity of this air. All else being equal, when the amount of activity or the ambient temperature increases the body perspires more, the heat conductivity of the air trapped in the wool fabric increases, and the insulating value of the wool decreases. Thus wool clothing not only keeps the skin dry and warm, but also adjusts its degree of insulation to some degree to suit the amount of activity and external temperature".
That explained why I have favored wool so much in cold, wet climates and couldn't have said it better myself because I didn't know that. Nowadays whenever I look for
arm warmers
,
leg warmers
, mittens, caps or beanies as a gift or for myself it has got to be mostly wool for our winter outdoor activities.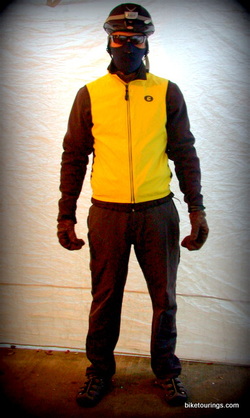 For dry, bitter cold with nasty wind chill a favorite not only of mine but of many other winter bike commuters is a
thermal windproof shell
. A description like that is just what a bike commuter wants to hear for cold windy conditions. Typically this type of garment consists of polyester and elastene allowing the material to stretch and move without feeling restricted in movement. Usually fleece lined for added warmth and there is perhaps none better for price and performance than the
Pear Izumi Elite Barrier Jacket
available for both men and women. Sizing seems to run a bit small and I wanted to be able to layer underneath so I got a large when I normally wear a medium. By clicking on any of the links provided and reading the reviews you will understand why this is such a popular winter soft shell jacket among many types of cyclists. The newer models have reflective trim and excellent color options. As mine is black I added a
commuter vest
for better visibility as well as having another outer layer that is easily packable. Nice combination.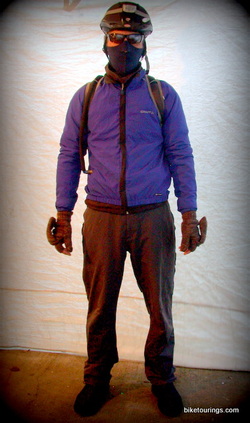 Due to the incredible warmth of my thermal softshell jacket sometimes it was too warm and as I mentioned how much better wool performs for odor reduction I found that having a thinner, more
packable windproof shell
over my sweater worked best in keeping me from getting too hot and perspiring too much on the steep climb into town. Also, the full length zipper allows easy ventilation as well as having a fully vented back panel, something thermal softshell jackets don't offer. When my after work evening ride home was mostly downhill I packed along arm warmers just in case there was a cold snap.
This is the most pack friendly lightweight shell I own and can also be worn over a thermal softshell layer for extreme dry cold at temperatures well below freezing.
Cycling specific shoes are arguably a poor choice for winter commuting. Regarding keeping feet warm and dry as I prefer thick wool socks and sandals having a pair of neoprene booties like these from
Pearl Izumi
work very well. Easy to put on and are compatible with bike shoes.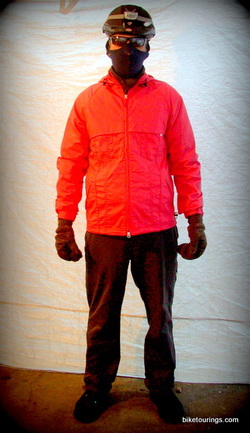 When it comes to the vast array of nylon, gore-tex or other synthetic waterproof or windproof garments I have found that opinions of how these types of fabrics perform varies greatly from one person to another. I have tried several varieties and have an assortment of rain and windproof outerwear to choose from most of which are easily stowed in a bike pannier or
hydration pack
so that I can regulate being over or under dressed on the go. A truly
waterproof outer shell
that breathes well and doesn't feel like plastic has always been lacking in my array of winter bike commuting gear and I have tried several. Without mentioning brand names or how awesome their products are supposed to be I have at long last found a truly waterproof, breathable jacket designed specifically for bike commuting and I couldn't be happier with the Craft Active Bike Rain Jacket or the
Levi's Commuter Series Parka.
Waterproof, windproof pants
that can be worn to commute with more of an everyday casual look.
At a certain point in my budgeting I thought to myself "wow, gearing up for winter bike commuting is sort of expensive, maybe I should just drive". That thought lasted about a minute. When my sister asked "what do you do on days you don't feel good?" My response was "I take it easy". The importance of proper layering for consistent winter bike commuting is very important. My first year I did the "grin and bear it" method but as my body burned excess fuel to stay warm in extreme cold without proper attire I experienced significant weight loss of approximately 15 pounds. I also noticed ice crystals in the air on some of my winter wonderland night rides and learned later how potentially harmful it can be to suck ice crystals while pumping up a steep climb. There is nothing wrong with getting off the bike and walking it when it's the wiser thing to do in harsh winter conditions.
Links Related to this Topic:
Waterproof Cycling Clothing
Bike Commuting in Wet Weather