Columbia Outer Wear for Bike Commuting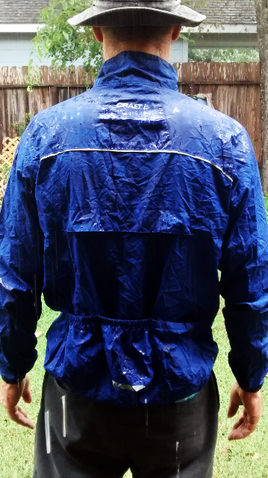 Rain and wet weather don't have to keep a person from riding like the gal in the photo above with her
Rain Cape or Poncho
. Folks who bike commute in Portland, Oregon would hardly ride at all if they refused to ride in the rain. Ironically, Portland has become known for its bike friendly atmosphere where bikes frequent the everyday commuting scene.
Having lived in Portland, Oregon I have some experience riding in wet weather. Rain in Portland is most frequently a light drizzle where the air is permeated a good portion of the year in a blanket of grey clouds and moisture. Now that I live along the Gulf Coast of Texas when it rains it's usually more of a torrential down pour with considerably warmer air temperatures than found in Oregon.
In Oregon I would commute on cold rainy days in a wool sweater from Nautica that stayed dry on the inside as it has good wicking properties, so that I rarely needed anything more than that for rides which included some pretty intense hill climbing. I still have that old sweater as it performed exceptionally well when commuting in Colorado with a lightweight nylon shell over it.
This year while looking at my cycling apparel that had been packed away I found a ten year old bike jacket from
Craft.
I hardly ever wear this jacket in Texas as it isn't necessary except during the winter when it cools down a bit and have been using a Columbia waterproof shell instead for the heavier rains. Obviously, cycling apparel needs vary between warmer to colder or wet to drier climates. There is no shortage of quality bike jackets on the market and having a good rain jacket is quite affordable these days. Some of my best and favorite clothing has been found at thrift stores. Including products from Nautica, Columbia and others. It's also fun to find things you wouldn't find shopping online. As small businesses owners we promote and appreciate the "shop local" idea. However we also find that researching products and making purchases based on that research makes shopping online very convenient. That's how I learned of
Atsko Sport Wash
. If you're someone who enjoys shopping for thrift store treasures treat the fabric to a dose of
Atsko Sport Wash
for restoring its' waterproof qualities.
Having experience with daily bike commuting in a few different climates, each with their own sort of "extreme" I have learned that knowing how to effectively layer provides the most versatility. This is important for bike touring where one's travels may encounter unpredictable weather conditions.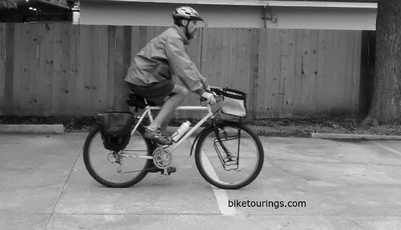 Here is a "bike geek" photo Lisa took of me wearing my favorite old
Columbia Watertight Packable Rain Jacket
.
Back in the late 80's I worked at Portland's very own Larry's Sports Center. It was a time when everyone in the ski department fell in love with "Mother Gert Boyle" and her characteristic signature tag inside most of the clothing.
It isn't just sentimentality as to why I like Columbia Sportswear products so much, it's mostly because the stuff performs as described. When shopping for the best performing wet weather outer wear I look for Omni Tech Waterproof, Breathable Fully Seam Sealed.
There's a lot of grey area between waterproof and water resistant these days and when something waterproof breathes like a garbage bag resulting in moisture staying trapped from perspiration it's worthless. Rather than have me go on and on describing all the various forms of layering for different climates I have provided a link with photo below to one of the folks who knows this topic best.
Omni-Tech waterproof/breathable fully seam sealed
| | | |
| --- | --- | --- |
| | Here is another item recommended to us from Red Ledge. Free Rein Parka with zippered under arm vents, wicking interior fabric with water proof exterior available for both men and women. A very good quality jacket for bike touring or commuting. | |