Showers Pass Cycling Apparel, Exceptional Value for Winter Commuting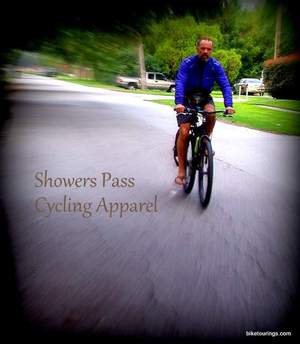 Packable, lightweight cycling apparel
Looking for a quality cycling jacket for cold wet weather can be a bit daunting considering the vast selection of quality items on the market. From seam sealed nylon to goretex and a host of other so called waterproof materials finding something that works for your particular needs could become a time consuming effort.
I like having a selection of garments for varying weather conditions. Most waterproof cycling jackets can be rather expensive and may not wick moisture away well enough for riding comfort, particularly when commuting to work.
I first encountered that problem while commuting during the cold season in southern Colorado after consuming considerable amounts of garlic. My boss at the bike shop I was working in at the time commented "beginning to smell a little ripe in here" after hanging my jacket to dry. Getting the right layering is another topic of discussion. What I was looking for was a small, lightweight waterproof jacket as a convenient weather barrier to keep in my goody bag.
I like wool, I rode through Portland, Oregon on a very cold, very wet day with nothing but an old wool sweater that dutifully kept the outside moisture from my body while providing just enough warmth for me not to over heat and consequently perspire too much. I suppose the title of this article is a bit of a misnomer as I have found some excellent bike apparel at thrift stores, particularly wool. And as much as i enjoy treasure hunting for those types of finds when it comes to providing oneself with a lightweight, packable jacket I find myself shopping elsewhere. Speaking of Portland, Oregon a company called
Showers Pass
has been producing a large selection of quality products with many items that are budget friendly. I have found the
Showers Pass Storm Jacket
to be a favorite with a price tag at under $90.
Whatever climate you live in for bicycle commuting or find yourself touring under inclimate weather
Showers Pass
has the right cycling apparel for most folks needs. The following quote is from the company's home page.
Showers Pass® road, in the remote mountains of northwest California, is a favorite place for great cycling, but wind, rain and hailstorms can hit quickly. One must be prepared with high-performance clothing. Riding at Showers Pass® made us dissatisfied with the available cycling rain gear. It just didn't work.
And so we saw the need for better cycling gear. Better ventilation, better durability, better fit... clothing better suited to each cyclist's individual pursuit.
Our collection of cycling clothing includes men's and women's jackets, pants, vests, and accessories THAT REALLY WORK. So go ahead and ride. We've got you covered.