At long last I have found a quality waterproof cycling coat for bike commuting that didn't cost as much as an inexpensive bike. Another nice touch (pun intended) with the fabric is that it doesn't feel like plastic and breathes very well.

I wasn't too keen about the color when it arrived as the description stated it is orange when it's actually a dark pink. I don't mind it at all though I kinda wonder what the so called green might actually look like. Sizing seems to be appropriate as the medium fits as I had expected. I can wear a thin sweater under the parka without feeling restricted in movement.

Features I like are the large zippered pocket on the back which is still accessible while wearing a hydration pack and is water proof. Here are a list of specs from Levi's that need some correction as the only "zippered pocket" on mine is the large pocket on the back.

• Billed hood with drawstring
• Multiple zip pockets
• Large back vent
• Extended tail for additional coverage
• 56% Cotton, 41% Nylon, 3% Elastane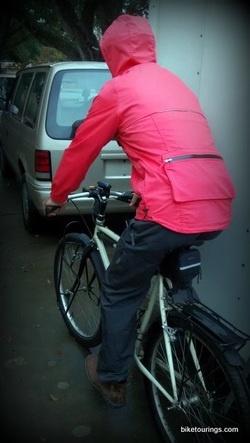 I wasn't too sure whether or not I would be interested in the "billed hood" but the design allows the hood to be pulled over the helmet which is a pretty nice feature without restricting peripheral vision.
A couple other features worth mentioning are the velcro wrist closures and storm flap front chest pockets which don't require a zipper anyway. So far I have had the Levi's Commuter Parka in a heavy down pour and on warm wet weather rides. Comfortable and stylish as well as seems to be durable enough for bike touring.
Although the Levi's Commuter Parka is the most expensive item of the Levi's Commuter Series apparel I was able to find this one on sale at The Clymb. The Clymb is an online discount retailer who at the time of this writing have select models available. Membership registration is quick and easy and is required before making purchases.