Older Steel Frame Mountain Bikes for Touring and Commuting
After updating an
article for the GT Peace Tour
I included the photo below, which gave me the idea to back through some older photos of mountain bikes that were restored for bike travel, bicycle touring and commuting. More often than not I would fit a rear rack and tires more specific for bike touring or commuting. Fun stuff, in the case of the GT we prepped the frame for paint by lightly sanding, carefully priming where necessary, applied a couple finish coats and two clear coats for durability.
J.P. Weigel's frame saver
used to protect and coat interior of old frames.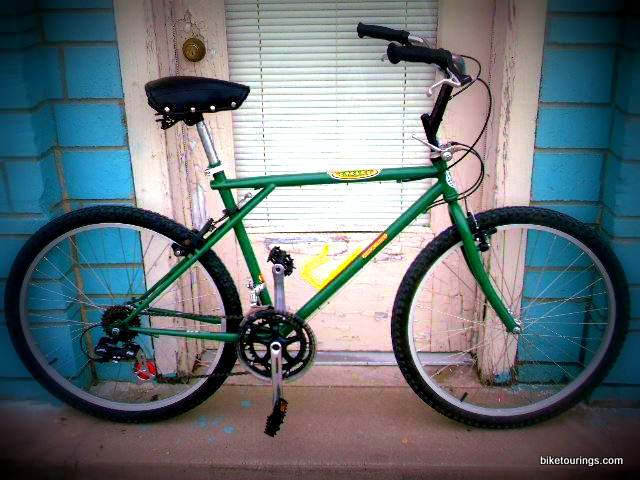 Older GT mountain bike frame probably from late 80's painted and restored as a commuter bike. After finding the frame in a farmer's junk pile I added whatever parts I had kicking around the shop to finish it. Very Nice, fun and funky, customer loved it.
Found the Cannondale F1000 with Fatty Head Shock suspension fork for $75. One of the integrated brake shifters had failed which was easily repairable. Here's some information regarding the Head Shock fork from every bike folk's old friend

Sheldon Brown

.
Older Diamond Back Ascent series of bikes seem to be very popular in the UK. Was reading over some forums where several bike folks were willing to pay upwards of $300 including shipping from the U.S. This particular model shown from 1989 had an issue with the headset. Picked the bike up from a very small bike shop where the guy didn't want to mess with it. New bearings and grease and it was just fine. Added the matching white
Blackburn Rear Rack
and some nifty
convertible ATB fenders
. Will be looking to get a pair for another project and may give it a "blog about" as the convertible feature is nice particularly for mountain bikes.
Regarding the Diamond Back Ascent EX series of frames I have since picked up another one that has mounting for third bottle cage under down tube with longer chain stays and top tube perfect as a mountain touring bike. Very interesting and unique design for a 26" wheel frame and looking forward to doing something with it. Anyhow, thought I would share some of these cool old funky mountain bike projects for those who appreciate this sort of thing.