One Inch Threaded Mountain Bike Replacement Forks from Breezer and Sunlite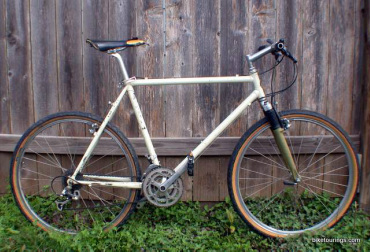 One of the joys of bike repair is finding older bikes worthy of refurbishing. When I heard about this classic steel lugged '93 Bridgestone MB 1 mountain bike I had to check it out.
I got the bike for a very reasonable price and immediately went about converting the riding position to a more relaxed style for touring and commuting. Bridgestone bikes from that era built with Ritchey Logic tubing are very desirable to many Bridgestone aficionados as the thin strong steel makes for a very lightweight frame and when combined with the original rigid Ritchey fork it's one of the most lightweight steel mountain bikes ever produced.
The suspension fork that came with the bike had to be replaced when I discovered the one inch threaded steer tube was so stripped that the headset could not be removed to service the bearings. After having to cut the steel tube to remove the fork I was able to salvage the original aluminum headset parts that were obviously damaged from some previous owners efforts to work on it.
I was looking for a one inch threaded fork and received two models for consideration. First fork I installed is a nice commuter bike model from
Breezer
. A nice, lightweight rigid one inch threaded fork at 1040 g. The
Breezer fork
has threaded eyelets for rack and or fenders with a nice rake to it. While replacing the fork I decided to swap out the original eight inch long Ritchey stem and flat bar with a 95mm stem and some Touring Trekking bars in a 25 degree sweep. Add some inexpensive foam grips and felt good about the project thus far. Didn't like the red so much and when I noticed the double eyelets of the
Sunlite fork
I decided to install that one as both forks use a
27 mm crown race
it was convenient and easy to do. Sunlite's fork has a longer steer tube of approximately 3/4 inches which meant cutting the threaded fork to fit, an easy task with proper cutting guide tools.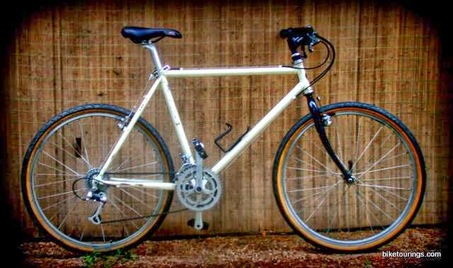 After installing the
Sunlite Fork
and taking it for a test ride with the Trekking bars and UNO stem I felt like riding it further to get a feel for the bike's overall performance. With the XT Thumbshifters and no sign of wear on the chain the bike is quick, light weight and not as twitchy as it was with the longer stem and flat bars. Here's a combination of components I used for this project and has proven to work out very nicely in providing a quality, comfortable commuter bike in keeping with performance and handling.
For bike folks needing a one inch threaded fork or wanting to replace a worn out suspension fork check out these forks from
Breezer
and
Sunlite
, respectively. Here's a link for the
27 mm crown race
as it can sometimes be hard to get as that size is frequently out of stock.