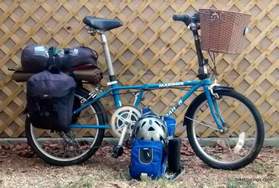 Summer bike touring is so nice, sure it might be a bit warm in some areas but that's a sure indicator that you can pack a small load.
In our little part of the world it's been into the nineties with humidity at about seventy percent most days and occasional rain which can be rather refreshing when the winds cooperate. Then there's everyone's favorite summer nuisance of mass mosquito populations which can make a mockery of a perfectly wonderful summer bike camping excursion. During the summer here on the Gulf Coast when we hear the term "bug out kit" we think of mosquito repellent and deterrent in what ever form is practical to ensure an enjoyable camp site.
Mosquito Repellent: We use products from Burt's Bees that is a bit oily feeling but that helps it stay on your skin and ward off mosquitoes with heavy perspiration. I also like Herbal Armour as it has proven to be very effective but the best is from Natural Living's Bug Spray with Essential Oils and other interesting hard to find blends of ingredients.
Citronella: As an added deterrent for pleasant camping UCO Candle Lanterns provide Citronella Candles for use in their lanterns which can be placed on the ground, hung inside the tent or on a bike like the one in photo. Lightly spraying the fabric of the tent with Bug Spray in combination with the Citronella Candle really makes for a good bike camping "bug out kit".
Tent for One or Two: An airy, breathable tent that has more mesh than nylon for the tent body is excellent for not only providing a good night's sleep permitting that welcome gentle night time breeze to cool the tent it serves to keep not only mosquitoes from disrupting sleep but also provides a protective barrier from such critters as fire ants and snakes. Lisa will not sleep in an open lean to again after having been bit in her sleep while camping under a simple tarp. Nope, we're keeping and using our tents after that. Like we said "bug out kit".
Comfy Sleeping Stuff: Thermarest mattress in the three quarter length packs small and provides that bit of comfort needed to get good rest with the packable pillow and a forty degree lightweight sleeping bag.
Ultra Gourmet Meals: Ya right, there is only so much that can be cooked on a simple little fuel stove. Well, there's really no need to rule that out. As all pack lists are very subjective and personal with some things working well enough for one person, another person with same gear might feel absolutely deprived and miserable. How about packing two small stoves and a cook set for a nice salmon and rice dinner with roasted cashews, onions and garlic? Yep, garlic helps with those naughty mosquitoes too, eat plenty of that. One frozen salmon filet, two cups of rice, a bit of butter and oil in a small travel bottle, throw the cashews, onion and garlic in a zip lock bag.
Cool, how to cook rice? Jasmine cooks in fifteen minutes and necessitates ability to simmer once brought to a boil. Coleman Dual Fuel Stove works excellent for this, if even a bit bulky it's worth the extra bit of packing to enjoy a nice camp cooked meal. For morning tea or coffee we love our little Pocket Esbit with non toxic fuel cubes and ability to simply add twigs as needed and use the Stanley Adventure Cookset which includes two insulated cups. Visit our previous post Bike Touring Cooking Supplies for more information.
Given all the different methods of packing a bike for travel and camping we put together a fun little bike kit for our selves.
Some popular methods include frame bags for bike packing or massive touring kits from Ortlieb and Arkel. While these examples provide exceptional products and gear choices it's not always practical. Speaking of which if you missed it, check out the Complete Pannier Kit for Under Two Hundred Dollars.
A recent survey voted the
Traditional Touring Bike as a Favorite for Bike Commuting
. I found the other results very interesting, particularly the late mountain bike votes that came in wanting the votes counted after the winning style was announced. Who ever said you had to own only one bike anyhow? For the remaining styles of mountain bike, hybrid bike and folding bike I put together one Bike Camping Kit that would fit on each type of bike safely and efficiently.
A list of the items in our Bike Camping Kit divided into appropriate categories is listed after the photos. This is a very versatile pack list which I moved from bike to bike for the photos in approximately twenty minutes. All the items from this list are sitting on a small work table behind each bike pictured on the left. We packed four different bikes each with its own unique rack and pannier qualities with the exact same Bike Camping Kit and list. Using
Dry Sacks
helps to not only protect gear from moisture but also helps to organize things and move them around.
[ ] Bike
Rack(s) pannier(s) lights and
Park Tool frame pump
that fits on all bikes shown including
Dahon
. Seat bag with spare tube, tire levers, patch kit, multi tool or handlebar basket, bag.
[ ]
Hydration Pack
for Cycling
Phone, cable, glasses, sunglasses, energy bars, dry snacks, monocular, hat or visor, water
[ ] Sleeping gear
One or
two person tent
(ours weigh about the same),
sleeping bag
,
sleeping pad
,
packable pillow
.
[ ] Personal items
Phone, camera, toothbrush, Tp, toothpaste, soap,
travel towel
, sunscreen,
bug repellent
,
solar weather radio
,
UCO candle lantern
,
citronella candles
, book, small laptop or tablet.
[ ] Cooking gear
Small stove,
cup(s),
hobo tool
,
small pot
, small pan,
4 esbit fuel cubes
,
[ ] Water and food
Two water bottles and or 70 oz. Hydration Pack, dry snacks(energy bars, trail mix, etc) coffee(bag type), tea, Green drink, Pepperoni, Avocados, crackers and or chips.
[ ] Clothing
Convertible pants, bike shorts, swim trunks, sandals for riding, flop flips, lightweight bamboo wicking t shirt for riding, long sleeve 60% linen 40% cotton loose fitting,sun hat protect ears, helmet, gloves, lightweight windbreaker,