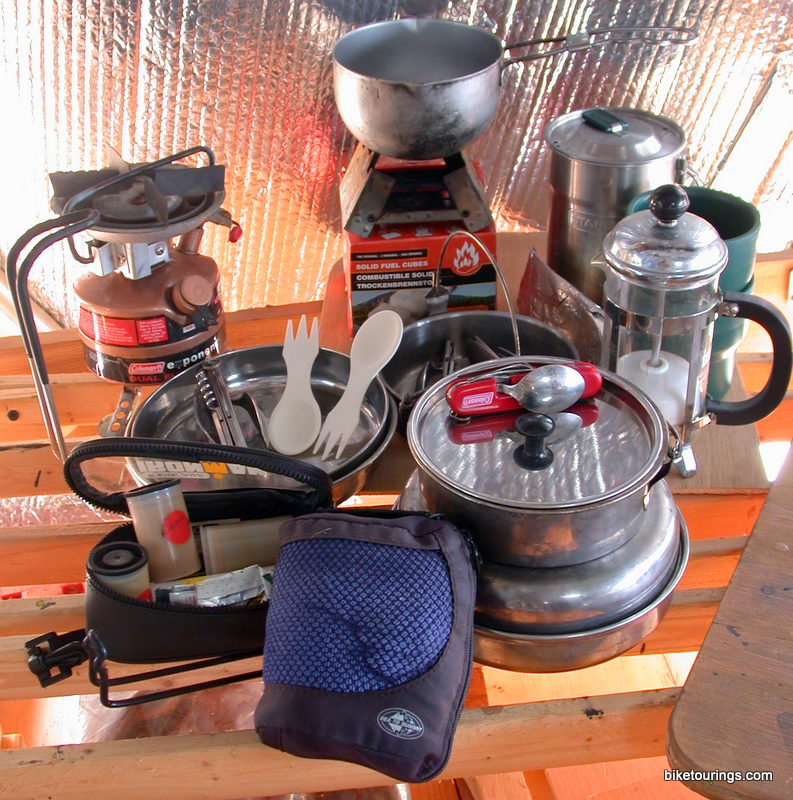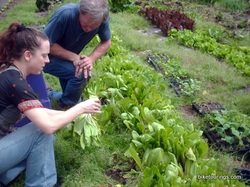 Over the last several years I have tried a variety of camp cooking supplies and have put together a nice little kit that works very well for solo touring with options to expand on the bike touring kitchen. One of the criteria is that I don't cook with aluminum or teflon coated cookware I have found some items at thrift stores and yard sales and after many years of messing about with mess kits, have put together this nice selection of bike touring cookware providing myself with several options of packing for different bike tours, whether they be overnight, weekend, several weeks or longer.
Being able to harvest farm fresh goodys and having a way to steam items such as mustard greens or kale is pretty nice with rice and butter.
I have always appreciated the small lightweight design and non toxic fuel cubes of the

Esbit Pocket Stove

(pictured at right). The cubes are very inexpensive and work well for heating water for tea, coffee and other quick camp meals such as your favorite instant noodles and the like. I have also safely used this in a semi enclosed area with ventilation of course without concern of breathing toxic fumes. A very nice option for weathering a storm in a tent and cooking under a vestibule.

Another nice feature I found is that when I noticed I was running low on fuel cubes I simply added small dry twigs to easily extend cooking methods. Very small, folds flat for storage and small enough to fit in one's pocket.

Because I'm not a big fan of many of the starchy instant noodle products I prefer to cook organic Jasmine rice which cooks in 15 minutes or less. Easy to flavor with

dehydrated goodys

and soy sauce packets. (Separate blog article for that later) However, cooking rice requires a gentle controlled flame in which case I prefer a different type of stove that is much more convenient when planning a bike tour with more meal preparation involved.

Coleman line of multi fuel stoves are very well made. I have two, the first one I found while backpacking. Someone left it I'm guessing frustrated that it wouldn't work. I was able to repair it with a new fuel plunger. Loaned that to my former brother in law and not sure what happened to it. Speaking of Ex's, the

Exponent Dual Fuel Stove from Coleman

is what I used to replace the Multi Fuel Stove I had found. Dubbed "Dual Fuel" as it will burn Coleman Fuel or unleaded gasoline. My experience has been that the "register" tends to malfunction and may need to be cleaned or replaced when burning unleaded gas with it.

Filling the tank of this stove is enough for a typical weekend of average cooking needs.

For longer bike tours I use a

fuel bottle from MSR

with handy

dispenser spout

for refilling. Whereas the Esbit is non toxic, safe to handle, Coleman fuel or white gas is awful stuff and should be dispensed carefully. This product from

UCO dispensing cap

is nice and doesn't require use of a funnel for filling my stove. Suggest getting a replacement round gasket for the cap as well. Another good option might be the

Trangia 1 liter fuel bottle

which comes with dispenser and is well reviewed.

One of my favorite finds is the

Stanley 24oz. Adventure Camp

Cook Set with vented lid it works very well with my Coleman for controlled cooking temps. Also, due to the vented lid I can also make rice on the Esbit stove. Handle and lid lock shut with storage for the two insulated plastic cups and other small items can be stored as well. Such as a small "spork" (pictured above) or a small

"hobo tool" from Coleman or Ozark Trails

(also pictured above)

The fold out handle of the Stanley cooker stays cool enough for safe handling and is made of stainless steel.

If you're a gourmet coffee hound, just can't do without your cup o' joe and appreciate well designed coffee preparing medthods, this model from Bodum is a fairly durable product with chrome wrap around glass. Good Stuff.

All text links for products, reviews and information. If you have any other questions, want to chat about this topic or have something else to offer that I may have missed then please use the comment link provided below.
Cheers! To quality dining and fun riding. Rideon.