Looking for a new touring bike with a steel frame, good components, rack, fender braze ons, disc brakes, with wider tires than a conventional road bike for a price at or approximately a thousand dollars. Wouldn't it be nice to find a bike that meets all the criteria of quality touring bike standards with a customized bike fit system designed specifically to meet their customer's needs? I was looking for just such a bike when I found the Fitwell Bicycle Company
Fahrlander
and
Fahrlander II
.

As a former bike shop owner one of the most appreciated offers from Fitwell Bicycle Company is their
rebate offer
of up to one hundred fifty dollars to ensure your new bike is assembled and tuned by a qualified bike mechanic of your choosing. This is proof of a company caring about their customer's bike fit and ride satisfaction. Visit their site to download the
rebate form
that must be filled out by the service provider.
Internet bike sales have effected local bike shop's sales as big box company's are able to offer bikes at prices well below suggested retail and with free shipping. Most notably has been Bikes Direct, an online bike superstore that had my customers asking me if I could complete with the prices and then asking me if I could assemble the bike for them once it arrived. Of course I offered the service but I did not offer the same tune up specials available if they had purchased a bike from our shop. That having been said, due to my experience of shop service and bike sales in a very competitive market it is refreshing to find a company that has built their bikes as it specifically pertains to customer satisfaction with local bike shop loyalty in mind. In short they are basically saying "here is an excellent bike and here's some rebate cash to give to your local bike shop to ensure the bike operates safe and properly". It's a beautiful thing.
Fitwell's Fahrlander and Fahrlander II is a quality bike designed as a touring bike and of course would be an excellent choice for bicycle commuting. Providing a comfortable frame geometry for a more relaxed riding position the Fitwell name derives more from three or four options of posture or style than it does actual bike fit in the technical sense of the word.

Photos on the left depict the four riding styles or "fit" as described at their company site. Every bike designed and built by Fitwell Bicycles fits one their four bike styles. Their first style called the "Morgan" refers to a very upright riding position with a bike designed for leisure commuters or a porteur bike.

For the touring bike being discussed the riding style is dubbed the "Riley" and the

Fahrlander

and

Fahrlander II

are designed to provide that riding posture. This is an excellent posture for bike touring and has been discussed in another post. Remember, after purchasing a bike from

Fitwell Bicycle Company

entitles you to the rebate so that your local bike shop can help you get the bike dialed in for an even better fit.

"Alex or Drew" fit (style) is a couple of options providing roadies with the more or slightly less aggressive riding style for aerodynamic comfort and performance and have a couple of bikes built for that particular style as well.

This is all meant to clarify what the company defines as "fit" which I would refer to as style or posture. Anyhow, I'm going to point out a few things about the Fahrlander as a touring bike.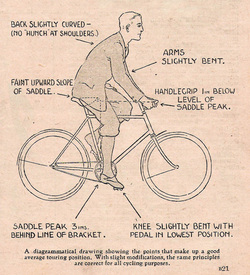 Around here we have become quite fond of our Minoura front racks and if you want to install a front rack on the Fahrlander take note that the fork does not have braze ons for cantilever or linear pull brake options, it is strictly a disc brake fork without midway threads on the fork for mounting a low rider style front rack.
I am pointing this out for folks looking for a new touring bike as there are front racks available that would certainly work with the Fahrlander but it does limit some of the choices. That having been said there are the threaded braze ons needed at the dropouts for both a rack and fenders both front and rear. As the
Minoura MT 4000sf
is designed to accommodate disc brake and comes with clamps for suspension forks the clamps could be made to fit solidly with the additional axle mount design. Or for a lighter weight solution there is the
Axiom Journey Suspension and Disc Low Rider front rack
.
As far as gearing is concerned both the Fahrlander 1 and Fahrlander II have double chainring cranksets. They are compact cranksets at 50t and 34t but for touring you really want to be using a triple geared like a mountain bike. Fahrlander I is a nice nine speed cassette whereas the Fahrlander II has the current ten cluster. Shimano 105 drivetrain group is a very nice setup but the Tektro Lyra disc brakes have very few but mixed reviews, mostly from folks installing on their own rigs. Discounting possible installation errors on part of the reviewers I do know that the rotors included with the Lyra calipers are reported as being much thinner than avid bb7's for instance. For proper brake setup and tuning is advised to use the rebate from Fitwell Bicycle Company for your local bike shop.
Weinman Rims with Novatec sealed cartridge hubs are coupled with bladed spokes to provide some durability for a bike described as being designed for "adventure". Maxxis Columbiere 700 x 32 tires provide some flat protection in a grooved semi slick design that wouldn't perform really well on trails.
In summary I really like the Fahrlander 1 and with its' current price tag it would still be worth using the rebate to swap out the crankset if needed for loaded touring. However, if you ride mostly on the flats or do more credit card style bike touring none of that is an issue. Slap a rear rack on with a nice handlebar bag with a trunk bag or rear panniers and have fun! I'm sure either of the Fahrlander models can handle it no problem.
Note that I have included a link in an older post to a
free bike ergonomics ebook
written by Juliane Neuss. Wherein she describes four basic riding postures similar to those adopted by Fitwell Bicycle Company. It's an excellent resource for understanding some of the aches and pains experienced while riding a bike with solutions to most common complaints. Click on photos or links provided in post for more information or to purchase.
Links related to this topic
Effective Posture for Commuter Touring Bike

Ergonomic Bike Comfort