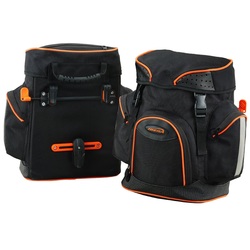 Updating this article one year later for folks interested in whether or not these panniers for commuter touring bikes are worth the value. The all weather touring panniers discussed below have become so popular and well reviewed that they are frequently out of stock. Photo at left is of an alternative set of panniers which include rain covers and are very well reviewed.
Ibera Bicycle Clip-on Quick Release Panniers
include the same rack mounting system with the main difference being the external zipper pockets. Here are some of the listed product features.
Compatible with most bikes
Quick-release PakRak bag mounting system, install and release bag within 3 seconds
3 point connection, no flyaway straps
Built-in rain cover in hidden compartment
Multiple compartments, carrying strap for off-road use, reflective trim
Of course there are other bike panniers that cost twice as much from Ortlieb, Vaude and Axiom, respectively. This article has the intended purpose to share information regarding an affordable quality alternative. A year later Ibera has been producing some quality items for folks interested in traveling one their bikes.
In response to blog article of Top 5 bikes for touring and commuting, one of our readers commented "good choices, reminds me that I need to find a good water proof handlebar bag".
I appreciate the comment, I thought ya, good idea and while I was considering some of the products I have been familiar and decided to look for a camera specific all weather handlebar bag. Because of my familiarity with so many of other popular products I was very pleasantly surprised to find the reasonably priced Ibera Handlebar bag shown in photo above. I have also been very pleased to see the positive reviews that all the Ibera products have received.

Ibera Commuter Panniers Detach one pannier and use as a shoulder bag Hook and strap attachment Multi-compartments Elastic document holders Panniers can be used in pairs or by themselves. At $49,99 and free shipping, excellent bargain!

It's always refreshing to see new products, or products I'm not familiar with meeting many of the quality specifications I look for.

This quick little post is to share some very well reviewed all weather panniers that are so reasonably priced they make wonderful gifts or fulfill one's own bicycle commuting or touring needs. Click on any of the photos or links provided below for the specific products listed here including link for optional rain covers