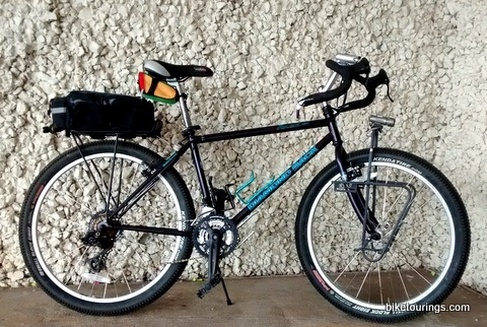 Small Block Eights are available in a variety of wheel sizes and tire widths. Excellent for gravel grinding.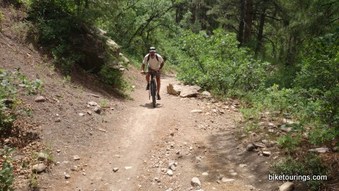 I have been a bit surprised by all the hubbub regarding gravel road riding, gravel grinding, gravel grinders and whatever other groovy terms are being popularized in the ever clever trend setting circles of cycling. While selecting tires for riding in Colorado my experience with riding dirt and gravel roads of Pagosa Springs came in handy.
In order to access the Colorado Trail Head outside of Durango there is a long rather steep road which eventually turns to gravel. Leaving the gravel road to that portion of the Colorado Trail one is met with loose dirt over hard pack and many of the short burst climbs have loose rocks with gravel like conditions. Many mountain bike tires have been designed to meet the needs of cross country mountain bikers which not only meet the demands of the Colorado Trail conditions described but are also an excellent choice for gravel roads. My tire of choice for just such conditions were and are the
Kenda Small Block Eights
. Visit the following link where the folks at
Bike Smart
regard the Small Block Eight as a very versatile tire for gravel and is available in a vast range of sizes.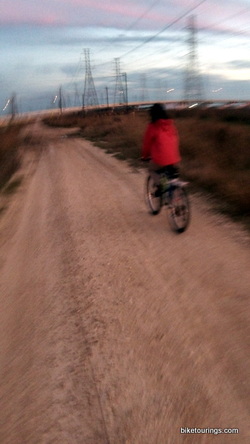 I have been riding a bike on gravel roads for as long as I can remember. To the extent that when my bike commute routes forced me onto gravel roads I praised the quiet riding asphalt and cement and was happy to put the gravel road sections behind me.
While touring I never went out of my way to look for gravel to ride but didn't mind so much as gravel road riding sort of adds to the adventure of a bike tour if I'm in the mood for it. That having been said when I asked "honey, want to go do some gravel grinding?" Lisa is so good at answering a question with a question "is that a thing?"
Good question and now that it's becoming more and more popular over the past few years gravel specific tires, races and tours can be found with several listings for each.
After checking reviews it turns out that we just so happen to have some excellent tire choices available in our bike stable. Two tires that receive excellent reviews for grinding it out are the
Kenda Small Block Eights
, we have 'em in the lovely 2.35" diameter and the
Vittoria Randonneur Trail II RFX,
700c x 35mm puncture resistant trail tire.
After considering the cushy ride offered by the Kenda SM8's, she chose to ride her Peugeot commuter bike (cute). So rather than hopping on the Vittoria's for fast tracking it I rolled out on my tried and true "Mumbo Jumbo". Not due to the tires that are on the bike but because the term best deflects trendy noises. I suppose we just weren't feeling all that "special" about having some special need met for gravel conditions and opted for our rather nondescript
26" x 2.125 Cheng Shin CST tires
. Yep, it sounds silly but that's what we did and I love the tires on my Mumbo Jumbo, smooth and quiet and performed very well on the loose over hard pack gravel conditions we encountered for most of our ride. This tire is offered in two different types of tread and the smoother tire (photo above) was able to quickly shed the slight mud conditions we encountered. Lisa has the knobbier tread which although it rolls very fast the tread on my bike cleaned off quicker.
We took our time on this ride found some fun photos to get and though we packed a lunch we were having so much fun we decided to stay out for awhile getting some night photos. Heck, we didn't even go to the nubi public house for craft beer and a salad so we had to be doing something right, gravel grinding! Yay!