Fast Rolling Mountain Bike Tires with Good Handling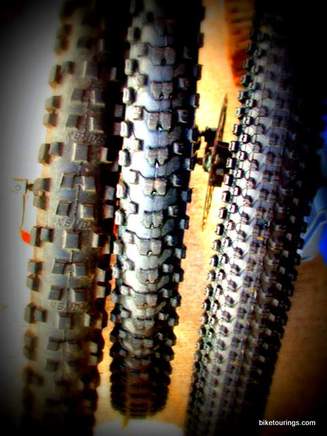 Kenda MTB tires Kinetics 2.6, Nevegal 2.1, Small Block 8 2.35
As most mountain bikers would agree having a front and rear tire combination that provides speed, performance and solid handling is where it's at. For a trekking and touring bike where having the tread to get out on some trails and enjoy the ride particularly for back country overnights is the best of both worlds.
Finding that just right front and rear combination can be a study in the types of riding and terrain of which a variety of riders engage in. Tire selection is very important where you select the tires for your ride, rather than ending up with tires that limit rider's ability to feel confident about their riding style or purpose. Suggestion here is don't settle for tires which dictate your ride to you. This can happen by listening to the wrong information based on a variety of disinformation such as misplaced brand loyalty or a host of other "shoulds" out there and for those who have spent a decent amount of time with self proclaimed so called "experts" it can be simply annoying or damaging. So, as with most things in this world making informed decisions from legitimate sources and one's own experience will help keep the bike rolling along the way it was meant to.
While shopping for a fast rolling rear tire I wanted something wide, but not too wide. I wanted to be able to roll over loose surfaces without the tire "knifing in" over soft terrain. An idea here being to select between more tread or aggressive tread. More tread for example as with
Kenda's Small Block Eight
that comes in different sizes. A 2.0 tire width is more apt to stick into loose terrain rather than roll over it as a 2.35 does. Damp, wet surfaces and muddy trail sections can be quite challenging as well.
An interesting point to be made here is that when you are able to determine a front and rear tire combination that works for most all conditions, selecting tires specific to their intended surface is made even easier.
Having a front tread that holds to the surface it is also much less likely to get clogged with mud, smaller tread design tends to clog easier yet provides less rolling resistance for a smoother ride on hard surfaces. For this reason some folks choose to have a second wheel set mounted with tires for their other favorite riding conditions. I currently keep a second rear wheel with a Kenda Kinetics 2.6" tire with very aggressive tread pattern and performs very well over "icky" trail conditions.
A good example of this in photo at right with Kenda Nevegal 2.1 on front for trail traction and

Small Block 8 2.35

on Rear.

An obvious difference in mud shedding ability though in the Small Block Eight's defense it was very thick clay mud near a construction site and not something as likely to be encountered when trail riding. I have taken to keeping a second wheel, the Kinetics 2.6 for a fun trail riding option which delivers both aggressive tread and rolling surface yet doesn't do well on pavement as it has more rolling resistance.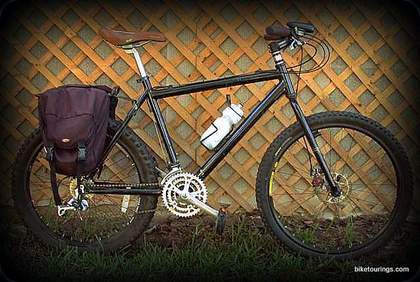 Kenda Kinetics 2.6" tire on 24" WTB Dual Duty wheel for trail riding options.
As I have the Kenda Kinetics 2.6" tire mounted to a 24" rear wheel with extra cassette, due to sheer size of the tire it doesn't change my riding position enough to be of any consequence as shown in photo.
All the tires being discussed here are very well reviewed and have been proven on the trails for years. A tire combination which seems to gaining popularity for hard pack conditions with mixed loose trail conditions is the
Nevegal 2.1 front
combined with the
Small Block Eight 2.35
.
Tread surface on my Nevegal has become a bit worn so it isn't as loud or create as much rolling resistance on pavement as it would if new. If you're someone looking for some mountain bike touring tires that perform reasonably well on trails here is a short list of some good tires folks seem to be very pleased with a price range of $19 to $50 and more. Links provided below. So nice to have options, Enjoy.
Happy Trails, Rideon
Kenda Slant Six
(Tread Pattern that is a mix of two tires I have reviewed here, the
Small Block Eight
and the
Nevegal
.)
Maxxis Larsen
(Might be providing answer to wide tire with more aggressive tread than the Small Block Eight and less rolling resistance than the Nevegal.)
Kenda K Rad
(Checkerboard style tread very similar to Holly Roller much less expensive)
WTB Nano
(not as wide as other tires listed with more aggressive tread)
Kenda Small Block Eight
(extremely popular, a tire that has traveled the world)
Maxxis Holly Roller (used by some of the Fat Tire bike tourers)
Maxxis Hookworm
(strong durable urban tire)