Selle Anatomica, New Designs and Options for Touring and Commuting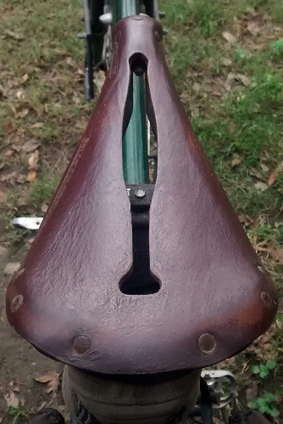 Selle Anatomica could be producing the best saddle for a touring bike. Since 2007 when the Selle Anatomica introduced their
Titanico saddles
with patented slot design there has been praise for the absolute comfort and quality of craftsmanship in a simple effective design which appeared to be made to last. If you're one of the many bike touring folks who has been following the company's products including production and design changes you probably understand why.
Fortunately for me I have not experienced any of the common complaints regarding the original
Selle Anatomica Titanico
which consisted mostly of premature stretching resulting in a "hammock" like shape after the tensioning bolt had been used to stretch the leather for tautness until there were simply no more threads remaining to adjust the slack out of the saddle. A second criticism has been the saddle rails being a bit weak or flimsy with customers complaining how their saddle rails bent or broke. And the third criticism has been that the saddle is squeaky, creaky and noisy while riding.
This photo is of my original 2007 Selle Anatomica Titanico Watershed shows the current condition of my saddle after seven years of ownership and I have no complaints about it whatsoever. Part of my success with owning this saddle has been that first of all I only used it for intended use which is on a road touring bike where I ride with drop bars and do not place all or the majority of my body weight directly over the saddle. Secondly, I have weighed less than 160 lbs. during the time I have owned this saddle and I have plenty of miles on this saddle most all of which have been road riding. Reviewers of this saddle who put it on a mountain bike or went off to do some heavy duty rough riding of any sort would surely find themselves disappointed as this particular saddle wasn't designed for that type of riding. Which probably explains why Selle Anatomica developed the
NSX Series
for both mountain biking and heavier riders as it does not have the patented slot design (NS means "no slot"). Though the slotted design undoubtedly contributes to the saddle's reputation for comfort it has most definitely contributed to the "hammock effect" of being mashed out over time.
| | |
| --- | --- |
| After seven years an original Selle Anatomica Titanico some threads on adjusting bolt and shown in photo at right with patented slot. | |
The good news is that Selle Anatomica will replace the leather on the saddle for approximately a hundred bucks last I checked. And they will replace it with the newer
Titanico X Series
which as I understand is of a thicker leather and laminate technology. Photo of my current touring bike saddle is the Mahogany color with copper rivets which are showing some nice aging which is natural after seven years of being exposed to normal all season riding conditions. Photo at left shows the few threads remaining for adjusting my saddle. Over the past seven years most if not all customer complaints regarding the original saddle designs have been resolved. There were a lot of new changes for 2014 including introduction of the T series for riders who weigh less than 160 pounds. Information for Selle Anatomica's three series of saddles which consist of the
T Series
,
X Series
and
NSX Series
are shared below. All saddles have the following new improvements for 2014:
New
Hex Key
Tension System









Note: All Saddles from Each Series are Available in a variety of color options including Tru Leather or Watershed. ClICK PHOTOS FOR INFORMATION OR PURCHASE


Innovative 4130 chromoly rails support a reinforced laminate layer that maintains the integrity of the full grain leather top. This saddle has no break in period. It feels good from day one.

T Series

is available in WaterShed leather and Tru Leather. This is the saddle for riders below 160 pounds.

4130 chromoly rails and a dual laminate design support the full grain leather top.

X Series Saddle

has no break in period. It feels good from day one. The second full laminate helps to increase the longevity of the saddle and still provides the right amount of elasticity under your sit bones. This is the saddle for riders between 160 and 250 pounds.

NSX is the ideal saddle for riders who demand the most from their gear. Maximum support, uncompromising build quality, excellent comfort. NSX will mold to your unique shape in days or weeks, not years.

NSX Series

is the only saddle we make that performs equally well on and off road. The double laminated full grain leather rounds out the features of this suspended leather saddle, designed with a more classic look