Selle Anatomica Titanico Watershed Leather Bike Saddles Reviewed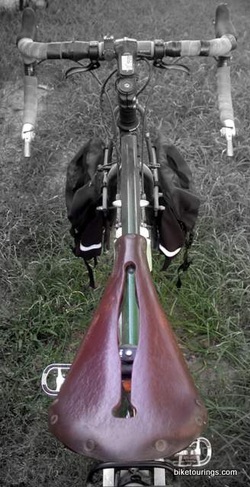 When you ride, the right and left sides of your pelvis move independently. Each person's sit bone position varies and helps explain that sore saddle butt is the most common complaint among cyclists. Just take a look at the vast number of innovative ideas on the market.
Another popular complaint of discomfort has been the prostate issue another reason for the proliferation of seat designs. My reasons for finding a seat to meet my comfort needs was more about resolving an old hip injury sustained many years ago when I was hit by a car. After twenty miles or so my right hip would begin to ache and stiffen requiring regular stretching while on the bike and continuing to ride. I had been to chiropractors and the like until I finally discovered the
Selle Anatomica Titanico. .
"Leather is the only material that can be held in suspension like a hammock for your sit bones" (to quote their product site) something very important to consider when investing in a good quality saddle. Suggestion here is invest in a quality saddle for reasons previously described and is a small price to pay to get rid of that pain in the ass, or hip in my case.
Speaking of which looking at the photo above the front of the saddle is slightly pointing to the right. This allows my right sit bone more room to move vertically while maintaining firm support and is suggested in owner's manual. To quote again on one of the company's claims
that
"The specific shape of our patented slot allows the saddle to move with you, reducing perineal pressure, sit bone pain, and saddle sores".
I purchased this saddle within the first two years it entered the market more than five years ago. The model being discussed here is the
Selle Titanico Watershed
. Meaning the saddle's leather is completely and totally waterproof requiring no treatment or conditioning to preserve the leather from the elements.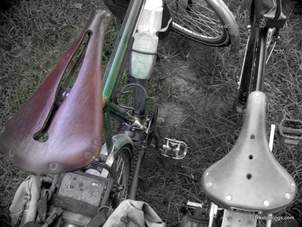 Photo at right shows difference in saddle length when compared with Brooks B17 saddle.
"Selle Titanico
is supported by extra long rails for added adjustability and maximum comfort". Another product quote to support this idea where it is so much easier to add a seat wedge or seat bag of choice, of particular consideration for bike touring. For Mountain Biking look at the Titanico NSX.
Another notable difference than most other leather saddles is there is no need of a "break in period". Install, adjust, ride, adjust, done, good bye butt pain. That's my review of this high quality well designed saddle made to last for years and Made in the USA, good stuff.. If something should happen to the leather customers can send their saddle in to have it recovered. After more than five years of owning this beauty it is still in excellent condition and felt a good time to give it a "blog about".
.
Price range at time of this writing is approximately $150 dollars. For me it was a small price to pay to get rid of that pain in the ass! and hip pain for that matter.
Cheers!