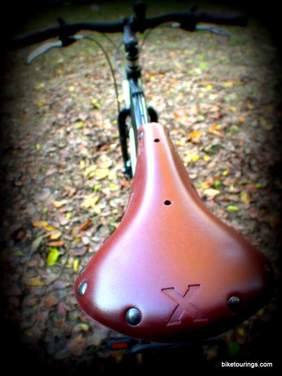 I have been riding a Selle Anatomica Titanico saddle since the company's beginning in 2007. It was the first year Selle Anatomica introduced their new line of top quality leather saddles with their patented slot design and that same saddle still maintains comfortable support for my touring bike. As you will hear from most reviews one of the only substantiated criticisms of those saddles is they were prone to stretching too much consequently causing the saddle to become hammock like, as it is popularly described. I
hesitated to install one on my mountain bike as it seemed to me the leather might stretch too much due to the amount that the saddle had stretched on my touring bike.
I felt that the patented slot combined with an elongated design may have contributed to some of the excessive stretching of other owner's saddles So when I heard of the newly designed
NSX model
(NS is for "no slot) I was excited to check it out on my mountain bike for commuting.
My first impressions were the same as other folks who review this fine quality craftsmanship in a bike saddle. Comfortable right out of the box, no break in period and oh so comfy. All the characteristics which have contributed to the success of Selle Anatomica. My NSX model is very different from the 2007 Titanico on my touring bike. Besides the absence of the slotted center it is also a bit shorter with what seemed to be thicker leather. All three of these new contributions to the design it stood to reason it would resolve the stretching issue. After referencing the company's site I found the following information contributing to the leather seemimg thicker:
Titanico NSX builds on a dual layer laminate technology originally offered in Titanico X. The second laminate helps to reinforce the leather top but still allows for the saddle to mold to your unique shape more quickly than competing leather saddle designs.
All Selle Anatomica Saddles come with detailed quality instructions on getting your saddle dialed in for maximum comfort and support.

When selecting a saddle from the Titanico line be advised it helps to know which saddle matches up to your rider weight. Extra laminate is used for heavier riders as well as reinforcing the Titanico NSX for mountain biking or trekking, refer to chart at left.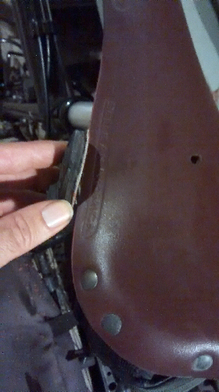 Another helpful tip I found at the Selle Anatomica site is the use of sand paper to soften the sharp edge along the contour of the saddle. I didn't notice this until the leather began to stretch and conform to my sit bones. After a couple hundred miles I noticed some chafing. Photo at left shows use of sand paper at point of contact where my leg was being chafed.
I also used this method to soften the edges of my original Selle Anatomica and it worked perfectly to eliminate the problem. I have been using this saddle for almost a year now and have found it to be the type of comfort one wouldn't suspect in a leather saddle that doesn't have a cut out in the center. I have spent long commutes and trail rides without the necessity of padded shorts which I have found to be very convenient for my bike commuting and errands. On longer rides consisting of a few hours or more of continuous time on the bike I wear padded shorts and ride in total comfort. It seems that Selle Anatomica may have found a solution to what was becoming a consistent complaint about their saddles stretching too much with this NSX model
Links Related to this topic:
Selle Anatomica X Series Saddle Review
Brooks B17 S Women's Saddle Review
Made In USA Selle Anatomica
Selle Anatomica Classic Leather Saddles