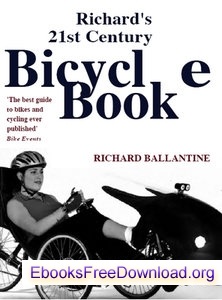 Considered by many bike folks to be one of the best bicycle book authors of all time. Not simply because of his expert knowledge on the variety of cycling subject matter. Richard Ballantine has been entertaining cyclists interested in bike travel, bicycle touring, commuting and mountain biking for decades.

Filled with numerous fun filled illustrations, witty, real and devoted to the world of bikes. You will find yourself quoting some of his silly banter particularly when it comes to bike advocacy and safe bicycle commuting.

With a no nonsense approach, yet able to make fun of outmoded bicycle uses witnessed during the evolution of the bicycle not only informs us bike folk but keeps us from taking ourselves too seriously. Something I have always felt to be a good idea with many of my "hard core enthusiast" friends.


Click on the photo to download the free ebook in Adobe Acrobat PDF or click on the link provided below.

Merry Christmas and Happy New Year from our Bike Family to yours this Holiday Season.