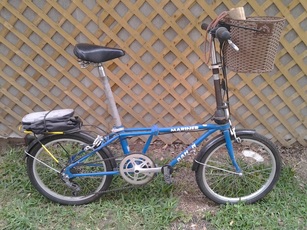 '98 Dahon Mariner 5 Speed
I am so happy with this bike I just wanted give it a "blog about".
The folding bicycle market has gained so much popularity creating a niche market for enterprising folks such as Citizen folding bikes, Giant and Bike Friday, just to name a few. Then there's the tried and true Brompton and Dahon who have been the forefathers of folding bicycles.
Good ol' Darren Alff of
Bicycle Touring Pro
has recently decided to tour on his Bike Friday. And why not? "Folders" are an excellent travel bike for bicycle touring and commuting.
While visiting Portland, Oregon a friend was riding his "Halfway" made by Giant. The locking mechanism on the frame seemed to be an issue and the company gave him a new bike and had re engineered the quick release style mechanism. Despite this observation I still thought it would be fun to have a folding bike for myself so I finally found a neglected gem, while I wasn't looking for one, of course.
A couple years ago my fiance and I were headed home from the local farmer's market when I needed to make a pit stop. While searching for the restroom I discovered this little beauty rusted out and sitting on the porch of the marine supply shop we had stopped at.
I inquired about the price to an employee, he went and asked the owner, manager and returned with "forty bucks" and added "we know it's in pretty rough shape". Thing about older Dahon bikes is that any of the proprietary parts are not available to replace, most of the parts such as wheels, chain, etc. are standard. The clamp for the handlebars could not be adjusted any tighter, something a simple shim piece could fix. I cut a piece of thick leather to shape while trying different thicknesses taking into consideration it would compress to shape after awhile and oala! Good enough.
At the time, my step daughters hadn't ridden a bike yet, really? They were ten and eleven years old at the time and I felt they might be interested in riding if they were comfortable and confident enough with the bike they were on. So, after half a day of cleaning it up, repacking bearings, etc., even got the shifter to work, new tires, painted the fenders, and added the funky basket (which works very well by the way) those girls were pedaling about the parking lot behind our house having a fabulous time with it. Thanks Dahon, thanks Bay Area Marine. Well, it's my bike again and I sure do enjoy that, think I'll fold it up and take it to see the "in laws" just may need the beer getter basket, it's always nice to be prepared anyway. Have some upgrades in mind for it, that will be another "blog about"
Cheers!